Machine embroidered what? In case you're not up on traditional hand embroidery techniques, hardanger is a type of drawn-thread work done on even weave fabric, often linen or cotton, and traditionally in white. It gets it's name from a region in Norway although the technique itself can be traced back to more ancient cultures.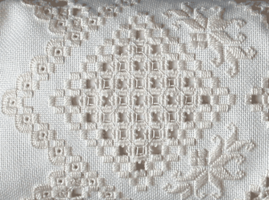 DRAWN THREAD WORK
I guess I should explain what drawn thread work even is. This is a technique where you pull out rows of threads in the fabric.
Stitching is done along the edges and the remaining fabric threads may be worked together by hand to form patterns or create woven bars. In some areas, threads from both directions are cut away.
You can see an example of traditional hardanger in this photo snatched off wikipedia.
The reason we can't take this approach with machine embroidery is because we just can't hoop accurately enough. The process of getting the fabric between the rings of the hoop distorts the grain and it would be impossible to precisely sew the stitches where you wanted them and keep them exactly in line with the weave of the fabric.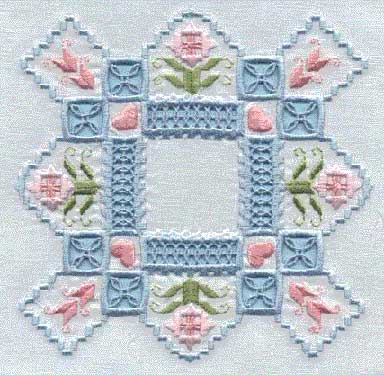 MACHINE EMBROIDERED STILL INVOLVES HAND-WORK
With machine-embroidered hardanger, we can get the machine to do all the stitching for us but we still need to do the cutting. Yes, there are attachments for some specialty commercial machines and Bernina has one (I haven't actually seen it yet) but with a good pair of scissors and some patience, you can do it yourself.
For machine embroidery, we treat the design like a cross between cutwork and free-standing embroidery. You'll hoop a suitable fabric with a water soluble stabilizer (use the fiber type, not a film), and the design will sew the outlines of the area(s) you need to remove.
Next, remove the hoop from the machine and carefully cutaway the fabric without cutting through the stabilizer. Finish sewing the design and soak out the stabilizer.
WHAT ABOUT FABRIC DISSOLVING PRODUCTS?
In the past, I've also used a product called Fiber Etch. It came in a bottle with a nozzle and you could just draw a bead of it onto your fabric and it would dissolve natural plant fibers like cotton, linen, and rayon.
If you accidentally squirted too much, or it ran over the "thread wall" defining your cut area, well then you were hosed. Also, you had to wait for it to dry before continuing the sewing process. If you're using a water soluble stabilizer, you must make sure that the Fiber Etch does not soak through to the backing. Finally, it will limit your choice of embroidery threads to polyesters.

WHY CAN'T YOU CUT THE STABILIZER?
In the example shown here, I've scanned the embroidery with a piece of blue paper placed behind it. The bars are sewn onto the stabilizer.
The stitching needs something to form over and that's the purpose of the stabilizer. This is the part of the design I referred to as "free standing" and if you've ever embroidered free-standing lace, you know how it works.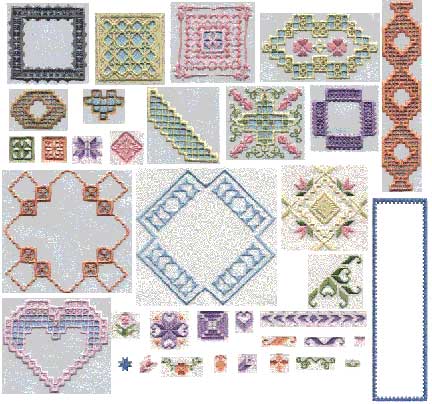 NEW DESIGN COLLECTION FROM LINDEE G EMBROIDERY
To reproduce the look of traditional hardanger, I started by researching the styles and techniques used in hand-embroidered hardanger, including a sampler I worked back in the 1970's.
I wanted authentic looking designs. After about a month of research and sketching, I started digitizing and experimenting with the best way to get a traditional look that was versatile and would stand up to some use.
While many of the designs in this collection can be used stand-alone, they are really meant to be combined. The sample shown at the beginning of this post is sewn on linen and combines two cutwork designs with 3 different elements. 36 designs complete the collection. Five designs require hoops larger than 4×4″ (100x00mm).
WHAT TO DO WITH THE DESIGNS
While the cutwork areas are certainly beautiful, they do add to the time it takes to sew the design and they can reduce durability. You don't have to cut the fabric away, which would solve both issues.
Another solution would be to hoop a second piece of fabric behind your stabilizer, perform the cutwork, and then when the project is done, you'll have the other fabric show through for added interest and stability.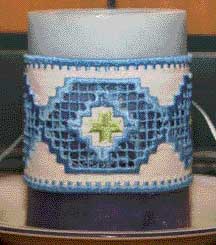 For the candle wrap shown here, I used designs #6, 13, and 26. Design 13 is simply a rectangle with a fancy inside edge that can be treated as an applique.
Applique it to a sturdy water-soluble (I use fiber-based products not film), then add design 6 and finally pick an element to drop into the center area if desired.
Design 6 would also make a great front placket on a blouse (add a button hole design where I put the element) or cuffs for a woman's blouse.
An abbreviated version of design 6 is included that would make great napkin rings to coordinate with the candle wrap.
DIGITIZING HARDANGER
Even though I digitized these in Generations (I'm making myself learn the program and only use this software if possible), they were not auto-digitized. Nor were the designs digitized from clip art. For the most part, stitches used in hardanger are runs and satins.
Theoretically it should be possible to do them in the most basic digitizing program. If you'd like to learn more about digitizing hardanger, I recorded a free webinar on the process on 7/8/2010 for the Generations Digitizing Workshop.
Although I demo in Generations, the technique can easily be transferred to other programs.
MOVING BEYOND "PLOP AND DROP"
Aren't you tired of all the tons of cutesy designs that proliferate on the net? Why not put a little time and effort into your projects and create something truly worthy of passing down?
You got your embroidery machine to allow you creative freedom. Why not use high quality beautiful design that let you do it? Designs are inexpensive compared to your machine investment.
WHERE TO GET THE DESIGNS
These designs are available for immediately download in collections and individually. Instructions are not included with individual designs, only in collections.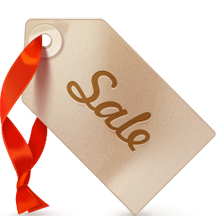 A WORD ABOUT SPECIALS, SALE PRICES & COUPONS
Please pay attention to post dates and any specials listed in posts. Special pricing is for a limited time and may be repeated at some point.

Specials, sales, and freebies are always announced in the newsletter. Signup to get notifications of specials, new items, and freebies.

Additionally, shop wide coupons may be available to apply to any regularly priced items.

Coupons generally only apply to regularly priced items, not items already marked down. If your coupon doesn't work, this may be why.
RELATED ARTICLES