For this month's free design, I thought I'd give you a taste from the hardanger collection plus use it in a sample project to give you an idea how it might be used.
I've chosen to make a ring bearer wedding pillow out of white linen and use a golden yellow chiffon behind it to highlight the cutwork hardanger areas. (It also keeps the rings from falling inside the pillow.)
Another layer of white cotton behind the chiffon softens the color even more. I've kept the pillow otherwise very simple for a sophisticated elegance. The addition of a ribbon in the center secures the rings.
This project is simple and would make a beautiful gift for that special bride. You might also embellish the pillow with a monogram and the date.
CREATING THE PROJECT
To create the pillow front, I combined edited and unedited designs from the collection. I used the free design four times, which is included as is on the full collection. To make the outer border, I edited out part of another design and duplicated it multiple times to create one side of the border.
Then I grouped that piece, copied and pasted to complete the other three sides. To make the corner piece, once again I edited another design in the collection and repeated it 4 times.
While you could certainly get the collection and do this yourself, I've included the edited versions along with the unedited one plus full instructions as a download.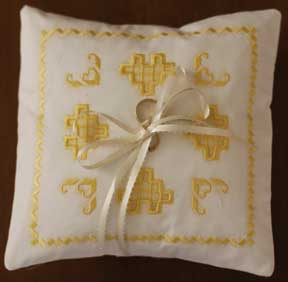 If you would like full instructions along with the designs used, you can purchase them for $9.97.
Color PDFs cover how to embroider hardanger (5 pages), and how to make the pillow (9 pages), plus all the designs (6) and templates used to make the project (both assembled and unassembled to accommodate various sewing fields).
The finished composition (approximately 185mm x 185mm) is included along with the individual elements for using with smaller hoops or other projects.
The designs used for the inner portion of the pillow are small and can be done on any embroidery machine. The border section, full frame, and completed design will require a larger sewing field.
If your machine can't sew a larger area, consider omitting the outer frame or using a decorative machine stitch. Who will know?
These instructions are basic and assume some basic sewing and embroidery skills.
WATCH HOW TO MAKE MACHINE EMBROIDERED HARDANGER
Machine embroidered hardanger is a combination of free-standing embroidery and cutwork. And while a bit futzy, it's way faster than hand stitching! Check out this video to see how it's done.
WATCH HOW TO MAKE MACHINE EMBROIDERED HARDANGER
Want to see what's involved with stitching machine embroidered hardanger?
WHERE TO GET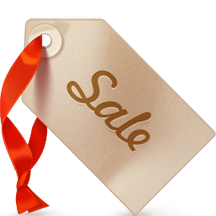 A WORD ABOUT SPECIALS, SALE PRICES & COUPONS
Please pay attention to post dates and any specials listed in posts. Special pricing is for a limited time and may be repeated at some point.

Specials, sales, and freebies are always announced in the newsletter. Signup to get notifications of specials, new items, and freebies.

Additionally, shop wide coupons may be available to apply to any regularly priced items.

Coupons generally only apply to regularly priced items, not items already marked down. If your coupon doesn't work, this may be why.
RELATED ARTICLES