My friend Terry, whom I jokingly call my number 1 customer, sent me a sample she made using the Summer Fun Building Blocks and it's just so cute, I have to share it with you! Terry considers herself a novice at using her software so she was initially a little panicked at designing, but once she got started, she was hooked!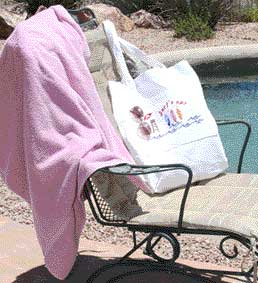 TERRY'S TOTE
OK, so I really didn't have to go very far, just out my back door. This shot gives you an idea of the size of Terry's tote. Its a nice generous size but not so huge that it will be difficult to carry.
A large pocket on the front and a smaller one on the back both sport embroidery designs Terry created by combining various elements from the Summer Fun Building Blocks.
This collection is available as either native format (.mng files) for Generations or as multi-format machine formats.
The advantage of native files is that you have more control over them. You can take them apart, change their stitch attributes, and resize them with much more control.
Of course, to do that, you need the same program the designs were created with, which, in this case is Generations. For other programs, you'll need to use the multi-format stitch files.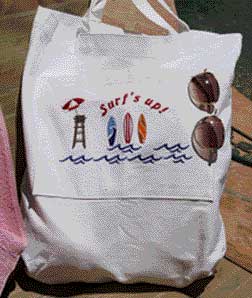 Terry added lettering using the Insert Text feature to convert True Type fonts to embroidery designs. She selected six designs from the collection to build her design simply by dragging, arranging, and resizing. She repeated the wave design multiple times.
Building Blocks make it easy to bring out your inner designer whether or not you know how to digitize a design from scratch!
BACK VIEW
Terry made sure the beach tote looked good no matter which side was visible. A smaller pocket on the other side is prefect for a water bottle or sunscreen.
While Terry made her tote from scratch, you might consider embroidering on similar or contrasting pieces and then just adding them as pockets. Who says the fabric has to match?
Want to make your own tote? Both the Building Block versions and the multi-format versions are available for instant download and include the 20 designs shown here: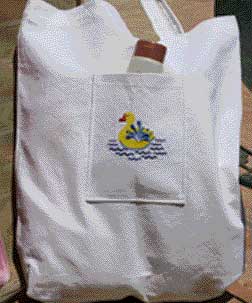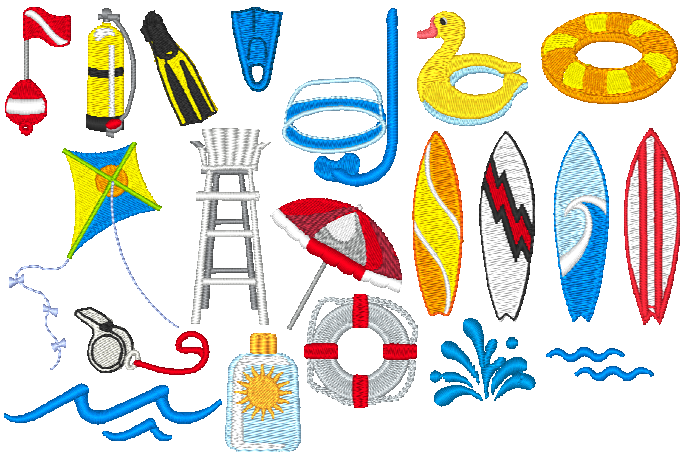 WHERE TO GET THEM
Find all the building block collections here. They are available as sets and now individually. MNG & GEN formats are only available in the collections.
RELATED ARTICLES