Doesn't it seem like September initiates "sewing season?" After a summer hiatus, many of us start gearing up for fall and winter crafting and sewing sessions.
If embroidery is as big a part of that for you as it is for me, then you know how having the right supplies and tools is essential for a successful result. If you're familiar with my "embroidery recipe" then you've probably seen my little recipe card for machine embroidery.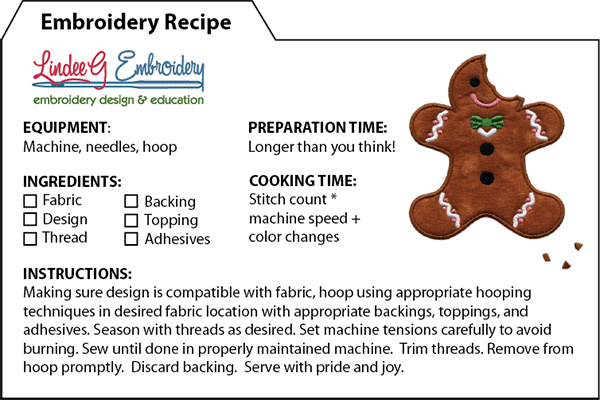 This may make embroidery seem deceptively simple. If you've been embroidering for a while, you've learned that there's a bit more work than just throwing something under the needle and pressing a few buttons. 
A key factor in that equation is YOU and how you prepare your project for embroidery. All that's covered in my book, The Embroidery Recipe, and is way too much for a short blog post, so I'll focus on one aspect here: hooping. 
The Hoop is Part of the Stabilizing Process!
I know all you people who float everything aren't going to like this, but it's true. The hoop is part of the stabilizing process. 
Yes, it's  hard to hoop accurately. I can tell you, though, I can hoop way faster than I can float most things.
Why? Because I don't have to figure out some other way to secure my project in the hoop. (Yes, even tee-shirts are hooped!)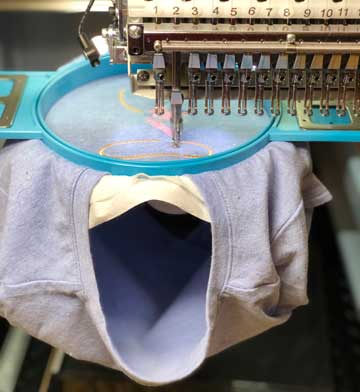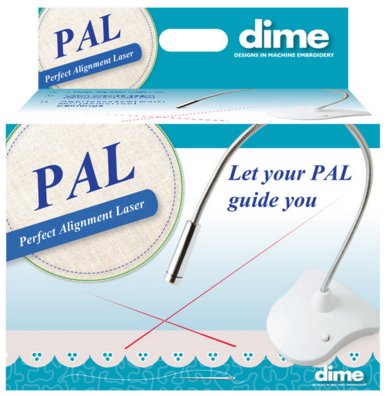 Another thing that makes my hooping more accurate and faster is using a hooping aid.
Hooping aids may be as simple as no-slip mat to keep your hoop from sliding around on your table or as techy as a laser light or a hooping station. 
My preference is a hooping station and I I've used quite a few over the years. The first one I had was designed for adult sized shirts, required a special bracket for each brand of hoop, and cost over $700.
I also had a few at the other end of the price spectrum that were a less efficient, broke easily but were easily portable, and worked well with wide range of home machine hoops. All of these were a "pegboard" style system. (The one shown here is discontinued at this writing.)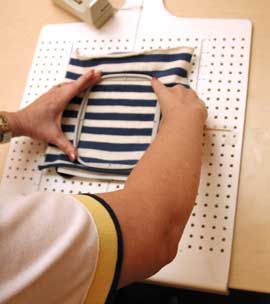 Why Use a Hooping Station?
No one wants to waste unnecessary time on hooping. We want to hoop quickly, smoothly, securely, accurately, and without distorting the fabric. Hoop crooked, or off-center and you may have wasted all the time it too to prepare, hoop, and stitch your project not to mention other lost costs in supplies.
A good hooping station is a good investment.
The main thing a hooping station does is greatly decrease the time it takes to accurately hoop any project. That means more time for creativity, less wasted time, and fewer throw-aways. Who doesn't want that?
My Favorite Hooping Station
For the past 5 or so years, my absolute favorite has been the Echidna Hooping Station.
This one falls midway (price-wise) between the first high-priced one and the low-end (read "cheap") ones. In my opinion, it has more features that work for me than the other high-end options.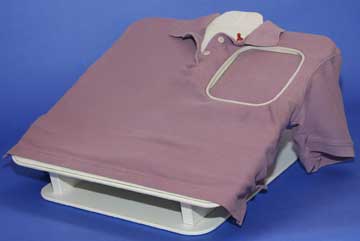 My 5 Favorite Features Are:
It uses magnets instead of screws to hold and position the hoop making hoop placement quicker.
The magnets also mean it works with pretty much any hoop from my smallest Brother 990 hoops on up to the full jacket back hoops for my Barudan 15-needle.
It's double-sided with two different surface sizes.
It comes in size versions for just about any project you can imagine.
It has an easy to clean, non-skid surface so your hoop won't slide off while you're getting ready.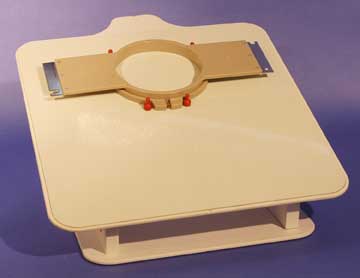 And It's Not Just My Favorite!
Many of those who've purchased this same hooping station have written back with comments like:
"I don't know why I waited so long to buy this!"
"It's so easy to use!"
"Those animal critters used to be so hard to hoop I hated doing them but now I can't make them fast enough for the demand!"
And most recently: "I wanted to thank you for such wonderful service. I received my small hooping station in less than 24 hours from when I ordered! I have been using it this afternoon and I think it will do the trick. Should of gotten it at the sewing and craft festival!"
Do You Need One?
If you don't do much embroidery and only ever embroider small squares of fabric, you can probably get by without a hooping station. (I even use one for that!)
However, if you embroider garments, tote bags, Embroid-a-bear critters, Christmas stockings, and other items where the bottom hoop needs to go up inside the item, then a hooping station is indispensable.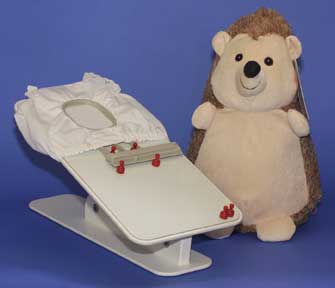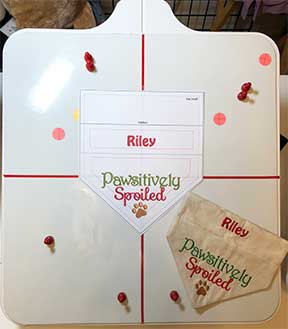 I also use it with templates. Sometimes I'll pin the or tape the template to my project, but often I'll tape the template to my hooping station.
I may mark my project with a center point or just use the reference on the hooping station for placement. 
Be sure to watch my YouTube channel and check the Hooping Station Playlist for videos on how to make your own placement guides.
Do You Only Use it For Hooped Projects?
Nope. I also use it for floating.
I've added some extra guides on my hooping station using automotive pin striping tape. Sometimes I'll mark a guide on the stabilizer and then line that up with the tape.
The magnets hold my hoop in place while I line up my project. If I'm using double-stick embroidery tape to secure my project, I'll tape a template onto the hooping station so I can make sure the tape is outside the range of the needle.
You definitely don't want to sew through this ultra sticky tape because it will gum up your needle and break your needle.
More About the Echidna Hooping Station
The Echidna Hooping Station comes in 2 sizes, each with different sized sides:
Small, which is just under 8″ wide on the larger side and just under 4″ wide on the smaller side
Large, which is designed for adult sized shirts on the larger side and youth sized shirts on the smaller side
It's best to use a hoop no larger than the hooping station so that the hoop is fully supported, especially if you are hooping between the rings.
Use the Large One For…
Any youth or adult size shirts and jackets, larger tote bags, any projects using a larger hoop, and even small hoop projects that can lay flat.
With a hooping station sized for shirts, you can easily repeatedly hoop shirts quickly and accurately in just seconds!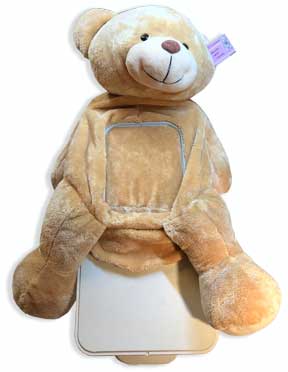 Use the Small One For…
This one is perfect if you only have small machine and a small sewing space.
You can still hoop a left-chest adult sized shirt, it just takes a little more effort.
It's ideal for small "tubular" items like baby onesies and other tiny garments, sleeves, pant legs, small tote bags, and Embroid-a-bear animals.
The larger side can support up to a 130x180mm (~5×7″) hoop positioned vertically.
Where to Get Yours!
Right here of course!
You can get either of the hooping stations alone or as a combo, which includes both. The combo is definitely the better deal.
The good news is that standard shipping is free in the U.S. You can have it on your doorstep in as little as just one day.
These babies are made for repeated use over a long time and are quite sturdy. Not something you'd want to lug around on a show floor.
We're no longer doing many trade shows or live events. The costs have sky-rocketed while the returns have nose-dived. Any events  are announced in newsletter and on Facebook.
We also run bonuses and specials on the Echidna Hooping Stations from time to time and these are announced in the newsletter. You'll most likely need the special coupon to get the deal too.
Learn More! See It In Action!
A bad hooping is the #1 way to mess up your embroidery that can't be undone after stitching.
This blog post contains several videos plus more details about the Echidna Hooping Station for those of you who want to see how it works: