Learn why hooping is critical to the success of your machine embroidery and how to make it more accurate and efficient using a hooping aid. Tips on marking your project and alignment and pre-tensioning your hoop. See why having the right hooping station can make your embroidery time more fun and more productive with better results every time!
Note: This is the original hooping station from Echidna. There's a new one as of July 17, 2017. The original one was never able to be shipped here in the US at a reasonable price; the new one is!
Two sizes, better construction, lower price! Works just like this one. See other videos in this playlist.
Related Articles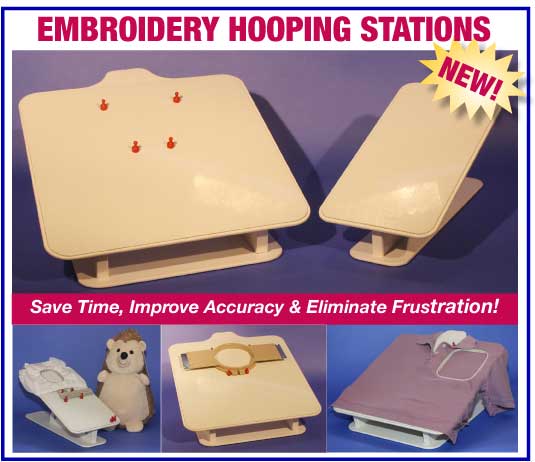 Why Hooping Correctly Is Important
Hooping is part of the stabilizing process and a
bad hooping can't be undone after sewing!
Proper hooping can:
Eliminate registration problems
Prevent puckering
Embroidery lasts the lifetime of the garment so why unnecessarily shorten it with a bad hooping?
Why Use a Hooping Aid?
Hooping aids such as the Echidna Hooping Station can make hooping:
Easier
More efficient (no more chasing the hoop around on a slippery table)
More accurate
And who doesn't want that?
How a Hooping Station Can Save You Time & Money
Since a hooping station can make you more efficient and accurate at hooping, it also means you'll be more productive and have less waste. Your hooping station will easily pay for itself over time!