After a long wait, we finally have Echidna Hooping Stations back in stock! This version has been completely retooled to make it both sturdier and lighter.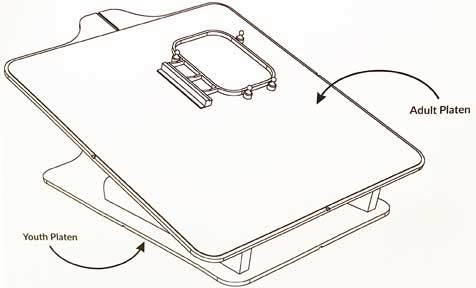 The features you loved about the previous version are still there:
Easy to assemble
Easy to use
Same form factor with 2 sizes per station
Same magnetic surface for quick and easy placement.
Same easy to clean, non-slide surface for gripping your hoop even without the magnets
THE #1 WAY TO MESS UP EMBROIDERY
What's the number one way to mess up your embroidery that can't be undone? A bad hooping!
Hooping properly is definitely NOT an insignificant step in the embroidery process. In fact, the hoop is part of the stabilizing process so hooping between the rings is the best option when possible.
Who wants to spend more time hooping than is necessary? You want something that can hold your hoop in the right place, make it easy to position your project, and quick to insert the other part of your hoop.
And who wants to mess around with moving little tiny screws in a pegboard when a magnet is just effortless?
That's why if you embroider and you want accuracy and efficiency, you need an Echidna Hooping Station. And you want it to be multi-use, easy to use, and flexible enough to work with the types of projects you embroider.
WHY THIS HOOPING STATION IS MY FAVORITE!
I've used a lot of accessories to reduce hooping time while increasing accuracy. My first hooping station cost over $700, only worked with adult size shirts, and required a special (read "expensive") bracket for each machine you might have.
Others cost under $100, and while lightweight and portable enough to take to class, weren't very sturdy and weren't as easy to use, especially with something tubular such as a tee-shirt or tote bag.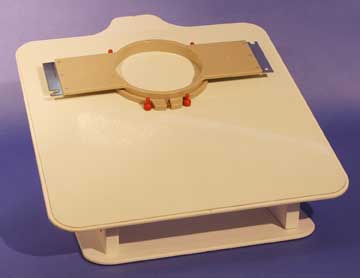 The Echidna Hooping station is cleverly designed by my friend Gary Walker to make it quick and easy to hoop. No tiny little screws to move around. No moving parts to break or jam. No specialty brackets required to hold your hoop.
Instead, the Echidna Hooping Station works with magnets and you can place them anywhere on the surface. This makes it easy to reposition your hoop and easy to work with an size or shape hoop—even round ones.

TWO HOOPING STATIONS – 4 SIZES
Each of the two hooping stations is double sided to maximize your productivity without requiring more space in your studio.
The smaller one is perfect for small sewing rooms and working with small hoops. You can easily hoop sleeves, baby garments, Embroider-A-Bears, tote bags, and just about anything that will work with your small hoop—even adult size shirts.
The larger hooping station is sized for adult garments on the larger side and youth garments on the smaller side. I find that I'm using the larger side for most of my projects even though I'm not doing many garments because it fully supports my largest hoops.
HOW TO CUSTOMIZE YOUR HOOPING STATION
If you'd like to have some guides on your hooping station for common placements, that's easy enough to do. I've marked mine with automotive pin striping. This product is readily available in different colors and you can easily apply it to the surface.
I used a Sharpie marker on the first version of the hooping station which had a different surface but the racing stripes easier to use and you can remove them if you need to.
Watch this video to see various techniques for placement guides:
You can also tape templates directly to the hooping station, which I did when I was making a batch of doggie bandanas last Christmas.
Note to Self: Remove Riley's bandanna before he goes to the doggie park and rolls in the dirt!
WHY USE A HOOPING STATION?
Let's face it. Hooping is the least fun part of the embroidery process. Hooping accurately is a skill that requires practice.
Professional embroiderers understand that the hoop is part of the stabilizing process and that hooping the project and stabilizer(s) between the rings provides the best surface for maximum embroidery quality.
Oh sure, there are times when you can't hoop between the rings but too many home embroiderers float everything rather than to take the time to learn proper hooping.
Once you learn to hoop properly, it's often faster than floating.
One of the difficulties of hooping between the rings is that without something to hold the bottom hoop and stabilizer, it's harder to get the correct placement because the hoop can be shifting and the stabilizer can shift out of place.
If the stabilizer shifts and isn't completely gripped, you'll need to re-hoop. If the fabric isn't smooth and at neutral tension, you'll need to re-hoop. If the item is crooked, you may need to re-hoop if there isn't enough free space to adjust the position at the machine.
In my experience, many embroiderers will not re-hoop more than 2 or 3 times after which they just throw up their hands and say, "that's good enough!" I've spent up to 40 minutes hooping something precisely before I had a hooping station like this.
The Echidna Hooping Station holds your bottom hoop and the stabilizer while you position your project and insert the top hoop. And you can set up your placement so that it's easy to hoop multiple items in the same position.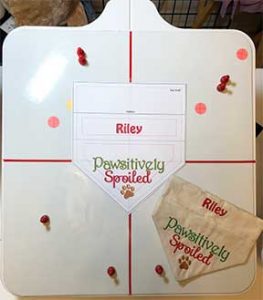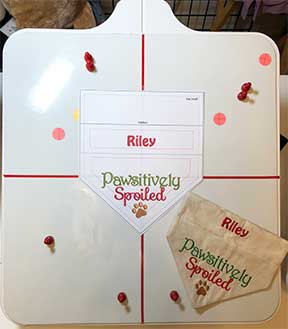 GET YOURS NOW!
We sold out of the previous batch of Echidna Hooping Stations in about 9 months! If you want one, now's your best chance. Shipping is free within the U.S.
A good hooping station will last a long time and this one can grow with you since it doesn't matter what hoop you may have (works best with hoops that lay flat).
Hooping efficiently and accurately saves you time and can reduce "spoilage"—those projects that weren't hooped accurately and have to be trashed. Over time, your hooping station investment will easily pay for itself several times over!
Any Echidna Hooping Station also comes with an exclusive bonus CD design set that's not otherwise available with 50+ designs—a value of over $300—from LindeeG Embroidery.
HOOPING PROPERLY
There's an art to proper hooping. Watch this video from Professional Pointers for Pucker Prevention to learn more:
RELATED ARTICLES