Looking for something quick and easy to celebrate Halloween? Having a party and want some little special something? These small free-standing lace Halloween designs are just the ticket!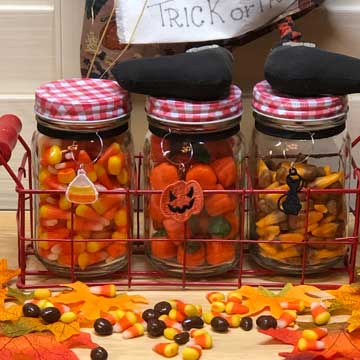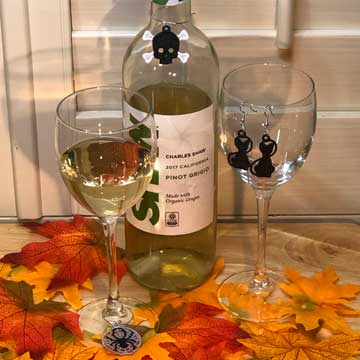 How To Stitch
Most of these are more "solid" than the typical FSL I did on my angels and snowflakes. For one thing, they're really small – less that 1.5″. For two, they're likely to be handled a little more.

Still, the rules for stitching are the same as any lace:
Use a wash-away fiber stabilizer, not film. I used 2 layers so more stabilizer would be left in after a quick rinse.
For a design that looks good on both sides, match your bobbin thread color (60wt poly or finer in the bobbin)
Make sure your machine is in good working order and your tensions are well-managed for a clean result.
Do whatever you need to prevent the stabilizer from slipping.
What Thread to Use
These designs were digitized for 40wt. embroidery thread.
If you wish you use a glow-in-the-dark thread, these threads are typically thicker even though they may be rated as 40wt. Threads are measured by weight, not thickness, and different fiber types of the same weight may be a different thickness.
Stitching More Than 1 at a Time
These are tiny and you'll be tempted to fill up your hoop. No problem! Just be sure that your stabilizer doesn't shift and DO NOT COLOR SORT!
While color sorting optimizes the color sequences, it DE-optimizes the stitching order for best registration. While registration is important for any design, it's vital for lace so that it holds together and stitches don't hang out where they shouldn't.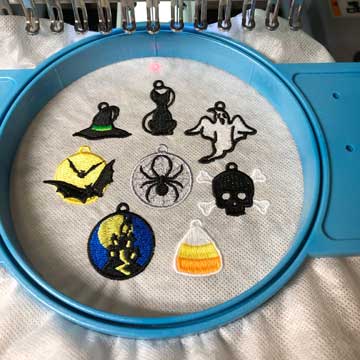 Here you can see a batch I grouped together in a smaller hoop. Yes, I could have done more in a larger hoop but the larger the hoop, the less stable the hooping. Also, I'm using a round hoop because it's more secure than a hoop with straight sides.
You need to be sure your stabilizer won't slip during stitching. A single thin layer of hooped stabilizer can easlily slip in the straight areas of your hoop. Duct tape applied to the stabilizer on the back of your hoop near the edge and then wrapped up the side of the hoop can help.
How to Finish
Trim out the lace pieces close to the edges.
I like to heat some water in the microwave to boiling—a coffee cup will work for these little guys. Then use tongs to do a quick dunk. Lay the pieces out flat on a towel and then roll up the towel to squeeze out excess moisture. Do not ring lace.
I laid out the damp lace pieces (shape if necessary) on a cork coaster and then layered another coaster with some weights to have them dry flat.
For larger lace pieces, i use a cookie cooling rack but these were just too small for that.
When dry, you can use jewelry findings to add small jump rings (I used 6mm) to attach into the lace loop. Then add to an earring finding or 25mm stemware loop.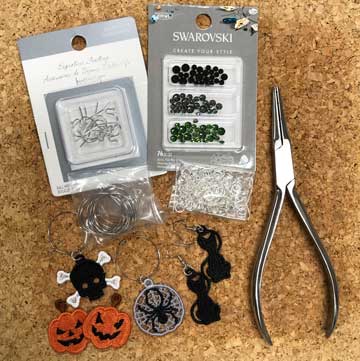 Tips for A More Durable Embroidery
Machine embroidered FSL is composed of thread and it's the stabilizer that's left in the design that keeps it stiff. Over time, with handling, your design can "wimp out" and become floppy. There are several ways you can protect and preserve your lace.
Some things to try:
Apply a thinned down wash of Elmer's glue to your design
Use Terial Magic for long-lasting stiffness
Mist with clear matt acrylic spray. This is a quick and easy for large quantities at once.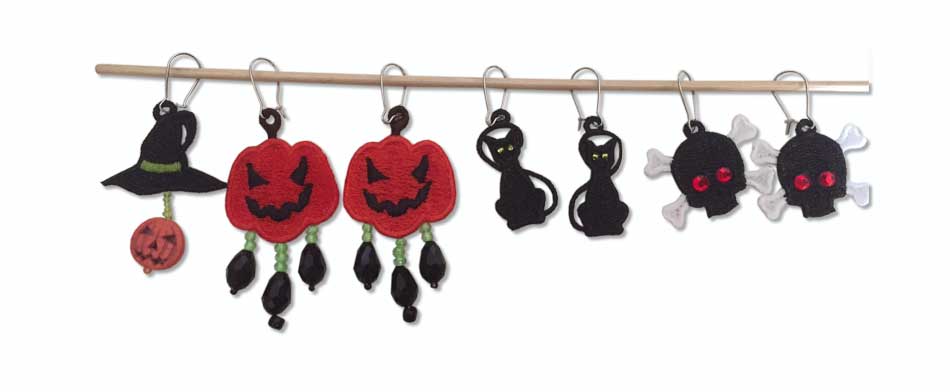 Getting Fancy
With a little bit of creativity and small beads and crystals, you can further embellish your designs as my friend, Debi Kuennen-Baker did with these samples.
You can make matched pairs by mirroring a second version or mix and match different designs for your own combination.
These sew up quickly and can be sewn and sold in your Etsy shop or at a craft fair.
Where to Get Products Used
More Halloween Designs