Have questions about the gorgeous FSL Heirloom Angel? Apparently a lot fo you do so here are the answers!
VERY SPECIAL THANK YOU!
Thanks to all of you who have taken advantage of the very special Heirloom Lace Angel, shared the word about her on your Facebook profiles or chat lists and have sent me thank you notes.
Also special thanks to those who shared your photos of your finished versions on your Facebook pages. It's very heartwarming to see her pop up in my news feed and see that others are getting her made with perfect results.
Since I'm still getting a few questions about her, I thought I'd answer them here as well as to remind you that if you haven't taken advantage of this amazing design, please do so before the end of the year!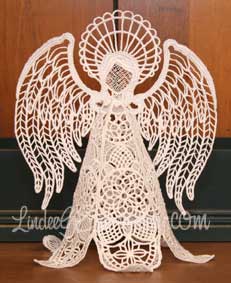 The most common questions/comments about the Heirloom Lace Angel are:
WHERE ARE IN THE INSTRUCTIONS?
The instructions are included in the download file called lgp001-colors.zip. I usually include any information that is the same no matter what format you choose in this zip file so that it speeds the download if you choose more than one format. The colors file is set up as a default (already enabled) option so all you need to do is download it.
WHAT DO YOU MEAN BY WASH-AWAY FIBER STABILIZER?
Several of you have asked about the stabilizer. The ones to avoid are wash-away tearaway (leaves little hairy fibers behind) and films, even the heavy ones like Ultra Solvy, Badgemaster, Romeo, and the like. These products puncture with a needle, which compromises stability.
I have several water soluble stabilizers that completely wash out in my stash. One is a woven, called Aqua cloth. It looks like a light-weight piece of "normal" woven fabric and is shiny and slippery. I found I don't get the best results with this type of product for lace.
The best product is a wash-away non-woven fabric. It looks deceptively wimpy. It's soft and resembles a tissue. I sometimes have a hard time telling the wash-away from the no-show mesh, and test it by "chewing" on a corner to see if it dissolves. Many of the stabilizer companies have such a product.
The one I use is from Hemingworth. I use this one because it is readily available both here in the U.S. and in Australia, where the bulk of my consumers live.
HOW DOES SHE STAND UP?
The stabilizer is not completely rinsed out, allowing her to stiffen as she dries. If you shape her while she is still damp, she will dry quite rigid and maintain her shape.
WHAT TYPE OF BOBBIN THREAD?
I use regular polyester machine embroidery bobbin thread. I prefer to use prewounds when possible. Prewound bobbins are convenient, economical, evenly wound, and generally hold more thread than a standard sewing machine bobbin. Check with your dealer to see what types of bobbins are recommended for your machine.
WHAT SIZE NEEDLE?
Use the size that's appropriate for your thread. If you're using 40-weight thread, a 75/11 embroidery needle should work fine.
WHAT KIND OF THREAD IS RECOMMENDED?
I digitized and tested this design with 40 weight thread. I've also very successfully stitched her in Softlight Metallic thread. If you use another thread, keep in mind that a thicker one will make embroidery bulkier. The shorter stitches may also cause increased thread breaks.
I HAVE A LARGE ENOUGH HOOP BUT IT IS A "SPLIT" OR "MULTI-POSITION" HOOP. HOW DO I SEW THESE DESIGNS?
These designs are not set up for these types of hoops because there are simply so many on the market and I have no way to test. At one point, there were only a handful of these kinds of hoops but even then it was quite an ordeal to make the designs connect properly for each one.
If you are skilled in your software, you can rebuild the design. I recommend rebuilding from the individual pieces rather than splitting either of the two complete pieces. The skirt will fit together very easily; the head and wings won't be able to be reassembled exactly the same as the full version but it won't be noticeable. Sew each wing then sew the head last.
For the skirt, you can take the split up pieces (5×7 panel pieces) and reconnect them in software. I usually do this by assembling the entire thing and then dividing it as needed. With the skirt, divide at a panel seam. Also build the skirt horizontally and rotate vertically when done. Another tip is to bring each piece in as a different color. This will make it easier to adjust individual panels if necessary.
Start with the left side (your left not the angel's). Rotate the first piece about 38.2 degrees. Bring in a middle segment and rotate it about 19.1 degrees and line up the left edge along the right edge of the first piece. Bring in the another middle piece and don't rotate it at all.
The 4th piece is rotated minus 19.1 and the last is rotated -38.2. You may have to tweak the rotations a tiny bit. Rotate the entire design 90 so it will fit your hoop. Hopefully you can position the skirt so that it will split between the 3 & 4th panel.
I realize these are skimpy instructions but if you are comfortable in your software and think it through, it can be done. There are programs that split designs for you but these work best on direct embroidery (sewn on fabric) instead of free-standing lace designs that depend on internal structure for support.
I WANT TO PURCHASE HER BUT I CAN'T GET IN TO THE SHOPPING CART!
No problem! A small handful of people have troubles getting logged in. While this appears to be a cookie or browser issue, I've found no way of correcting it from my side.
However, if you ever want to purchase anything and can't get in, just email me with your list, we will then send you an invoice through Paypal, and when that's paid, I'll email the designs (be sure to let me know what formats!). Or, we can take an order by credit card over the phone and email the designs.
If you can get into the cart, we do prefer you use that method. It is safe and secure, and if you happen to lose your designs for whatever reason, you can go back and get them again. Plus, it's pretty instant – no waiting on me to manually process things.
MY FORMAT IS MISSING A DESIGN FILE.
I use 2 programs for coloring and converting the designs. The "master file" is the DST version, which is generally the default selection. Each dst file is converted to VP3 and then colored (using Convert It Mac). PCM and SHV are also created with this program from the VP3 versions. Next, the VP3 is transferred to Windows where the remaining formats are converted with Buzz Tools and the Artista software.
I highly recommend that you include the DST files with whatever other machine format you need because this will guarantee that you get all the files including the ones that the conversion programs deem too large for your format.
HELP! I SELECTED THE WRONG FORMAT!
Don't panic, just email me and I'll get send you the right ones.
Effective 10/2016, this is no longer necessary. The new shopping cart has enabled all available formats. Simply log in and download.
Do note, however, that not all formats will have all files. Some formats are limited either by sewing field size or by stitch count at the time this design was released. The DST will have all files.
CAN I SHRINK THE ANGEL FOR A 4X4 HOOP?
While there is nothing to prevent you from shrinking the designs, I don't recommend it and there are no guarantees of quality on modified designs.
Free-standing lace designs are particularly intricate and depend on their internal structure for stitch integrity. Depending on your resizing program, this structure can be altered enough to cause the design to fall apart in areas.
I PURCHASED A DESIGN AND I CAN'T DOWNLOAD IT.
The shopping cart in automatic; I'm not. If you don't get a response within 2 days, please email again. I at least will let you know if there will be delay in getting the files to you if I don't have access to them.
I PURCHASED A DESIGN AND FORGOT TO DOWNLOAD.
No problem! Just log back into your account, vie your orders, and you can download your designs. Lost a design on your computer? Just come back a download. That's the beauty of purchasing through the online shopping cart.
WILL THERE BE MORE DESIGNS LIKE THIS ONE?
Do you want more? What types of designs are you looking for? As many of you recognized, this design involved a lot of technical work—not just to digitize, but also to draw, design, and "engineer" so that she fit together properly and in a pleasing proportions. It's way easier to just digitize and piece of ready-made art!
Personally I'm more satisfied doing one amazing design than boatloads of basic ones. (I generally pick designs based on things I like or would use.) However, I need to be able to know that the effort I put in will be suitably rewarded.
(To put it bluntly, I need to sell a WHOLE LOT when they are priced this low; this is my sole income!) Thank-you to those who have purchased her, sewn her, raved about her, and shared the word about her to your friends. I truly appreciate it!
WHAT DO YOU WANT?
In order to figure out what types of projects are worth investing in, I need your feedback. You can post requests on my Facebook page or email me. If you choose the latter, the best way is to use the Contact Us form. If you simply add it to the comments section on an order, I'm less likely to see that (especially if it was on a free download order…).
In class surveys, I'm finding the majority of you have minimum 5×7 sewing fields and many have much larger. When you make your requests, please let me know about size as well. Also, the majority of you only have single needle machines, so please let me know
if you want designs with limited colors. You'd be surprised though, that single needle embroiderers are more willing to change threads on their machine than multi-needle owners when there are more colors than needles!
While I do consider all suggestions, keep in mind this is not the way to get a custom design done. In other words, if your heart's desire is to have a crawdad dressed in Mardi Gras attire (an actual past request), it's unlikely to get done due to a lack of universal appeal. Just saying…
RELATED ARTICLES