What could be sweeter than this? Just in time for Valentine's Day, you let your embroidery machine whip up some lace that can be transformed into a small ring or trinket box, a sachet, or an ornament?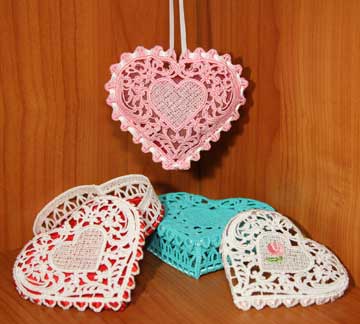 A touch of delicate romance is a delight year round, not just for Valentine's Day! Consider other holidays—Mother's Day, Sweetest Day, birthdays—or just a special token to say "I'm thinking of you.
You'll notice the top has a small inner heart, perfect for customizing with another small design or a monogram. The bottom is more plain to reduce sewing time and provide a place for an additional message.
To make lining the box simple, I created 2 appliqués sized to fit into the lid and base and embroidered them as free-standing appliqué (technique is covered in the included instructions.). Lining is optional.
This small ring or trinket box is designed so that it may be sewn in a 4×4" or 100x100mm hoop. If you have a 5×7 hoop, you'll find a longer side piece that can be used instead of piecing two smaller segments together for each side.
MAKE IT INTO A SACHET…
I really prefer to make designs that offer a little more flexibility for personal creativity and this often requires extra planning before ever even drawing.
For this one, I designed it so the box lid can double as a sachet. Simply embroider two and lace them together. A pattern is included for the potpourri bag, which can be done either in the hoop or the more traditional method.
You'll find that if you rinse all the stabilizer out of this lace, it is incredibly soft. It would also work well as an applique on other projects.
Want a more tailored looking sachet? Embroider two bottom pieces and lace up in a similar manner.
I have to say my house smells pretty good right now after making a sachet and filling it with Lily of the Valley potpourri!
MY AFFILIATE LINKS DISCLOSURE
Hi everyone. Just to let you know that some of the links on this site are affiliate links. What that means is that if you click one of them and buy something… I get a commission. It doesn't cost you anything extra and I only recommend things that I've tried and tested, so please, please, please… use my links.
Fine Print: Lindee G Embroidery is a participant in the Amazon Services LLC Associates Program, an affiliate advertising program designed to provide a means for sites to earn advertising fees by advertising and linking to amazon.com. Lindee G Embroidery is also an affiliate for Embroidery.com, Nancy's Notions, Embrilliance, and Craftsy. If you purchase something through one of those links I may receive a small commission, which helps to offset the cost of running this site. 🙂
CUSTOMIZE IT!
I've designed a small area on the lid for your customizing. You can add a small 1 or 2 letter monogram or small design here, like the white lid on the right. I've included one of the rosebuds from Delicate Roses so you'll have one to play with.
I did rotate it after placing it (I used Embrilliance Essentials for this—if you're a Mac user like me and don't like to "do Windows," then you'll want to check out this program! There's also a Windows version.)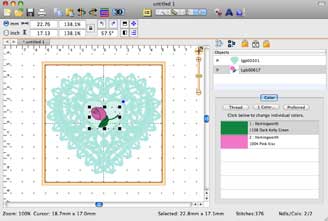 ADVANCED CUSTOMIZING (AKA EDITING)
With editing software, you can customize the lid piece even more by adding in a few extra color changes!
I strategically digitized the lid to make this an easy task. (A lot of goes in to planning versatile embroideries!)
This design is digitized from the middle out so you can easily have the inner most heart as one color (the image below has it in 2), the swirls as another, and the scalloped outer edge a third. Be sure to add in tie stitches if your editing software doesn't do it automatically for you!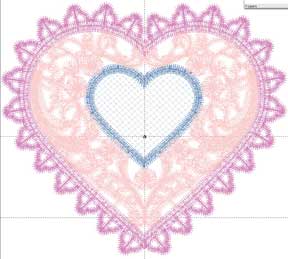 I truly think that if you learn some basic editing skills, you can really maximize your embroidery creativity!
MAKE YOUR OWN LACE!
There's even more blank area on the bottom piece of the box. If you've ever wanted to make your own lace designs, here's the perfect little blank palette!
The bottom piece is also designed to lace together so it too can be used as a less fussy sachet. Both the top and the bottom can be left flat and used as ornaments or embellishments for scrapbooking.
FREE-STANDING APPLIQUE
In the photo here, the white heart on the left is laced with red ribbon and lined top and bottom with red satin free-standing appliqués. Here's yet another place for customizing.
Sew up a batch of these customized with a name (guests, or maybe the names of the bride and groom and their special day) and sprinkle on a table for a bridal shower. The sachets would make wonderful special mementos as well.
Instructions on how to do free-standing appliqué are included in the PDF and I'll bet you'll find a lot of ways to use this technique and not just with these designs. For example, this is the perfect technique for the Badges collection. If you have software that creates appliques from basic shapes, you can make your own with this same process.
An extra tip: If you know your way around editing software, extract that first color (the placement guide) and copy and paste into a new file. Use it as a guide to embellish with other designs or add lettering. Sew it out, cut it out, and use it as an appliqué. Do be sure to check that the design has not "shrunken up" due to any sewing distortions. You may want to remove the outline guide before sewing so that you can cut a more accurate applique pattern.
This free-standing lace heart box project collection includes 8 design files plus a fully illustrated 16-page instructional booklet (included with lgp002-colors.zip) and full-size printable templates.
The 16-page, full-color, fully illustrated PDF instructions cover basic lace embroidery tips, how to assemble the heart box, how to make and assemble the sachet, and how to make double-sided free-standing finished applique designs.
I normally include all the pertinent documentation for a collection in the "colors.zip" file to keep the downloads as efficient at possible. If you download 2 formats, you won't be duplicating a potentially large set of documentation files.
While we typically think of hearts at Valentine's Day, consider all the other "love" occasions: Mother's Day, weddings, engagements, Sweetest Day, birthdays, and "I love you just because" days. This versatile little collection can provide a variety of special presents by feeding your "gift stash" and justifying that amazing machine you have!
GET STARTED MAKING YOUR OWN!
This project collection includes:
8 hand-drawn and manually digitized machine embroidery designs (4 as free-standing lace) One fancy scalloped bordered free-standing lace heart for the lid or sachet

One slightly smaller more basic free-standing lace heart intended for the bottom
One pair of sides for 5×7 inch sewing field
One pair of split sides for 4×4 inch sewing fields
One applique heart sized for the lid insert/lining
One applique heart sized for the box insert/lining
One in-the-hoop sachet bag lining design
One small rosebud for optional embellishing on the lid

One 16-page fully illustrated step-by-step color instruction book (PDF)
I'm sure once you download and start making these little hearts, you'll start thinking of all kinds of clever ways to use them! And as you do, please share them on my Facebook page! If you post pictures of your projects, feel free to tag Lindee G Embroidery so they show up on my page and others can see them as well.
Or, you can get just the lace heart used in the lid or the sachet.
RELATED ARTICLES