This year marks the 15th anniversary of my first heirloom angel, created for an office Christmas party contest. At the time I still worked full time for an ad agency in Cincinnati (as well as full-time building the then fledgling Cactus Punch).
There were several categories for the tree ornament contest, and knowing my co-workers, I knew I could never top them in the orneriest category so I decided to shoot for prettiest–and I won.
There were several categories for the tree ornament contest, and knowing my co-workers, I knew I could never top them in the orneriest category so I decided to shoot for prettiest–and I won.
BEST ORIGINAL EMBROIDERY DESIGN AWARD
A few months later, I entered the angel again at METS, an embroidery trade show in Chicago and I won first place for best original digitized design. (Hey, it was 1997!)
I never really intended her as a stock design, she was just something I made for the party. Here's a picture of her–some of you may have sewn this design yourself.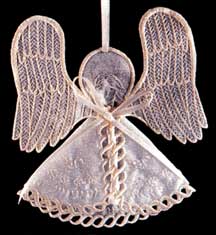 The photo above shows her from the back. She's sewn on nylon organza, cut out, and then the remaining fabric is melted with a soldering iron. Even after embroidering, she still requires 45 or more minutes of hand work to complete. Back then, she was was sewn in a multi-position hoop–what fun that was!
I can't believe it's been 15 years since I first digitized her and for the past few months I've been thinking about how I would design a new one. I've been making sketches and collecting images to inspire me.
I knew I wanted her to be very special, something unique, something you won't find an identical version of on someone else's site. In fact, right now she's exclusive to only Lindee G Embroidery.
It's been a rough few years for many of us. Some have faced health issues, others have lost loved ones, jobs, and businesses. It's been rough for many of us in the embroidery business as well as we've seen the price of design plummet and the number of people buying them drop off as well. I wanted to create a special design that would inspire faith and hope.
CHRISTMAS 2011 HEIRLOOM ANGEL
So here she is! She stands about 8.5″ tall and, if you have a large sewing field (200x300mm), you can sew her in two hoopings. I've also created split versions for 5×7″ (130x180mm) sewing fields. If you have a smaller machine, I suggest you upgrade!
As shown here, she is totally free standing and self supporting and requires only a few hand stitches to secure—far less hand work than my original version from 1996!
She does have a few more stitches, weighing in at over 200,000 stitches to complete. Based on that, you could expect to pay over $200 for her based on a typical $1/1000 stitches embroidery rate and that doesn't include a set-up fee or special handling for finishing.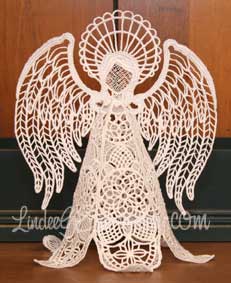 You'll notice, too, that she doesn't look like a lot of the free-standing lace proliferating the internet these days. You know the ones I mean—a mesh grid of fill stitches with some satin elements sprinkled on and a few voids here and there.This one is designed to look more like hand-punched lace and there are no "instant effects" on her.
The version shown can be disassembled in seconds to store or ship flat—well, pretty flat except for the flared skirt. Assembled, she'll preside elegantly on your holiday buffet or fireplace mantle or even grace the top of your Christmas tree.
While she does take quite a while to sew, she has no jumps, no trims, and no color changes so once you press the start button on your machine, you can let it run 'til it's done, even on a single needle model.
Smaller machines will require 8 hoopings and I've given those of you with those machines two options for the skirt: one is easier to sew but a little more time consuming to assemble (not hand stitching) while the other one requires attaching panels as you embroider.
The download includes embroidery files, color sequence PDF, and an illustrated instructional PDF.
I MUST BE INSANE!
If you think this angel takes a long time to sew, imagine how long it took to draw, engineer, digitize and test. The angel you see here is the third one I made, so yes, I do know how long it takes to sew! I also have a recycle bin full of paper mock-ups and throw-away designs.
What makes me insane is that from now until next year (January 1, 2012) I'm giving this collection away for only $5!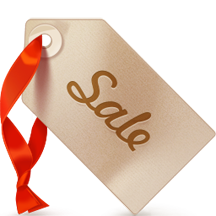 A WORD ABOUT SPECIALS, SALE PRICES & COUPONS
Please pay attention to post dates and any specials listed in posts. Special pricing is for a limited time and may be repeated at some point.

Specials, sales, and freebies are always announced in the newsletter. Signup to get notifications of specials, new items, and freebies.

Additionally, shop wide coupons may be available to apply to any regularly priced items.

Coupons generally only apply to regularly priced items, not items already marked down. If your coupon doesn't work, this may be why.
GET HER BEFORE THE STROKE OF THE NEW YEAR!
Obviously I can't sell her at this price forever so I suggest you get her soon. She'd make an elegant Christmas gift for someone special on your list.
All she really takes is thread and some wash-away stabilizer. Sure she takes time to sew but that's machine time not your time. Your time is just hooping, rinsing out the stabilizer and a small amount of time to assemble.
UPDATE! A WORD ABOUT SPECIAL PRICES (ADDED NOVEMBER 3, 2012)
It never fails that after a sale is over (this post specifically states January 1, 2012) that someone emails complaining that the price listed on the website is much lower than the shopping cart or accusing me of "false advertising."
Really? Did you read the entire post?
This is the blog area of the website. All posts are noted with the publish date just under the title.
Consider blogs to be like magazine articles. Do your magazine articles update when information changes? Do you read an old newspaper and expect special prices to be available whenever you happen to read it? Just think what a deal you could get on groceries with a 1950's newspaper ad!
Prices change for a variety of reasons. Sometimes it is because a product has been picked up in a major catalog and to continue pricing below wholesale would be unfair competition to them.
In such cases, products have to be priced high enough so that distributor pricing (lower than wholesale!) is enough to cover the packaging, labor, and still provide a bit of profit for the work involved in creating the designs. When products are carried in those catalogs, website specials are limited or non-existent.
Some products are introduced at an extremely low price to generate action. Other products go on sale seasonally or because "I feel like it."
And no, I won't go back and rewrite old posts or find every place an old or special price was mentioned—or for that matter the "normal" price when there is currently a sale going on. To be notified of current specials, sign up for the newsletter.
RELATED ARTICLES