The 2012 Heirloom Angel is here and she's a stunner! My favorite is the one with the red silk skirt.
I've stitched her in different colors but you could easily stitch her in just one. Silks, satins, and Twinkle organza add elegant holiday touches when used for the skirt panels.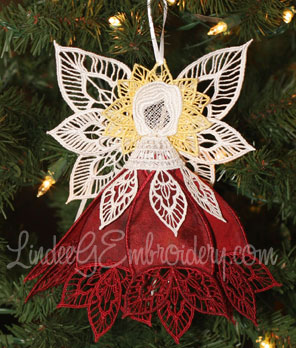 I really like her in red!

Or you can do her with a white skirt. I've even seen her stitched all in white and she looks truly elegant that way!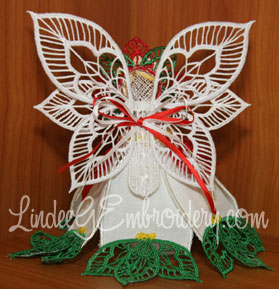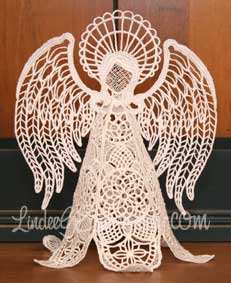 The first Heirloom Lace Angel, created last year (on a dare, I might add but that's another story!) was such a hit and I've had many requests for a companion.
This year's angel was inspired by Poinsettias, which are very popular this time of year.
While last year's was digitized in just one color, this one has multiple color changes for more design flexibility.
Also, I considered the many comments and requests, which included:
lower stitch counts
no design part larger than a 5×7 sewing field
more options for versatility
no hand sewing
The 2012 Heirloom Poinsettia delivers on all of these! She's a multi-media technique project featuring free-standing lace, free-standing appliqué, and 3D free-standing lace appliqué. Notice the attention to detail and the consistency of the design elements that create her unique character.
Solid panels of appliqué on her skirt not only significantly reduce stitching time, they increase versatility. Sew them in solids or prints; all the same color or alternate panels; in any suitable fabric from cotton to satin to organdy or your choice! My preference is for a solid color to better showcase her lacy yoke.
Another benefit of a fabric panel is it provides a small space for a dedication, monogram, or other small bit of lettering. For example, you might add the year or possibly a birth date as a guardian angel for a new baby.
The bottom of the skirt gets extra dimension with the addition of free standing lace motifs attached during the embroidery process.
The head and halo are comprised of multiple pieces. Although the original was planned as a 2-piece 3D appliqué halo, with a tiny amount of extra work, you can create a 3 layer halo. The completed halo is simply affixed to the back of the angel's head.
This year's angel features a more secure attachment of the wings to the dress/body and it is possible for her to sit on a table, on a tree top, or even hang. Even the back view is beautiful!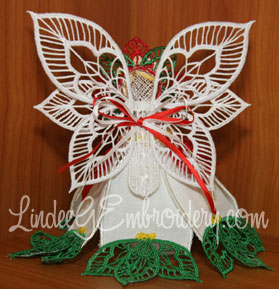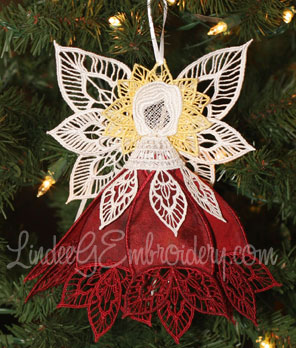 The Poinsettia Angel also has multiple color stops for increased design flexibility. Don't let that stop you from sewing her mono chromatically! Except for the yoke, sewing single color introduces no extra trims or jumps.
In the sample below, I've used red silk for the skirt and a matching thread color for the lace trim to avoid issues with red fabric bleeding. I've also threaded a ribbon through her halo and have her hanging on my tree.
For threads, feel free to choose 40-weight thread in Rayon, polyester, cotton, or SoftLight Metallic. In general, poly is not recommended for lace on garments and household linens because it is stiffer.
For sculpted items like the Poinsettia Angel, poly is fine. You can match the bobbin thread or not; I didn't—I just standard embroidery weight bobbin thread in white on the light colors and black on the dark.
The full project collection includes
10 design files (you will need to mirror the large angel wing for the opposite side
Actual size appliqué templates
15 page fully illustrated instruction manual for constructing your angel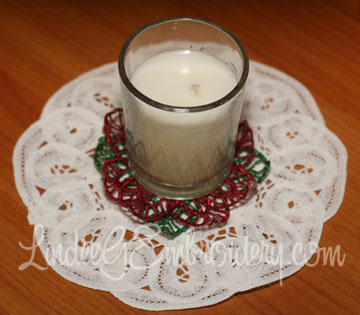 Of course, last year's Heirloom Lace Angel is still available as well.
If you're new to embroidering free-standing lace, check out the video listed in the related articles. You might also want to start with something smaller like the Pocket Angels or the Mock Crochet Snowflakes.
A quick and simple variation using just the halo to embellish tea light candles can be found in Holiday Tea Light Decorations. I used this technique on the red satin angel to create an extra halo layer.
SPECIAL INTRO PRICING
For a limited time, the Heirloom Poinsettia Angel is being introduced at a special price of 50% off. Be sure to get her before this pricing is GONE!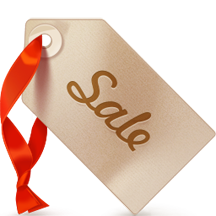 A WORD ABOUT SPECIALS, SALE PRICES & COUPONS
Please pay attention to post dates and any specials listed in posts. Special pricing is for a limited time and may be repeated at some point.

Specials, sales, and freebies are always announced in the newsletter. Signup to get notifications of specials, new items, and freebies.

Additionally, shop wide coupons may be available to apply to any regularly priced items.

Coupons generally only apply to regularly priced items, not items already marked down. If your coupon doesn't work, this may be why.
RELATED ARTICLES