Creative people see possibilities. Creative embroiderers see new projects! I'll show you how to use a simple design from a more complex project collection and re-purpose it into a quick and easy holiday or even year round party decor.
I prefer to use software for resizing and editing but this project can be done just with your machine by skipping color changes at the appropriate time.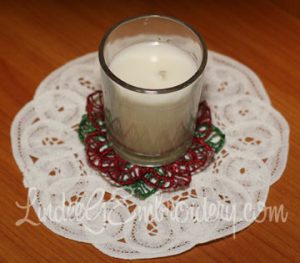 PROJECT SUPPLIES
Heirloom Poinsettia Angel: design #8, 4-point halo (Or download just the halo.)
Embrilliance Essentials software
Small tea lights in glass containers
Sulky Fabri-Solvy, Hemingworth Wash-Away, or water-soluble fiber-based stabilizer for machine embroidered lace
SoftLight Metallic Thread (Strawberry Red, Velvet Green)
Note: : If you don't have any embroidery software, download a demo from Embrilliance.com and play along or this project can be done at the machine without resizing by skipping color changes.
PROJECT OVERVIEW
The full halo from this exquisite project collection is a 2 piece 3D free-standing lace appliqué using a 4-point design with a 3-point design stitched to the top. We'll only be using the 4-point base design for our simple project.
You'll notice that the original design is two colors: green "leaves" and a red center. Stack several layers together, replace the green with red and you have a poinsettia; use a yellow or pastel blue and you have a daisy.
To achieve our goal, we'll enlarge the design slightly and then edit a copy to use as a 3D appliqué. Finally, we'll combine them to maximize our hoop and stabilizer usage and then export for the machine and sew!
The tea lights I'm using are in small glass containers, which are approximately 1 3/4″ in diameter. The outer edge of the satin circle holding the embroidered sections together is approximately 1 1/8″ in diameter. I'll enlarge the design slightly then modify a copy of it by removing some color changes so it can be sewn without me having to remember to skip colors at the machine. I prefer to do as much work in software as possible to streamline the sewing process.
Note: A smart embroiderer always tests modified designs before sewing in bulk!
DIRECTIONS
Open design lgp00308 from the Heirloom Poinsettia Angel project collection in Embrilliance Essentials. Any format will do. If you want to see the design in the original colors, open the VP3 version.
Select the design and enlarge the design 115%. Notice that Embrilliance maintains the designs specialty effects and the density, adding more stitches as it enlarged the design.
Save the design as TeaLite2. This is the full design and gets sewn second. When saving, save the working file (.BE file, for future editing) and the format for your machine. I prefer to save in DST because it will work with all my machines.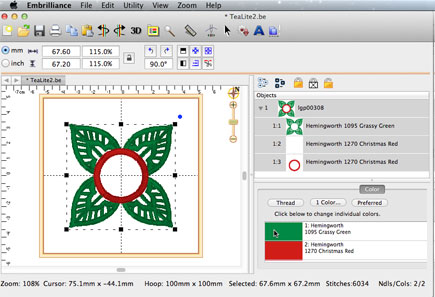 If we look at the color list in the Object Panel (right-hand side of the screen, shaded above), we'll see the green area, then an "empty" area, then the final red center circle. The "no color" empty swatch is an appliqué stop, which we know by looking at the color sequence instructions with the original design collection. At this stop, we'll place another previously sewn modified version of this design and we'll make that version next.
Save the design again as TeaLite1 and make the following changes: in the Objects panel, click and delete colors 1:2 & 1:3. That's all there is to it. Save. (Without editing, you'll need to skip these colors at the machine.)
TEST YOUR CHANGES!
At this time, it's a good idea to test your design. Resizing does change the design from the original and scaling lace designs is more precarious than standard direct embroidery designs. Free-standing lace designs must maintain stitch integrity to remain intact once the stabilizer is removed. Be sure to rinse out the stabilizer and check the design; you won't really know for sure before that point.
Note: This design is already very open before enlarging because the original was not intended for an item that would get frequently handling. You'll need to just rinse out the minimum amount of stabilizer. For a more durable finished product, sew on nylon organza and cut out.
If your sample passes the test, then continue on. If not, determine (if you can) whether it is a design problem or a technique problem. One way to do this is by testing the original, unmodified design. For more info on lace, see the following blog post: Getting Great Free-Standing Lace Embroidery Results or watch this YouTube video on creating free-standing lace with the Winter Jewels Mock Crochet Snow Flakes.

Alternatively, instead of embroidering on the wash-away stabilizer for free-standing lace, consider embroidering on two layers of nylon organza and cutting away the excess fabric beyond the petal edges and leave the center area intact.
MAXIMIZE HOOP, STABILIZER & TIME!
If you only have a 4×4 hoop, you'll be sewing these one at a time. Because one of my machines has 150×150 hoop and I can snugly fit in 4 of these in one hooping.
Like many of you, I have multiple machines. I often choose the one that has the hoop best suited to my project.
Create a new file and in Preferences, set the hoop size to 150×150. Copy, paste and arrange the 4 copies of the same design in the hoop.
Do not mix the two different designs in the same hoop. TeaLite1 designs must be cut out and then attached to TeaLite2 designs as the latter are being sewn.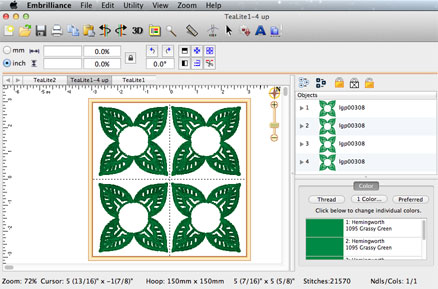 Both designs will be sewn on 2 layers of wash-away fiber-based stabilizer. I used Sulky Fabri-Solvy.
Sew TeaLite1 first, then cut out around each individual design (outer edge only; leave the center intact). Then sew TeaLite2.
At each appliqué stop, align one of the TeaLite1 designs offsetting the petals and matching the center circles exactly. You may want to remove the hoop from the machine and place it over a light table.
Tape the petals in place to secure, return to the machine and sew the next color, which will satin stitch the two layers together. Photo below shows a closeup of the hoop with petals placed and taped.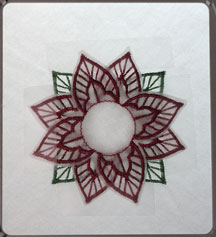 When sewing is complete, rinse out stabilizer according to the package directions. I just dip briefly in very hot water to keep the maximum amount of product in the stitching and then lay out to dry. A cookie cooling rack works well for this step.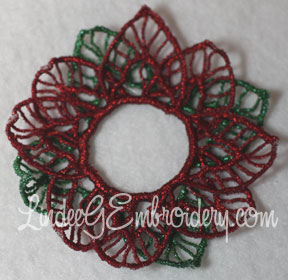 When dry, you can adhere the embroidery to the bottom of the tea light with melted wax or hot glue.
You can make 2-layer or even 3-layer designs with this method.
The sample shown here uses two layers of TeaLite1 in SoftLight Metallic Strawberry Red attached to one layer of TeaLite2 sewn in Softlight Velvet Green. The metallic twinkles beautifully with a flickering candle!
If you go to 4 or more, sew no more than 3 at together and combine groups with hot glue.
MY AFFILIATE LINKS DISCLOSURE
Hi everyone. Just to let you know that some of the links on this site are affiliate links. What that means is that if you click one of them and buy something… I get a commission. It doesn't cost you anything extra and I only recommend things that I've tried and tested, so please, please, please… use my links.
Fine Print: Lindee G Embroidery is a participant in the Amazon Services LLC Associates Program, an affiliate advertising program designed to provide a means for sites to earn advertising fees by advertising and linking to amazon.com. Lindee G Embroidery is also an affiliate for Embroidery.com, Nancy's Notions, Embrilliance, and Craftsy. If you purchase something through one of those links I may receive a small commission, which helps to offset the cost of running this site. 🙂
PRODUCTS MENTIONED…
HELPFUL LINKS TO PRODUCTS I RECOMMEND & USE
Since I'm constantly being asked, "what did you use for [fill in the blank]," I've begun organizing my favorite products on this Resource page as a convenient place for you to find them.
I've also included links to where I get them, many of which are affiliate links. Hey, I can't stock everything! If I list something I haven't/don't use, I'll let you know that too.
RELATED ARTICLES