Angels are in and have been for quite a while. The last two years I've designed and digitized large, complex angels, starting with the Heirloom Lace Angel in 2011 and the Poinsettia Lace Angel in 2010.
This year I've chosen to digitize smaller, ornament size angels that stitch quickly in just one small hoop and don't require any special assembling.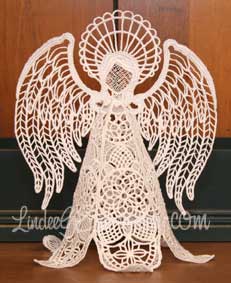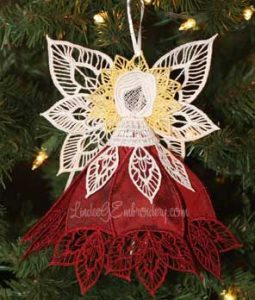 NOT JUST FOR CHRISTMAS!
Many embroiderers stitch up batches of these small angels for gifts for births, christenings, illness, hope, and "just because." There are two sets of these angels, the first set, Free-Standing Lace Angels 1, pretty much maxes out a 4×4″ (100mm x 100mm) sewing field in at least one dimension.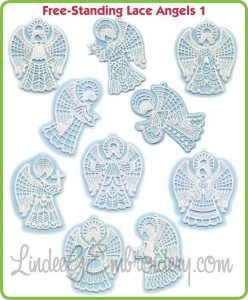 After I began introducing these, I had requests for smaller "pocket angels," which followed closely on the heels of the first set.
The requests for the smaller ones followed a theme, "I give angels to those who need them (cancer treatments, surgery, homeless, etc.) and I need them to be small enough to fit in a pocket or wear on cord around the neck. I carry them in my purse and hand them out whenever they are needed."
What a kind and thoughtful gesture!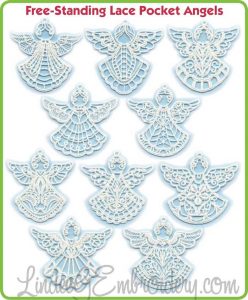 Another request came for a "cause angel with a ribbon that could be stitched in a different color" and so I designed the Hope Angel, shown here at actual size. This one is currently only available as an individual design and will be part of future set.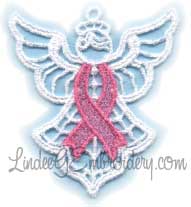 While the larger angels are projects and include full instructions and multiple designs requiring large hoops (minimum 5×7″) and are only available as a project collection, the smaller angels are available as sets or individually in the lace area of the shop.
ABOUT LACE DESIGNS
I actually like digitizing lace. I do have to block out time where I won't be interrupted and when I'm feeling patient enough to deal with all the planning and concentration that goes into digitizing all the structure that will hold the lace together. It's almost meditative for me!
I love stitching the angels with SoftLight Metallic thread. I like the added glitter without the garishness of most other metallics not to mention the fact that SoftLight sews like Rayon and even with the tiny stitches in lace, I've had no thread breaks.
Read more about SoftLight in this post: A New Metallic Thread for Embroiderers & Long-Arm Quilters.
I also use a regular bobbin thread or pick a matching 80 wt thread from WonderFil.
Stitching lace is not difficult but there are a few tricks to it. To learn more, check out this post: Getting Great Free-Standing Lace Embroidery Results.
SPECIAL PRICES ON ANGELS EXTENDED!
The small angels have been introduced by ones and twos since last July. If you've missed them at their special intro prices of only $2, I've extended a "reprise sale" one more week due to email issues with the shopping cart.
You can still get them at only $2 each by selecting the collection. If you need to complete your set of missed designs, individual designs are only $3. This special expires on Monday, November 11, 2013!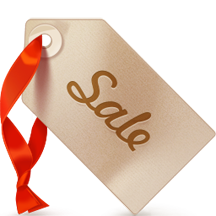 A WORD ABOUT SPECIALS, SALE PRICES & COUPONS
Please pay attention to post dates and any specials listed in posts. Special pricing is for a limited time and may be repeated at some point.

Specials, sales, and freebies are always announced in the newsletter. Signup to get notifications of specials, new items, and freebies.

Additionally, shop wide coupons may be available to apply to any regularly priced items.

Coupons generally only apply to regularly priced items, not items already marked down. If your coupon doesn't work, this may be why.
RELATED ARTICLES