ITH Bags Made with Candy Wrappers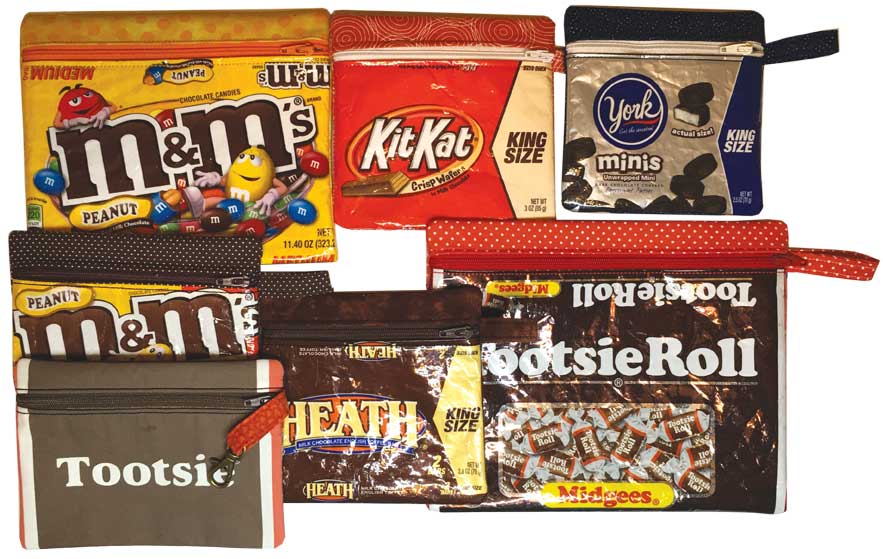 Project Description
Yep, you read that right! I used actual candy wrappers to make these in-the-hoop bags.
The trick here is to match the design size to the wrapper because you can't resize an ITH project with a zipper; all the proportions will get wonky.
No, you don't have to use candy wrappers! With bag #1 in this set, I made one with a KitKat wrapper, a second with a Heath Bar wrapper, and a third using leftover bits of fabric from the rest of the bags in this set.
These bags work up quickly and make a fun project for Valentine's day, birthdays, Halloween for big and little kids alike! My mother got a kick out the Tootsie Roll bag I sent her (filled with her favorite Tootsie Roll Midgees, of course!)
If you don't have a wrapper that fits, I cover some alternatives in the directions. Working with the wrappers does require a bit of extra work and I show you how to do it along with what not to do plus a way you can patch wrappers that might not be big enough.
Credits
Designed and made by Lindee Goodall (1/24/2017)
Products Used
Related Articles