This month's project we're going quick and easy with lovely little double drawstring bags with French seams sewn in sheer fabrics. I used chiffon for the yellow bag with the marigold and batiste for the all white bag with the cosmos. Wouldn't these make beautiful hostess gifts for a bride's breakfast?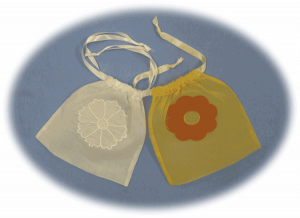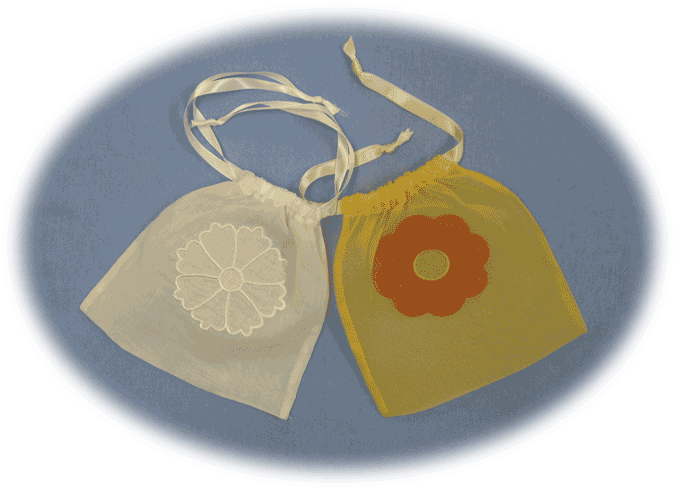 Our focus this month is on sheer fabrics and how to determine if a selected design will work. We'll also discuss stabilizing the fabrics and how fiber content affects our choices. I also altered the template for the marigold and I'll show you how I did that.
French seams might sound daunting but they are really quite simple and add that upscale couture touch to this otherwise basic project. Obviously you can make these bags from any fabric and embellish them in many ways (or not!).
The bags make great accessories for organizing and carrying any number of things from delicate lingerie to jewelry to small toys for entertaining a child to goodies for gift giving.
OCTOBER BIRTH MONTH FLOWERS: MARIGOLD AND COSMOS
Cosmos, like Marigold, the other October birth month flower, is one of about 20–26 species of flowering plants in the family Asteraceae (along with other flowers in this series: daisy, aster, and chrysanthemum).
Cosmos is also the second wedding anniversary flower. It is said that chocolate cosmos in particular mean "I love you more than anybody can." What a sweet sentiment for either occasion!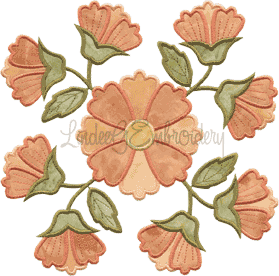 While the marigold flower, closely associated with the sun's energy, carries positive connotations, it has also been perceived through the ages to possess some darker qualities. It can symbolize jealousy and cruelty and represent sorrow and feelings of unrest during a sad time.
Ancient Mexican lore portrayed the marigold as the flower of the dead and it still plays a significant role in rituals celebrated on the Day of the Dead. It has also been associated with Mary's sadness and connected to death by an odor that is suggestive of embalming ointments.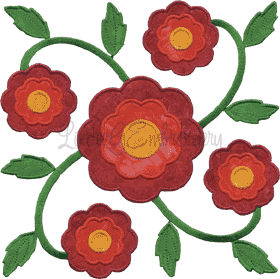 WHAT'S ON THE COLLECTION
The collection includes three variations of the birth month flower: applique, redwork, and filled. The flowers are designed for a 200 x 200mm sewing field and are also split for two sizes of smaller hoops. While some of the smaller elements can be sewn in 4 x 4″ sewing field, a 5×7″ sewing field is recommended.
The designs for the smaller hoops are not shrunken, they are split and require 2 – 5 hoopings depending on your sewing field.
The collection also includes actual size PDF worksheets for placement, applique templates in PDF, SVG, and FCM for precutting applique pieces, and some brief notes. Project instructions are NOT included with the collections. A collection can included 24 to 30+ design files.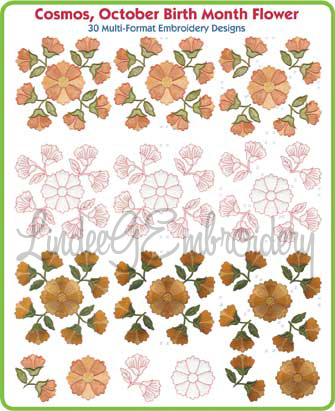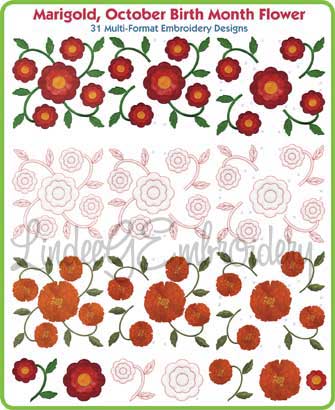 THE FOURTH SLICE OF ECHIDNA P.I.E.
This project marks the fourth month of the Echidna Platinum Club P.I.E. series. Each month I take a design (or designs, as we did last month) and provide an embroidery lesson and a project. The project also often includes a sewing lesson, such as French seams for this month. The sewing is designed for someone with basic sewing skills.
The project designs are from a series of collections called Birth Month Flowers of the Year.
I originally chose flowers from the U.S. list for an appliqué block of the month. That expanded when I was invited to become part of the Echidna team and launch an online embroidery club. That's when we found that the Australian birth month flowers were slightly different.
Actually, there was some overlap on the U.S. list but I had chosen an alternate flower either for shape variety or because it would be more identifiable as a traditional style appliqué block.
That's why you'll see that many months have two flowers.
When there are two flowers you'll get both flowers on the collection although I may have only chosen one to use in the project.
AMAZING DEAL!
Each month's project includes a lesson PDF, a project PDF, worksheet PDFs for the appliqués, plus appliqué templates for cutting by hand or by machine. In addition to the design files for the project, you'll get all the appliqué designs for that month's flower(s)—even if one of the other designs was used for the project.
Because you'll be getting the full-size plus the split version of the applique, this means that some months you'll be getting 20+ designs plus the project for only $9.95 As a Platinum Club member, you can optionally purchase the collection separately with all the designs for only $10 whether or not you get the project.
DON'T WANT TO JOIN PLATINUM CLUB?
You can still download the monthly birth month flower designs. Both October flowers are on sale this month for only $14.95. These do not include the project but do include all the designs, templates, worksheets, and basic appliqué instructions (these are typically included with all my appliqué collections).
Cosmos, 30 designs + templates. Regularly $39.95 only $14.95 (time limited!)
Marigold, 31 designs + templates. Regularly $39.95 only $14.95 (time limited!)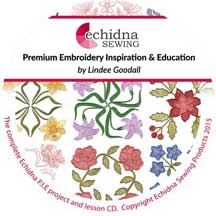 Echidna PIE Update Notice
Please note the dates on this post.
This Echidna PIE series is now complete and is available as a single download that includes:

12 lessons and projects (412 paged PDF book)
220 embroidery designs
templates for appliques
plus a bonus project

All for only $99
ECHIDNA P.I.E. HAS JUST BEEN ENHANCED!
It seems there was some confusion regarding the Echidna P.I.E. monthly project series so we've made some adjustments that further enhance the program. An update notice was sent to Echidna's mailing list but if you didn't get that email, you can read more in Echidna P.I.E. Enhancements – October 2014 Announcement
The basic gist is you now get more designs with the project—the applique designs to create a block for your quilt if desired, plus the project designs. The full collection, if desired, is sold separately and now at an even more reduced price.
Once again, you must be an Echidna Platinum Club member to get the project and to take advantage of special collection pricing.
Check the related blog posts to learn more about Echidna P.I.E.
RELATED ARTICLES