This vibrant southwest quilt showcases 5 machine embroidered appliqué designs digitized by Lindee Goodall for Dalco Home Sew. The quilt was designed, pieced and embroidered by Lindee and quilted by Barbara Angerhoffer.
The central piecing is framed with a turquoise 1″ border surrounded by a dark 3″ border of mini Kokopelli black on brown print and finally set off with a solid black binding. Finished size is approximately 36 x 36″.
About this Project
The five machine embroidered appliqué designs were created from a request by my friend James Raymer at Dalco Home Sew. After researching many southwest designs, I drew the artwork to represent common elements in native artwork then digitized them.
I was so pleased with them (I have a southwest decor theme in my home) that I decided I'd make a wall hanging to showcase them. I designed the quilt in Adobe Illustrator and with the help of my quilter friend, Jeanette Smith, we picked fabrics.
Once I started printing out the pieces at actual size, I realized just how tiny some of those little triangles were! So to maintain accuracy, I digitized a grid for sewing half-square triangles with the embroidery machine. These designs are included with this pattern.
I didn't start out with the idea that I would publish the pattern but after numerous requests, I dug out my Illustrator files, and here we are!
So What Does the Pattern Include?
The 10-page color PDF booklet includes:
Instructions for cutting and assembling the top
Full size patterns for the pieces
Color illustrations showing how to the pieces are assembled
Instructions and full size patterns for the grid method of piecing half square triangles
Also included are:
Two embroidery designs for piecing half square triangles in the hoop.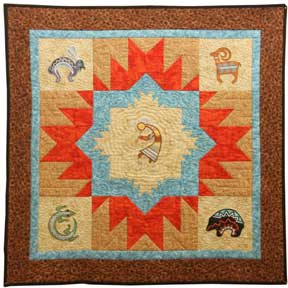 About the Embroidery Designs
The designs included with the pattern for piecing half square triangles in the hoop are not required to complete the project.
They are great, however, if your piecing skills are slightly less than perfect and you have an embroidery machine capable of sewing the designs.
The tiny half square triangles can all be completed in one hooping in a 5×7 hoop, which is now widely available on most home machines.
The larger ones require a sewing field of 175 x 175mm so you'll need one of the newer machines to sew these designs.
About the Applique Designs
The applique designs are available through Dalco. Check your local dealer or visit Dalco's booth at most any home sewing show. You won't find these as downloadable files because Dalco includes precut fabrics for their applique designs.
I love applique with the embroidery machine but cutting out all those pieces can be cumbersome! Of course, if you'd like to use different fabrics, you can still cut your own rather than using the included pieces.
Update! Now Available For Downloading
Now that the contract has expired with Dalco, they're now ready to download below.
Although they don't come with precut fabrics, they now come with digital cutter files and templates for hand-cutting along with the pattern and in-the-hoop half-square triangles, which didn't come with the Dalco version.
RELATED ARTICLES