May is the eleventh month in our Birth Month Flowers of the Year series and therefore the next to last block in this block of the month quilt.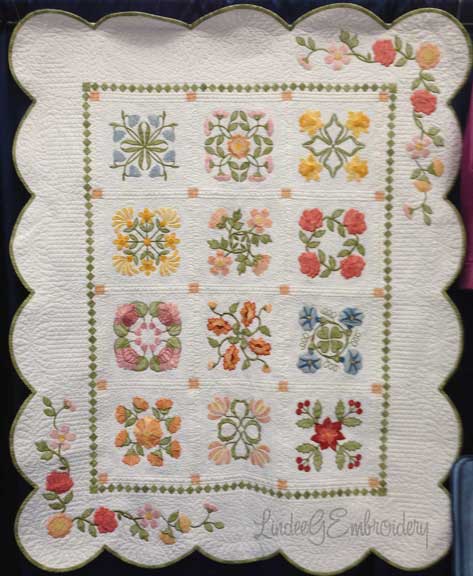 I've digitized two flowers for this month: the hawthorn for the U.S. flower and the lily for Australia, although the lily is also one of the flowers listed for the U.S.
Lilies are also popular for Mother's Day, which happens to also fall in May. The hawthorn is the state flower of Missouri.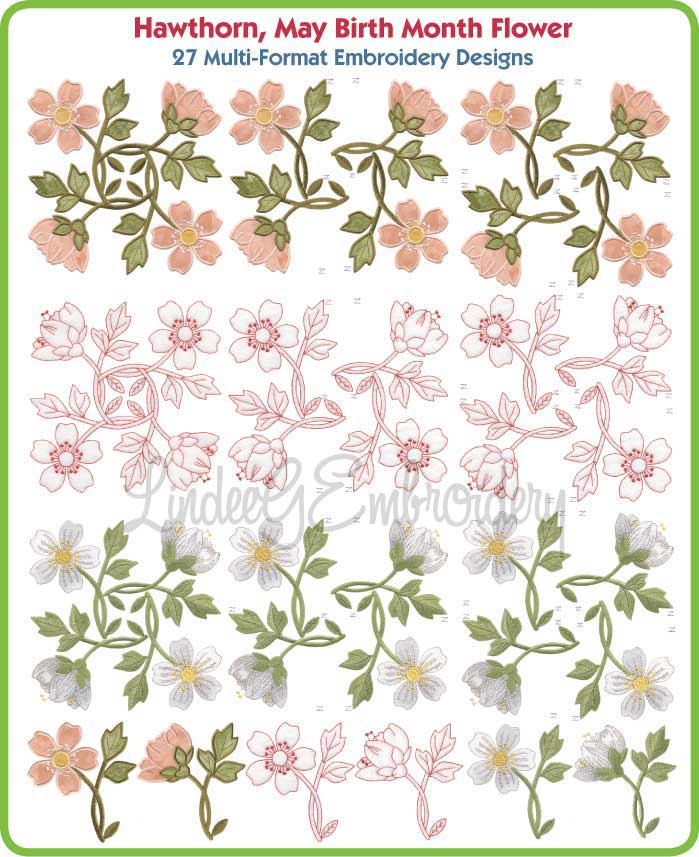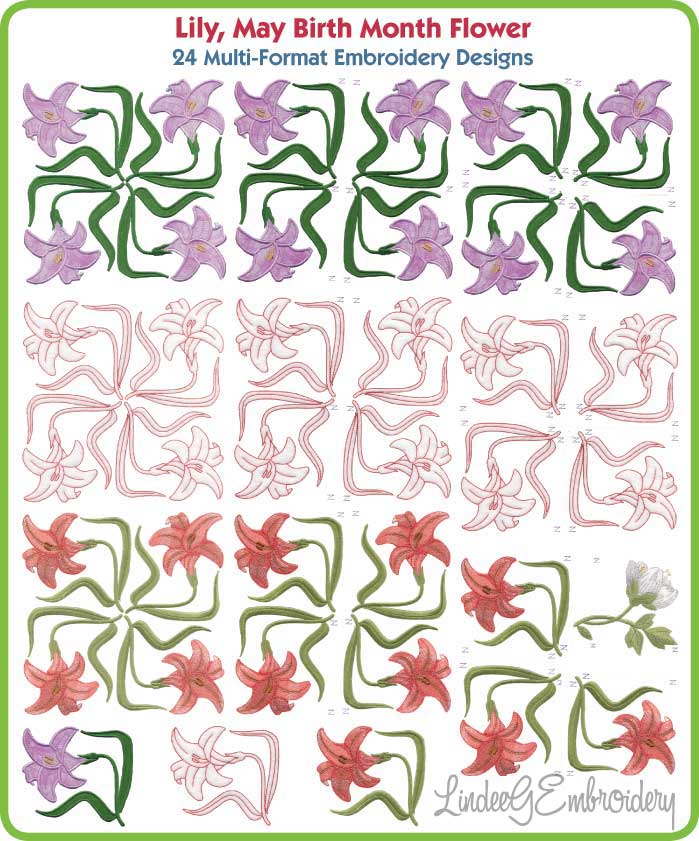 As with all the designs in this series, the full-size flower is optimized for an 200 x 200mm (8" x 8") sewing field and is digitized in three styles: appliqué, redwork, and filled.
I've used the appliqué versions in two quilts and the other ones have been used for monthly projects in my year long embroidery education program for Echidna.
To make the designs more accessible to those with smaller sewing fields, I've also split the various elements to accommodate different hoop sizes and pulled out single elements for other uses. These single elements are often used in imaginative and creative ways in the monthly projects.
ABOUT ECHIDNA P.I.E.
Echidna P.I.E. stands for Platinum Inspiration & Embroidery. Each month I create a new project while focusing on some aspect of machine embroidery.
You'll get a lesson on the topic of the month plus a project to put the concepts into practice and you'll get all the designs required to complete the project along with the other designs in that style from the collection. Seven months include two birth month flowers and you'll get the flowers for both months.
And, if you're an Echidna Platinum Club member, you'll get all that for only $9.95 AUS (less than $8 at the date of this post's exchange rate for U.S. buyers!)
That means that this month you'll get all the appliqué versions of both the Hawthorn and the Lily (17 designs!) plus a lesson PDF, a project PDF, and all the appliqué template files—including those for digital cutters like Brother ScanNCut and Cameo—for only $9.95.
UPDATE: This series is now complete and all lessons + designs + projects are available of $99 (8.25 per month plus a free bonus month). Includes 412 page PDF e-book & 220 embroidery designs.
The great thing about P.I.E. is that you can attend a monthly embroidery club get designs and fully illustrated, written instructions without every leaving home!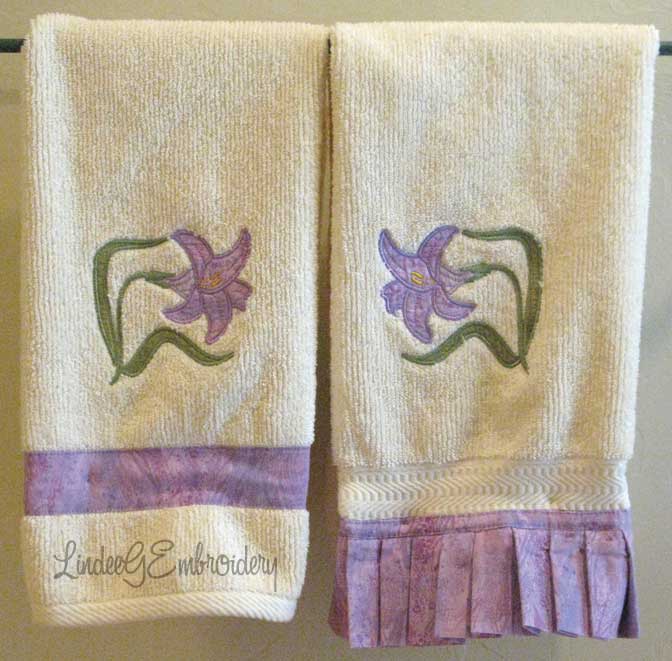 DESIGNER TOWELS – MAY ECHIDNA P.I.E. LESSON & PROJECT
This month's topic is embroidery on terry cloth. Textured fabrics create unique problems for embroidery and I'll cover different methods for handling them. Our project is a simple one to turn purchased hand towels into designer version.
WHAT YOU'LL LEARN …
Design considerations for towels
Size and placement recommendations
Backing and topping choices for towels
Hooping methods for thick items
What threads work best for towels
What bobbin threads to use for a prettier back
Tricks for permanent nap retention
How to embroider a towel
How to add a knife pleat ruffle to a towel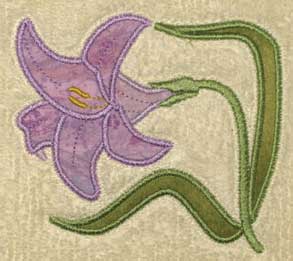 WHAT'S INCLUDED …
Lily and Hawthorn applique designs in all sizes (17 designs plus an additional one not in the collection)
Customized Lily design with an added background fill (not available with collection)
Additional template files for the mirrored version of the Lily design
PDF lesson – Embroidering on Terry Cloth
PDF project – Designer Towels
All Echidna P.I.E. projects are now incorporated into one package because the series is complete.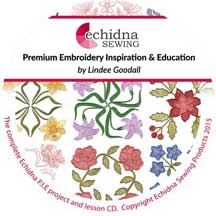 Please note the dates on this post.
This Echidna PIE series is now complete and is available as a single download that includes:

12 lessons and projects (412 paged PDF book)
220 embroidery designs
templates for appliques
plus a bonus project

All for only $99
WHERE TO GET THE DESIGNS
These specials are only good during the release month and do not include the project or lesson. They do include all the designs and templates.
Note that not all designs are available in all formats due to size restrictions of particular formats. You can see all the designs in this series in the Block of the Month section.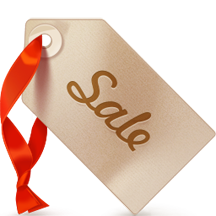 A WORD ABOUT SPECIALS, SALE PRICES & COUPONS
Please pay attention to post dates and any specials listed in posts. Special pricing is for a limited time and may be repeated at some point.

Specials, sales, and freebies are always announced in the newsletter. Signup to get notifications of specials, new items, and freebies.

Additionally, shop wide coupons may be available to apply to any regularly priced items.

Coupons generally only apply to regularly priced items, not items already marked down. If your coupon doesn't work, this may be why.
RELATED ARTICLES