Based on the number of requests I see on Facebook and other lists for free embroidery design and fonts, I suspect that the average embroiderer doesn't know what goes into creating one. And that's rather to be expected with the volume of font sets being sold at $1.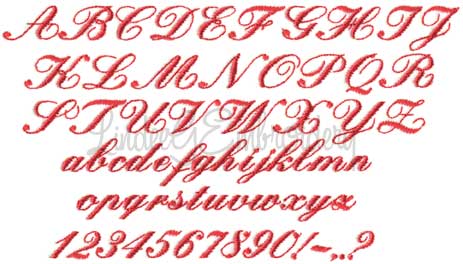 I can only imagine that those selling those cheap fonts either have no value for their time and investment or they aren't digitizing those fonts.
And by that I mean they are either using a True Type conversion utility to automatically digitize the font or they are simply taking advantage of included fonts in their software and making those characters available.
Plus, since a lot of those font images are rendered or "3D" screen captures, I wonder if they are even taking the time to test sew them.
HOW EMBROIDERY FONTS ARE MADE
It takes several hours (at least!) to manually digitize a basic font. I know because I manually digitize my fonts and it usually takes about 4 or more hours to digitize one full character set.
No magic wand, no TrueType converter thing. The characters are typed onto the screen to get the outlines, then adjusted and redrawn as necessary, inclination lines are drawn, and stitch affects created and applied.
It's not a simple process of just clicking on a letter and the stitches are applied.
And "digitizing time" doesn't mean a completed product!
Then it can take an hour or more to test sew. A one inch, full character satin stitch font might be 30 – 50,000 or even more stitches depending on underlay types and font complexity. Trims between each character increase the sewing time.
Once any corrections have been made, the characters must be saved out as individual files.
On a full 93-character alphabet, even if it takes only 30 seconds to copy, paste, save, and export, you're looking at over 45 minutes of tedium.
To BX it, you'll need to import the characters, align them, and test to verify the mapping, spacing, and alignment.
To have a product image, the sewn sample is scanned and the background fabric cropped away for a clean image. Files are zipped, descriptions are written, and the shopping cart is updated—which is not a one-click process.
On multi-size sets, the original master file needs to be resized, the stitch attributes adjusted, and it too is test sewn. Larger letters mean more stitches and therefore longer sewing times—and usually multiple hoopings.
And once verified, the extraction process has to be repeated. So, yes, the digitizing time is saved but we're not talking about a 2 minute process to create additional sizes.
Some multisize fonts require more work. For example, this 12mm (1/2") size of Kuenstler Script has both running stitch and satin stitch areas and is about as small as it can go. Doubling the size to 1" would most likely require redrawing the running stitch areas into satins and completely redigitizing for the best result.
And what about other costs? There's the software, machine, and sewing supplies. There's the website and payment processor. Not to mention all the time it takes to learn to use those things.
True, it's a digital file that gets sold multiple times. How many do you have to sell at $1 to make back your investment? Will you ever make it back at that price? Are you in business to make a profit? Have you even figured out if your pricing is making a profit or are you just trying to be lower than your competitors to make a sale?
Keep in mind, too, that when you sell it for a $1, rarely do you get the whole dollar. The payment processor will take a chunk out and the lower the price the higher the percentage it takes.
WHAT ARE YOU WORTH?
I saw a sign on taxi cab stating the rates. Waiting time was listed at $45 per hour. Why shouldn't your work be worth as much as a taxi driver sitting doing nothing?
You might be saying, yeah but… the car cost money, there's fuel being consumed, wear and tear, and what not.
Some of us have machines that cost as much as car!
We fuel it with thread, needles, and stabilizer. We have software that we had to purchase and learn. We had to learn how to hoop, stabilize, and operate the machine to get a good sewn result. Why are we giving all our work away and training embroiderers that embroidery designs have no value?
Websites aren't free. Hosting is not free. You may have to pay fees for your shopping cart system. Even if you do all the work to maintain your website, isn't that worth something?
If you sell on Etsy, it takes a fee plus the payment processor takes a cut out of each sale. Is the part that's left over even covering your costs let alone providing you an income?
HOW TO PRICE YOUR WORK?
So how should you price things to cover your time and expenses? Well, you'll have to figure that out for yourself.
But suppose that it takes you 10 hours to produce your product and have it ready for downloading and you're going to value your time at a taxi driver sitting and doing nothing but waiting. Let's also say that $45/hr covers your computer, machine, software, basic embroidery supplies, your workspace, and other overhead. That's $450.
Now, what expenses do you have? Did you have to buy artwork? What other costs do you have? Hosting fees, shopping cart, processing fees, etc. Do you pay someone to help in anyway—sewing, website, or other?
Total up every possible cost involved. Lets just say it comes to $100 to make the math easy. Our total is now $550 for this product or design.
Next, what number do you plan to sell to break even? Ten? A hundred? Divide your total by that number. If it's 100, your price is $5.50. How long will it take to sell that many? A week? A year? Five years? Is there a marketable time frame after which the design won't be popular enough to sell?
This is pretty simplistic because for one thing, the lower your price, the more the transaction fees will eat into your profits. For example, if your payment processor charges 10 cents per transaction, that's a bigger percentage on a $1 sale versus a $10 one and you need to factor that into your calculations. (Ten cents is unrealistically low, just so you know…)
FREE MACHINE EMBROIDERY DESIGNS
Yes, I do offer freebies and I consider them advertising costs.
They are generally simpler designs that will fit the widest range of sewing fields but they are still quality designs. They are still test sewn and scanned versions of the actual sewouts are provided.
Color sequences are written up and designs are colored and converted. The majority of downloads from my site are in fact freebies even though the number of free products is a very small percentage of my product range.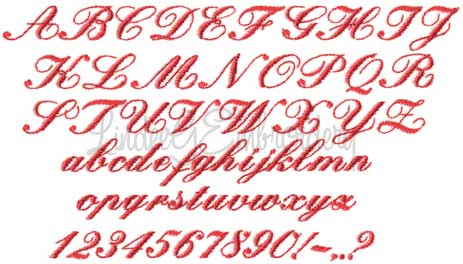 AN EXPERIMENT – WHAT'S YOUR TIME WORTH?
I think the proliferation of free designs has really devalued embroidery designs and "value meal" mentality has become the norm. With that in mind, I'm making this font available in two versions. One is free, the other is not.
This small, delicate 1/2" high Kuenstler Script font has been manually digitized.
This small size took more work because after typing the outlines onto the screen, the artwork had to be altered to create closed objects for satin stitches and line objects for running stitches since parts of the letters were too narrow for a satins.
If you digitize, you know what this means—a letter that has multiple pieces and different types of stitches means more work and more time. This font includes upper and lowercase letters, all numbers, and limited punctuation.
The free version is the master file in DST format only.
The technical work of digitizing has already been done and this is the actual test file exported from the working file. It's likely not the format you use and it may not even fit in your sewing field.
To make the DST file useable, you'll need to do the tedious part of breaking out each individual character, which means you'll need editing software—Enthusiast level if you are an Embrilliance user.
Then you'll need AlphaTricks to make it into a BX font if you choose to have a keyboard version. Importing them is no big deal but arranging them—now that will take some know-how.
You can also do these steps in EmbroideryWorks and splitting out the letters can be done in any software that offers editing. Of course that means you'll need to own such software and know how to use it. You'll also need the time—up to an hour or more—to do complete the process.
The paid version has been split and made into a BX file as are the other fonts in the Alphabets area.
MY AFFILIATE LINKS DISCLOSURE
Hi everyone. Just to let you know that some of the links on this site are affiliate links. What that means is that if you click one of them and buy something… I get a commission. It doesn't cost you anything extra and I only recommend things that I've tried and tested, so please, please, please… use my links.
Fine Print: Lindee G Embroidery is a participant in the Amazon Services LLC Associates Program, an affiliate advertising program designed to provide a means for sites to earn advertising fees by advertising and linking to amazon.com. Lindee G Embroidery is also an affiliate for Embroidery.com, Nancy's Notions, Embrilliance, and Craftsy. If you purchase something through one of those links I may receive a small commission, which helps to offset the cost of running this site. 🙂
This format works with the free Embrilliance Express version and all you need to do is download it, unzip it, and then drag and drop the BX file onto the program.
In other words, the paid version does not require any extra work or even purchasing any special software. At the time of this post, the regular price for this font is only $9.95 and it's currently on sale for half off. Is your time worth that much?
This is sort of an experiment. I'm betting that lots of people download the free one and never do anything with it.
I'm also betting that most of those who do download and look at it are angry that they actually have to do some work to make it useable. They'll also be upset that it doesn't come pre-formatted for their machine. They feel "ripped off" or "taken advantage of."
Those who really want to use the font will either take the time to make it useable or simply purchase the BX version.
My opinion is that my time is worth something and I'm not willing to give it all away for free. This is a business for me. Giving away everything for free does not pay my bills.
AND ONE MORE THING
You can use it as a stitch file but you may not share or sell ANY digital versions of it as split out files, BX font, or as it's current intact version.
WHERE TO GET KUENSTLER SCRIPT
Free Version – DST file only of Kuenstler Script 12mm
BX Version – keyboard ready file for Embrilliance and Embroidery Works
Font Mega Bundle with 164 keyboard fonts as BX and individual files as DST
RELATED ARTICLES