I saw these hand towels while out shopping and had to snap them up. I knew that with the contrasting border stripes, a monogram would be perfect. Of course, the challenge was getting them hooped accurately!
After a trial hooping, I realized that the towel could pop the hoop pretty easily so I opted for a floating technique. I really prefer hooping between the rings of the hoop whenever possible because it provides the best stability.
DESIGN PREP
Standard stock designs are not optimized for towels. For best results on thick and textured fabrics like terry cloth, letters need to have a little more compensation and more density. Plus, additional underlay to permanently hold down the nap can keep your monogram looking crisp and clean for a long time.
Water soluble toppings like Solvy can keep the stitches from sinking in too deeply during sewing but it doesn't prevent the loops from blurring the edges of the design or poking back up through the stitching. Only a permanent topping can do that.
Extra underlay and a background light density fill can also go a long way in providing long-lasting nap retention.
These letters are from the Harrington font. I have a other sizes as well: 1/2″, 7/8″, 2″, 3″, and a bundle with all four sizes.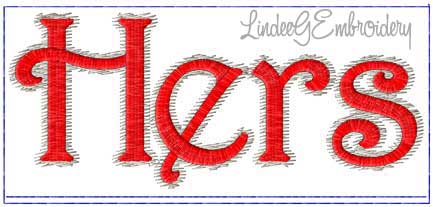 Because I digitized them, I have control over the stitch type, density and underlay when working with them in their native format.
I enlarged the letters to 2", changed the stitches from satin to fill and changed the underlay to a denser zigzag. The extra dense underlay will help mat down the terry cloth and keep the top stitches lifted.
I also increased the density slightly on the fill while not making the fill stitch length too short.
Finally, I placed a light density "knock-down" fill behind the letters. I digitized this to extend beyond the letters by a couple of millimeters to minimize it's visual impact.
Sew this in a color that matches or coordinates with your towel and it becomes virtually invisible. This will act like a "loop guard" around the letters to keep extra long terry loops from falling over the edge of the embroidery.
To get a perfect alignment, I digitized a straight line of stitching 1/2" below the text baseline. I'll stitch this onto my hooped stabilizer and use it as a guideline for aligning the towel stripes. Make this it's own color or set an appliqué stop after it.
MY AFFILIATE LINKS DISCLOSURE
Hi everyone. Just to let you know that some of the links on this site are affiliate links. What that means is that if you click one of them and buy something… I get a commission. It doesn't cost you anything extra and I only recommend things that I've tried and tested, so please, please, please… use my links.
Fine Print: Lindee G Embroidery is a participant in the Amazon Services LLC Associates Program, an affiliate advertising program designed to provide a means for sites to earn advertising fees by advertising and linking to amazon.com. Lindee G Embroidery is also an affiliate for Embroidery.com, Nancy's Notions, Embrilliance, and Craftsy. If you purchase something through one of those links I may receive a small commission, which helps to offset the cost of running this site. 🙂
I also added a basting box in software. If you have software like Embrilliance Essentials, you can add a basting box and resize it to use a placement guide.
Essentials lets you add multiple basting boxes and you can treat them just like a design to resize, rotate, and recolor as desired. If you have Embrilliance Enthusiast, you can easily digitize a straight line and even create your own background fills for other designs.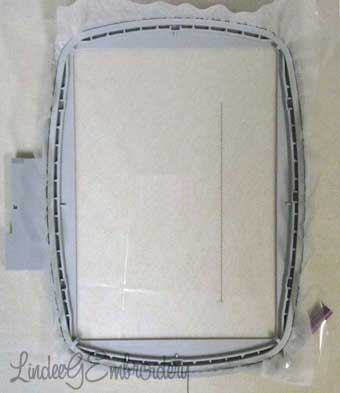 HOOP SETUP & EMBROIDERY
Hoop a layer of Ultra Solvy with a layer of FabriSolvy. The Ultra Solvy should be on top. Sew the alignment guide on the stabilizer and remove the hoop from the machine.
Tip: You might want to use a matching bobbin thread so that the back looks as good as the front!
I've pin marked the horizontal center of the towel to match with the center marks on my hoop. Align your towel stripes with the guide for a trial placement.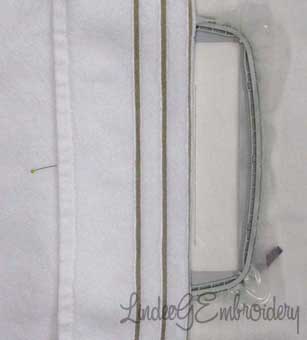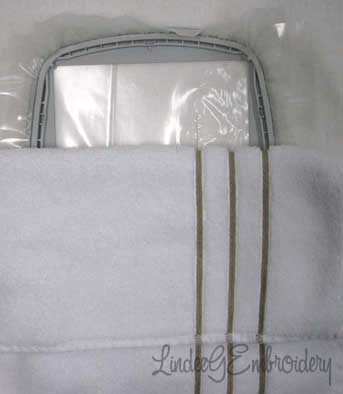 Then roll back part of the towel and dampen the Ultra Solvy to make it tacky by scrubbing it lightly with a slight wet paper towel. Don't overdo this step or you will dissolve the stabilizer.
You can check your placement accuracy by flipping the hoop over checking the back.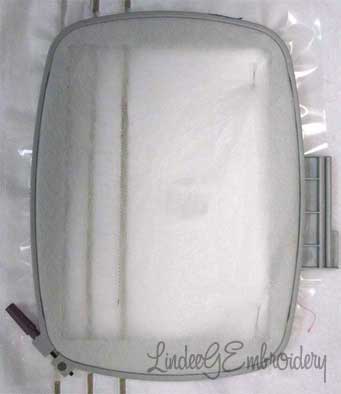 Pin a piece of regular Solvy to the top of the towel and sew the design.
Some embroiderers skip the Solvy topping when using a background fill but I still like to use it. If you're sewing a design with jumps on a machine that won't trim, the topping makes it easier to trim those connecting threads without cutting the towel loops.
Trim away excess backing and tear off the topping. You'll need to wash your towels before using them to get rid of all this stabilizer.
WANT THE DESIGNS WITHOUT THE HASSLE?
If you can't adjust design density and underlay or create a background fill, just download the "HIS" and "HERS" designs from our shop.
The letters are scaled to a 2″ capital letter height but you will need a 5×7″ hoop for sewing. If you only have a 4×4" sewing field, you can split the design with Embrilliance and sew in a multi-position hoop or rehoop for each half.
Keep in mind these designs are optimized for terry cloth and the densities are therefore heavier to provide better coverage.
These designs don't include the placement line because that's easy to do and will probably be different for your project.
RELATED ARTICLES