Wall-hanging or pillow project?
Are you looking for a small seasonal or monthly project for home decor? How about this quilted and pieced in-the-hoop calendar block? Or, use it as a pillow cover.
I designed this calendar block to just fit my max square stitching area on my machine and to work with the 175mm blocks from some recently digitized sets, Halloween Scenes 1 and Halloween Scenes 2.
I'm just wrapping up a few more sets that will also work for Thanksgiving and winter months (snowmen) that are similarly designed.
I haven't found suitable designs for every month yet but do have November and December plus a couple of spring blocks. Of course, you can work in any design you choose simply by inserting it after color 5.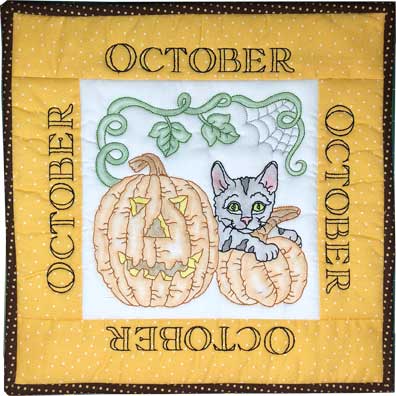 For October, I chose the multi-color Kitten and Pumpkins design from Halloween Scenes 1. There are two sets of Halloween scenes that will work perfectly for this project.
Each set has 10 designs in multi-color and 10 as a single color and each one of those is available in multiple sizes. I used the 175mm version so I could stitch the month name onto the attached borders without rehooping.
I stitched through the batting but not the backing for this project. It finishes out at about 12" square. The center is stitched first, then the side borders are pieced on and embroidered, and finally, the top and bottom borders are pieced on and embroidered.
I floated all the pieces onto the hooped stabilizer. I chose to color in the center embroidery with InkTense colored pencils for additional interest.
SKILL LEVEL
Basic embroidery and customizing skills. If you're working with one of the calendar blanks to create your own version, you'll need to know how to combine designs by inserting a design after a specific color change.
MY AFFILIATE LINKS DISCLOSURE
Hi everyone. Just to let you know that some of the links on this site are affiliate links. What that means is that if you click one of them and buy something… I get a commission. It doesn't cost you anything extra and I only recommend things that I've tried and tested, so please, please, please… use my links.
Fine Print: Lindee G Embroidery is a participant in the Amazon Services LLC Associates Program, an affiliate advertising program designed to provide a means for sites to earn advertising fees by advertising and linking to amazon.com. Lindee G Embroidery is also an affiliate for Embroidery.com, Nancy's Notions, Embrilliance, and Craftsy. If you purchase something through one of those links I may receive a small commission, which helps to offset the cost of running this site. 🙂
WHAT YOU'LL NEED
Suitable fabrics for blocks, pre-washed and pressed (Tip: If fabrics are especially soft, starching can reduce distortion when stitching.)
Rotary cutter, quilting ruler and mat
Stabilizer: I used Sulky Soft 'n Sheer. Other suitable choices are washaway backing and washaway tearaway.
An embroidery machine with a minimum sewing field of 11½" x 9¾" for the blocks
Suitable embroidery and sewing threads
Optional: InkTense colored pencils or other media for coloring
WHAT'S INCLUDED WITH THE COLLECTION
Twelve ITH "calendar blanks" digitized for piecing in the hoop (preset for each month)
One block with a ready-made design already inserted (Halloween block for October)
12 "month name" designs
An illustrated instructional PDF
SUPPLIES
I worked from various fat quarters in my fabric stash.
The measurements listed below are for the calendar block designs in this set; adjust accordingly for how the sizes you'll be using and the hoop(s) you'll be using if they vary.
Batting: 14" square (I used Floriani's Quilter Select)
Fusible Fleece: 14" square, optional (I used Pellon Fusible Fleece)
Center block: 8" square (I used white Kona Cotton)
Sashing: 2 strips 2¾" x 8" (Sides) + 2 strips ) 2¾" x 13" (top & bottom)
Backing: 13" square
Binding: I cut mine on the bias at 2¼" wide.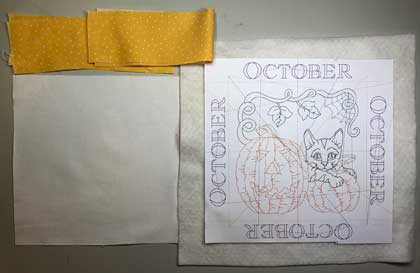 SETTING UP THE DESIGN
If you're stitching this bonus October Halloween block, just load the design to your machine.
Otherwise, use one of the 12 calendar block "blanks," which includes the basic ITH steps for each month and insert the design of your choice after color #5, which can be done either in software or at your machine. The center area is designed for a 175mm square design.
The month names are also included separately in case you have a smaller hoop and are unable to do the project in the hoop. You're on your own for working that out.
WHY AREN'T THERE DESIGNS FOR EVERY MONTH?
This set is designed to make it easy for you to select your own monthly designs. Not everyone celebrates the same holidays and while we in the northern hemisphere experience winter in December, my Aussie friends are enjoying summer.
Another reason there aren't designs for every month is I haven't found artwork for every month yet.
I will be posting similarly styled designs as I find them and get them done. In the meantime, you're able to create your own calendar blocks with your own designs.
ARE THESE AVAILABLE IN MULTI-SIZES?
No.
Making and especially testing multiple sizes takes a lot of time. The calendar blanks should resize reasonably well because they are basic stitch types. The lettering areas can be easily replaced with your own lettering.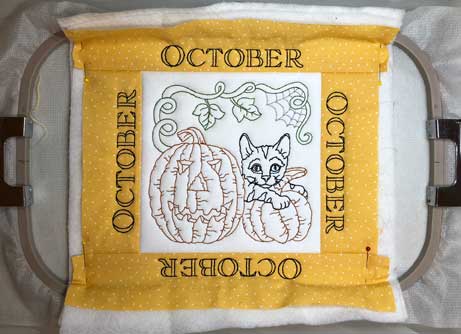 HOW TO SEW
When you download either the set or one of the calendar blocks, you'll get complete instructions on how to stitch the project and when and where to add your fabrics for quilting and piecing.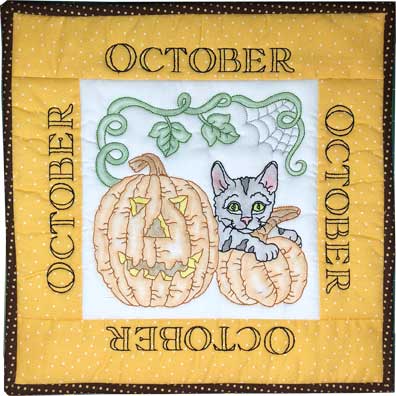 COLORING THE CENTER AREA (OPTIONAL)
One of the reasons I love redwork and color line designs is that I can embellish them with other media. For this project, I used InkTense colored pencils. I've tried a variety of media and these are by far the easiest, no mess, and most permanent media I've found that still leaves the fabric soft.
I lightly colored in areas and then used clear aloe vera gel thinned with water to a bit thinner than egg whites to blend and activate the ink in these pencils. The aloe vera will prevent the water from wicking into other areas causing the ink to bleed. When dry, the color is permanent.
There are other blog posts here on color designs so check those out if you want to learn more.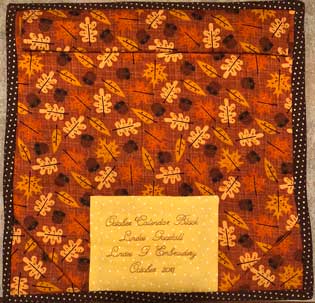 FINISHING
I chose a fall print for the back, created a label using Adine Script, added a sleeve for a hanging rod, and finished with a bias binding. Most quilters know how to do these things. If you don't, do a search on YouTube for video step-by-steps.
EXTRA TIPS
If you don't have a large enough hoop to complete the full project, hoop your center fabric, batting, and stabilizer and manually attach the borders.
You'll need to rehoop for the month names. You may need to cut your stabilizer and batting larger to allow for adequate hooping area for the month names.
USING OTHER DESIGNS
Another good choice for a monthly calendar project are the Birth Month Flowers of the Year.
These designs come in filled, appliqué, and redwork versions and while optimized for a 200mm square sewing field, these designs have been split and can be multi-hooped using a minimum 5×7" hoop. Just use the month names to create your own version.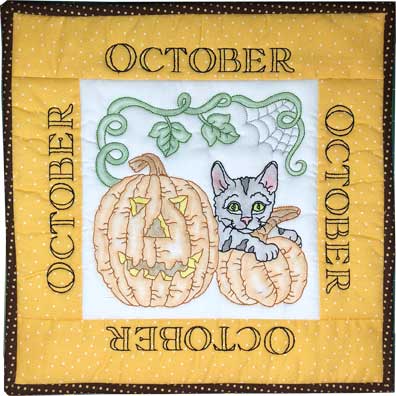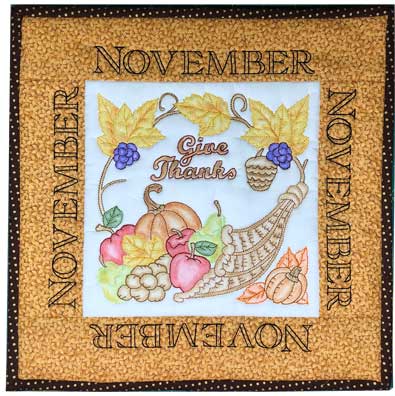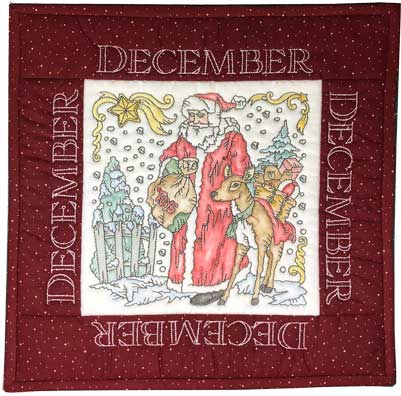 SUMMARY
Projects don't have to be elaborate. Yes, you could make a huge king-size quilt but small individual blocks like these are easy to turn into a seasonal mini-wallhanging or pillow covers.
Also, small projects like these make it easy to experiment with different media and techniques without a large investment in fabric, supplies, and time!
The following are design sets that were used with this ITH project set or will work well. Designs are also available individually and possibly smaller subsets.
WHERE TO GET THE DESIGNS
The following are design sets that were used with this ITH project set or will work well. Designs are also available individually and possibly smaller subsets.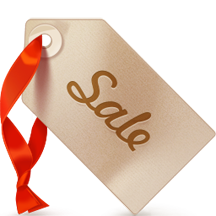 A WORD ABOUT SPECIALS, SALE PRICES & COUPONS
Please pay attention to post dates and any specials listed in posts. Special pricing is for a limited time and may be repeated at some point.

Specials, sales, and freebies are always announced in the newsletter. Signup to get notifications of specials, new items, and freebies.

Additionally, shop wide coupons may be available to apply to any regularly priced items.

Coupons generally only apply to regularly priced items, not items already marked down. If your coupon doesn't work, this may be why.
RELATED ARTICLES