There a lots of things to love about Hemingworth thread:
Vibrant, lustrous shades in tri-lobal polyester
The unique thread cap that protects the thread from dust, oils from your fingers, and bruising
The label that tells you the thread color, thread name, and even the thread sequence number (that little number to the right of the bar code)
The three drawer thread stackable thread chest with the built-in thread organizer that doubles as a thread dispenser
A DILEMMA
When my full set of thread (all 300 colors!) and three 3-drawer cabinets arrived, I even got peel-and-stick labels with a color swatch, name, and color number to label each thread's placement in the drawer. I was all set to unbox the thread and load up the drawers when I realized the labels were in thread number order not drawer order sequence. And the labels didn't have that extra bit of information about color sequence like the Hemingworth thread spool labels.
That was nearly a year ago. I loaded the thread in the drawers using my only sense of colors and as I've used threads since then, they began to pile up on any available surface because I didn't have an ordering system.
THE SOLUTION: FILEMAKER TO THE RESCUE
Last night I could no longer suppress the database fanatic in me and whipped up a little Filemaker table to add a bit more information to the labels and print them in drawer order sequence. Did you know that with a few simple calculations you can extract the exact drawer, column, and row number from the sequence number? I like solving puzzles like that!
I also laid out the information on pages so that each page represents one drawer. A second sort of the database created another report with the threads in thread order sequence.
Since each swatch contains the thread color number, name, and where it's stored, I can easily find where to get a thread and where to put it away. Print both reports and store in a little binder for easy reference. (Check out a sample swatch below:)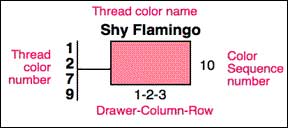 Of course, these charts aren't much good if you don't use Hemingworth thread. And I'm guessing many of you don't have Filemaker, if you even know what it is (just the greatest database app around!) So, I've exported these two reports as pdfs and you can download them here:
Notes: Colors on chart are not accurate! These reports were not laid out for any particular label system and may not align if printed on labels.
MY AFFILIATE LINKS DISCLOSURE
Hi everyone. Just to let you know that some of the links on this site are affiliate links. What that means is that if you click one of them and buy something… I get a commission. It doesn't cost you anything extra and I only recommend things that I've tried and tested, so please, please, please… use my links.
Fine Print: Lindee G Embroidery is a participant in the Amazon Services LLC Associates Program, an affiliate advertising program designed to provide a means for sites to earn advertising fees by advertising and linking to amazon.com. Lindee G Embroidery is also an affiliate for Embroidery.com, Nancy's Notions, Embrilliance, and Craftsy. If you purchase something through one of those links I may receive a small commission, which helps to offset the cost of running this site. 🙂
WHERE TO GET HEMINGWORTH THREADS
Now all you need is some Hemingworth. As always, I recommend supporting your local dealer but if they don't carry this incredible thread, you can easily shop online:
HELPFUL LINKS TO PRODUCTS I RECOMMEND & USE
Since I'm constantly being asked, "what did you use for [fill in the blank]," I've begun organizing my favorite products on this Resource page as a convenient place for you to find them.
I've also included links to where I get them, many of which are affiliate links. Hey, I can't stock everything! If I list something I haven't/don't use, I'll let you know that too.
RELATED ARTICLES