Looking for something fun and fast? How about this bright and cheerful snack mat? Slightly larger than the popular mug rug, this rectangular mini-placemat at 12″ x 9.5″ is the perfect size for snacks or desserts.
And wouldn't it be the perfect table dressing for a birthday party? Or how about a set of 4 for some special little girl for hosting her own tea parties?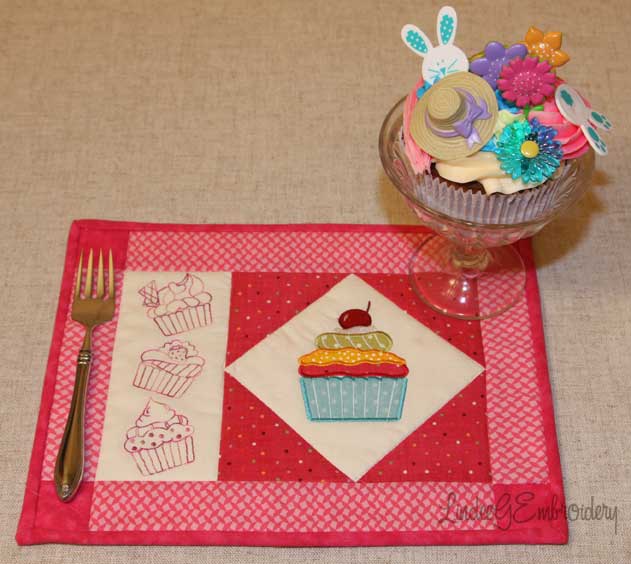 This project features designs from Crazy for Cupcakes and can be made from small bits of fabric and with a fat quarter each for the backing and binding. I quilted it simply with monofilament in the needle using stitch in the ditch. This is not an "in the hoop project;" it uses standard basic sewing techniques, which are not discussed here.
Crazy for Cupcakes includes ten cupcake designs done as both appliqué and redwork. I didn't resize the designs for this project, simply used them as is.
The collection comes with instructions for appliqué and templates for precutting by hand as well as the files ready made for most cutters in SVG as well as FCM for the Brother Scan n Cut.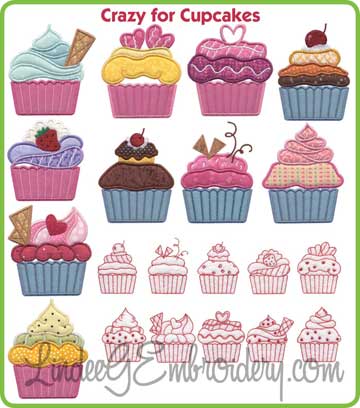 Most of you will be able to readily grasp how it's done but I'll include some steps here if you need a few more details. I didn't take step by step photos for this simple little project.
For those of you who are relatively new to embroidery, I'll share some tips for customizing the designs and working with fabric pieces that are too small to hoop—without using a sticky-back stabilizer. (I don't like them…)
DESIGNS FROM CRAZY FOR CUPCAKES:
Applique cupcake #9
Redwork cupcakes #3, 4, and 8
SUPPLIES:
Low loft batting like Warm & Natural
Small amount of fabric for appliqués and piecing
Fat quarter for back
Fat quarter for binding
Suitable threads and stabilizer
CUT:
Half Square triangles: Cut two 4″ squares, then cut each one diagonally once.
Corner squares: Four 1.75 x 1.75″ squares
Side borders: Two 1.75″ x 6.25″
Top borders: Two 1.75″ x 9.5″
For the blocks, either cut fabrics large enough to hoop or cut one 7.25″ x 4″ and 5″ x 5″.
MY AFFILIATE LINKS DISCLOSURE
Hi everyone. Just to let you know that some of the links on this site are affiliate links. What that means is that if you click one of them and buy something… I get a commission. It doesn't cost you anything extra and I only recommend things that I've tried and tested, so please, please, please… use my links.
Fine Print: Lindee G Embroidery is a participant in the Amazon Services LLC Associates Program, an affiliate advertising program designed to provide a means for sites to earn advertising fees by advertising and linking to amazon.com. Lindee G Embroidery is also an affiliate for Embroidery.com, Nancy's Notions, Embrilliance, and Craftsy. If you purchase something through one of those links I may receive a small commission, which helps to offset the cost of running this site. 🙂
PREPARE & EMBROIDER DESIGNS
Although any of the designs in this collection can be sewn in a 4×4″ hoop, these directions require at least a 5×7″ hoop.
In Embrilliance Essentials or the editing program of your choice, merge in the three redwork cupcakes and arrange them vertically. Sequence them to sew from the top to the bottom, reordering them in the Objects Pane if necessary.
Rotate the top and bottom cupcake 19° counter clockwise and the middle one 19° clockwise. Align the designs vertically along their centers. Add a basting box around the designs. Now resize the basting box to 2.75″ wide by 6.25″ tall.
This is the finished size of this block so make sure your cupcakes fit well within this guide. Copy and paste the basting box and move it to the beginning of the design, then change its color. If you want each cupcake to be a different color, change the color of the middle cupcake. Yours should look something like this: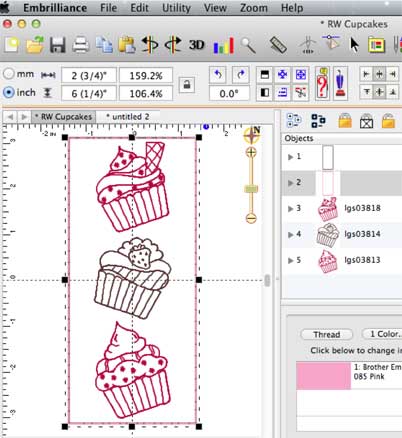 HUH?
You might be wondering where I'm headed with this… When I made my sample, the fabric I wanted to use for my background for the two main blocks was not large enough to hoop, but it was large enough to cut the blocks.
By cutting the blocks slightly larger than their required size, I could baste them to stabilizer and then use the basting stitch as a guide to cut my quarter inch seams.
To make sure I place the fabric accurately, I like to stitch the basting guide directly on the stabilizer first then place my fabric and baste again. Adding a color change forces your machine to stop and you can smooth your block into place between colors 1 and 2. You can actually use the same color in the needle for the entire design as I did.
I used a little Mary Ellen's Best Press on the fabric first and gave it a quick and light mist of TESA to hold it in place. This technique works best when the designs are not stitch intensive and is perfect for these redwork designs and the appliqué.
Save your design in the desired format. I used Sulky Blendables 30 wt. cotton #4030 for the redwork cupcakes, which gives a little more color variation to the stitching. You might consider making each cupcake a different shade of red or pink.
If you colored your design similarly to what I described above, you'll be good to go. Setting in a color change is also good if your machine will trim at the end of a color change but not in between. It doesn't matter what color you choose in the software as long as it is different.
Tip: If your format doesn't support true thread colors or has a limited color palette, be sure to pick a very different color otherwise when the colors are mapped to your format's color palette, they may be mapped to the same color.
CREATE THE APPLIQUE BLOCK
For the appliqué block, I followed a similar method. Import applique cupcake #9 or the design of your choice. Add a basting box and resize it to 112.25mm by 112.25mm.
Once again, copy and paste the basting box, send it to the back and change its color. Rotate the cupcake 45° and move it so that it is in a visually pleasing location in the boxes. When done, it should look like this:
Save your design in the desired format. Select and cut your fabrics for the cupcake and choose colors that compliment those fabrics.
Why not rotate the basting boxes so they are on point? You'll need a bigger hoop and therefore more stabilizer!
After stitching, remove from the hoop and use the basting guides with your ruler and rotary cutter to cut outside those stitches 1/4″. Remove the basting stitches and stabilizer.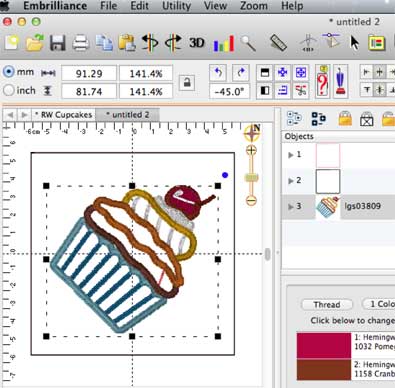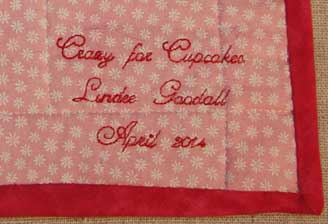 ADD A LABEL
Don't forget to stitch a label for the back! I've stitched mine with the Adine Script font, which is available as a BX font for Embrilliance and Embroidery Works products. BX fonts let you easily type in lines of text just like your word processor. Learn more about BX fonts in What's Your Addiction?, linked at the end of this post.
PIECING THE TOP
Using scant quarter inch seams throughout, stitch the half square triangles to the appliqué block taking care not to stretch the bias edge of the triangle.
Then stitch the redwork block to the left side of the appliqué block. Add the top and bottom borders. Stitch the corner blocks to each end of the side borders and then attach to sides.
Smooth top over batting and backing; quilt as desired—I just stitched in the ditch. Square up and trim off excess. Bind.
WHERE TO GET THE DESIGNS
This collection is instantly downloadable here: Crazy for Cupcakes or just enter "cupcakes" into the search box in the designs category in the shop area.
Embrilliance software is often available in our shop as a physical product that will be shipped (U.S. only) or as digital download from Embrilliance

Not sure? Download a demo version to try out any ot the apps or get the free version, previously known as Alpha Tricks Express, now known as Embrilliance Express to open access to the thousands of keyboard fonts available as BX installer file
NEW TO CUSTOMIZING?
If you're new to customizing, you can watch me step through the process in this YouTube video. Embrilliance Essentials makes it easy to combine and customize designs right on your computer where you can really see what you're doing.
Chances are that if you have another customizing program, you'll be able to do the same thing. Don't have a customizing program?

RELATED ARTICLES