Try these tips for perfect embroidery & placement on cotton napkins!
Every knows that eating eating shellfish can be messy and you need a lot of napkins. What not go for one big one that can double as a bib?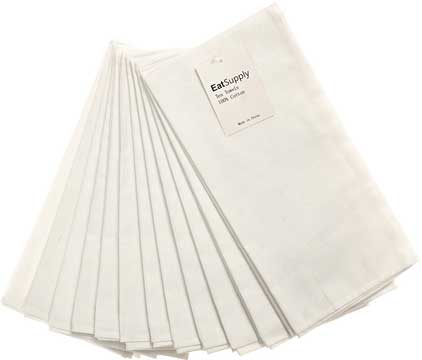 ABOUT THE NAPKINS
These large plain napkins are perfect for embroidery and because they're large, you can easily make use of them for multiple purposes. Actually, they're 28″ square tea towels so they're larger than regular dinner napkins and that makes them perfect for this project.
They're available on Amazon and are getting great reviews for embroidery so I thought I'd give them a try.
They're 100% cotton, firmly woven but not too tightly woven. In other words, they can support a good sized embroidery without excessive distortion from trying to pack too much thread into a fabric with no breathing room between the weave.
Note: You'll hear me call this the "full bath tub effect" in my Craftsy class, 20 Things Every Machine Embroiderer Should Know.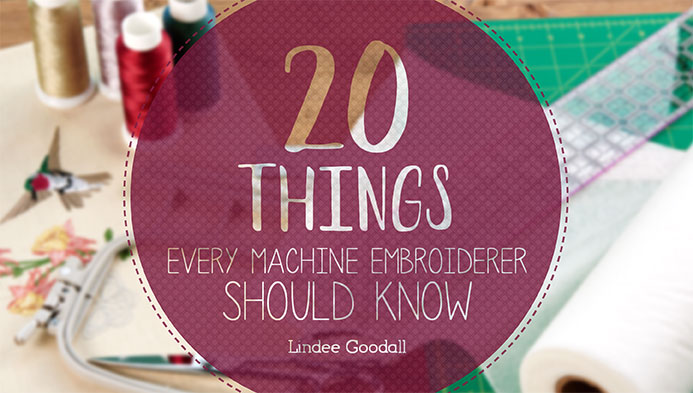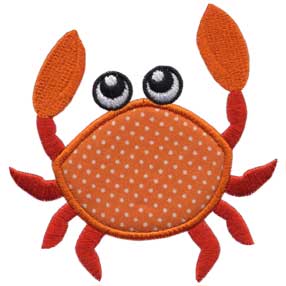 I had originally planned to use this little appliqué crab but while I was in "idea mode" I heard a reference to the book, Eat, Pray Love and my mind immediately repurposed that to Eat, Cray, Love and then I had to make a whole new design!
Because these napkins are so large, you can get away with using a larger design and still have plenty of napkin left to sop up dribbles.
Another advantage is that you can move the design away from the corner a little more than usual and that makes it possible to actually hoop the napkin instead of just floating.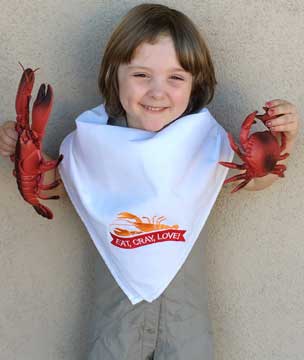 PRELIMINARY PREP
Since these napkins are 100% cotton, I pre-washed all of them to preshrink them. Be sure to press them smoothly before stitching.
When we did production embroidery, we didn't pre-wash because that removes the "new fabric" feel and also adds to production costs and time.
Some say you can't sell an item as "new" if it's been washed but if an item will shrink and cause puckers after the first laundering, which is better?
You could tell your customer that because these items are likely to shrink and the embroidery won't, you take an extra step and preshrink the items and this is included in your service.
HOOPING
I know a lot of you float just about everything and say you get fine results but the pros hoop between the rings whenever possible. Another embroidery best practice is to use the smallest hoop that can comfortably accommodate the design.
This design will just fit my 15cm round hoop if I move the design above center a bit. That violates another embroidery best practice, which is you'll get the most even tension when the design is centered.
Embroidery is often about trade-offs and here it's better to use the smaller round hoop slighly off center than to have to float in a larger rectangular hoop.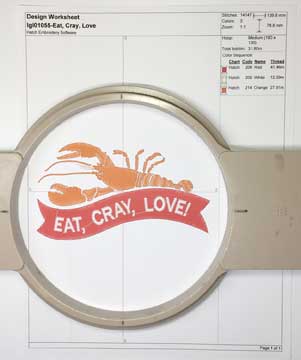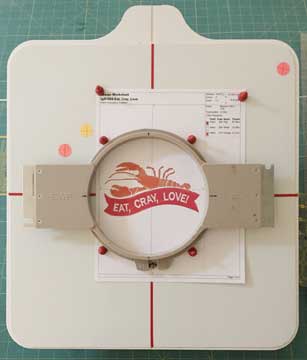 PLACEMENT
If you're planning on a full set of napkins, you'll probably want the same placement for each one. I like to use hooping aids to make that process more accurate and more efficient.
I often spend a fair amount of time working out how and where to hoop on the first one and then the rest are all just place it and hoop it.
I'll use the pin striping I've added to my Echidna Hooping Station to center my hoop. I've also placed an actual size printout of my design so I know where the design will fit in my hoop. This is an extra step in this case because the design is not centered in my hoop.
I've also printed a copy and taped it to the napkin. Once I get everything set up for placement on this napkin, I won't have to go through all these steps on the rest, I'll just hoop and sew.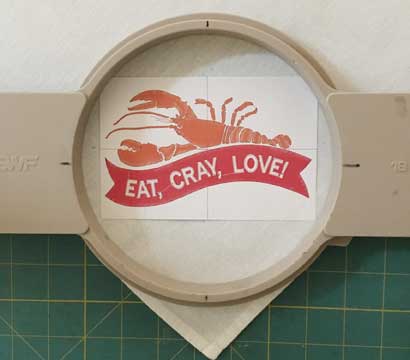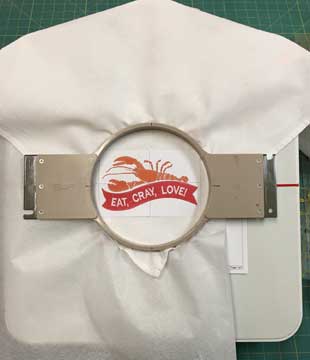 After a trial hooping, I discovered if I move my placement slightly less than a 1/4″, I can hoop between the rings without catching the hem between the rings.
This is totally acceptable and no one will notice that slight difference because there isn't anything to indicate it should be somewhere else.
HOOP ORIENTATION
For my multi-needle machine, I want the bulk of the item to hang off the front. On a home machine, you'll want it to the left.
This means you may need to rotate your design for sewing. Keep that in mind while you hoop!
WHAT STABILIZER TO USE?
This design is pretty high stitch count what with all those fill stitches. I want to use a tearaway to avoid having any remaining stabilizer on the back so I spray starched the corner where I embroidered just for a little extra stability.
With a smaller or more open design, I wouldn't bother with starching.
WHAT THREAD TO USE?
I recommend polyester embroidery thread for napkins because it's colorfast and will stand up to harsher laundering than Rayon.
Note: Thread shown here is Hemingworth and it comes with those plastic covers. The covers stay on for sewing and keeps the thread clean and tangle free.
If you get puckering after stitching with poly, it may be an indication that your machine tensions are too tight and the thread is being stretched as you sew. Once stitched and out of the hoop, the thread will relax back to it's unstretched state and will cause puckers as it does so.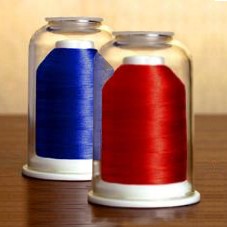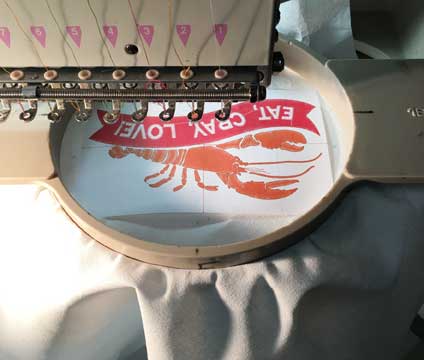 AT THE MACHINE
With your printed template still in place, attach the hoop to the machine and, using the movement buttons on your machine, move the hoop so that the needle is over the center of the design.
I've managed to hoop straight so the big deal for me is getting the design to fit in the hoop. Remember, I've moved the design above the center line so I need to adjust accordinging.
I'm using a round hoop so I need to move my hoop down. If you're using a rectangular hoop, you may have hooped higher to be able to hoop between the rings so you'll need to move your hoop up to sew at the bottom of the sewable area.
Most home machines won't let you use a design that's too large for your machine but some multi-needles aren't that smart and will sew right into the hoop.
Be sure to check your placement to make sure the foot will clear the hoop. I'm really close on this design in this hoop!
Remember to remove the template before you start sewing!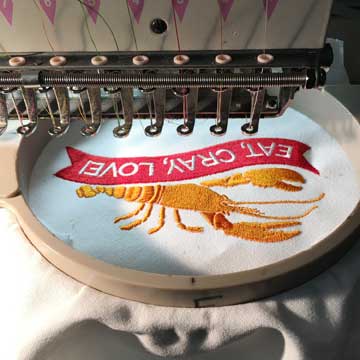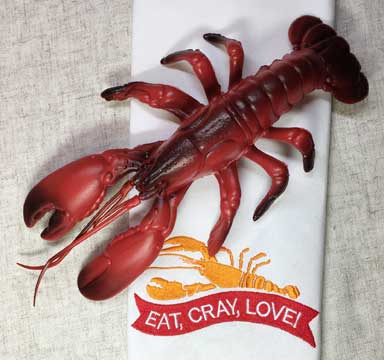 STITCHING THE REST OF THE SET
Once you've figured out the placement, it's easy just to hoop the next one and stitch. My multi-needle will keep the hoop in the same place until I reset it but you may need to reset your machine for each design
OTHER OPTIONS
These napkins are the perfect blank slate for you to embellish. And because they are huge, blank, and simply hemmed they can be used for just about anything you can imagine!
WHERE TO GET
RELATED ARTICLES