I saw this cute poem on the internet and it was so apropos to my day, I decided I needed to make it into a small wall hanging or embroidered mini-poster.
I used some of my fonts (all available as BX fonts and alternatively as DST if you refuse to use even the free version of Embrilliance) and combined them with a previously digitized design from Vintage Sewing Redwork and voila! a cute piece to embellish my studio.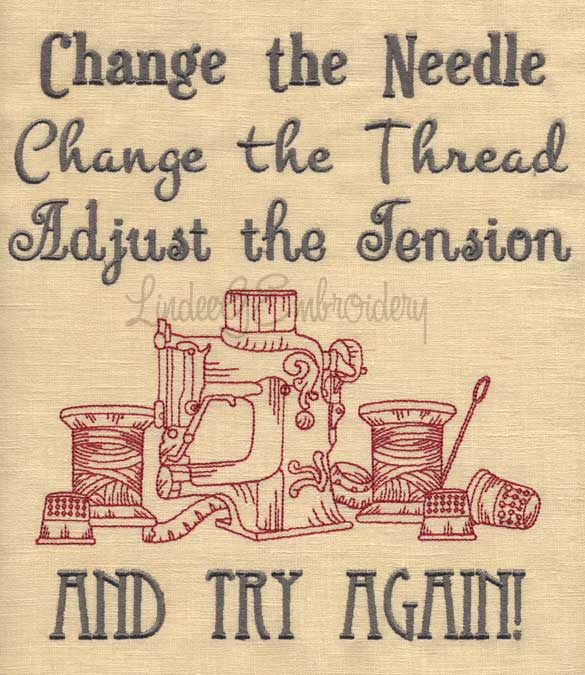 I really hadn't intended to offer the finished piece, just use it as an example for what can be done with fonts and designs but after sharing it on Facebook, I had a lot of requests, I've uploaded it to the shop.
While I made this particular design in my primary software to take advantage of closest point lettering features, it's easy to make compositions like this in Embrilliance.
Just drag and drop the BX fonts onto the software and they're instantly installed on the font menu. Then just type in your text and try out different fonts until you're happy!If you prefer to recreate it yourself, I used the following fonts and design:
Euforia 25mm for line 1
Monterey 25mm for line 2
Serena 25mm for line 3 (shrunk to fit hoop)
Eccentric 25mm for line 4 (an uppercase font only)
Sewing Vintage 1 for the redwork design
MY AFFILIATE LINKS DISCLOSURE
Hi everyone. Just to let you know that some of the links on this site are affiliate links. What that means is that if you click one of them and buy something… I get a commission. It doesn't cost you anything extra and I only recommend things that I've tried and tested, so please, please, please… use my links.
Fine Print: Lindee G Embroidery is a participant in the Amazon Services LLC Associates Program, an affiliate advertising program designed to provide a means for sites to earn advertising fees by advertising and linking to amazon.com. Lindee G Embroidery is also an affiliate for Embroidery.com, Nancy's Notions, Embrilliance, and Craftsy. If you purchase something through one of those links I may receive a small commission, which helps to offset the cost of running this site. 🙂
HAVEN'T TRIED BX FONTS YET?
BX fonts are keyboard ready files designed for Embrilliance and Embroidery Works software. This makes it so easy to use embroidery letters to create text. Individual design files in normal machine formats are good for monograms but you wouldn't want to combine individual letters like this—it would take forever!
Embrilliance even offers a FREE version of their software called Embrilliance Express that will let you install and use BX fonts so you don't even have to buy any software. Create your text and export for your machine or for other software.
With the current popularity of "subway art" you'll find tons of BX fonts on the web that you can use to make your own unique compositions!
For videos on Embrilliance, check out this YouTube channel.
HAVE A SMALLER SEWING FIELD?
Of course, after I posted this larger design, I immediately got requests for one for a smaller hoop.
Not all designs can be shrunk down to fit a smaller sewing field and still sew well so I created a new design with the popular "keep calm" slogan. Once again, I used a few fonts and combined it with a redwork sewing machine design from the Vintage Sewing Redwork collection and this one will fit a 5×7″ hoop.
For added interest, I arced the first line of text. The top line uses a currently unreleased font while the bottom on is Spumante 25mm. The "and" was custom digitized for the project but an interestingly shaped ampersand would work just as well.
Embrilliance offers text on an arc so similar compositions can be achieved with BX and built-in fonts combined with designs from your stash.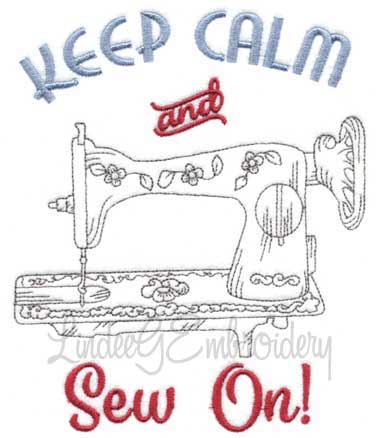 ITEMS MENTIONED IN THIS POST