Subway art – best described mini posters with a collage of words – are all the rage. And with the abundance of fonts available to embroiderers
it makes it easy to create your own.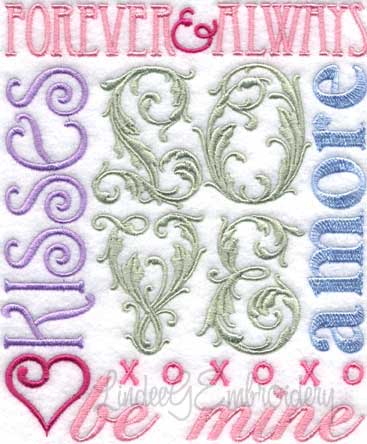 Of course, create words and lines of text is much easier if you have a keyboard font. Until recently, the availability of keyboard fonts—embroidery ready letters you can just type in—has been limited to the meager offerings available in your software.
If you're like me, you have several embroidery programs that each offer some fonts.
Of course, digitizers have been creating fonts and making them available for quite a while. Typically these were larger letters designed for single letter monograms because to create a multi-character word required merging and aligning each letter individually.
MY AFFILIATE LINKS DISCLOSURE
Hi everyone. Just to let you know that some of the links on this site are affiliate links. What that means is that if you click one of them and buy something… I get a commission. It doesn't cost you anything extra and I only recommend things that I've tried and tested, so please, please, please… use my links.
Fine Print: Lindee G Embroidery is a participant in the Amazon Services LLC Associates Program, an affiliate advertising program designed to provide a means for sites to earn advertising fees by advertising and linking to amazon.com. Lindee G Embroidery is also an affiliate for Embroidery.com, Nancy's Notions, Embrilliance, and Craftsy. If you purchase something through one of those links I may receive a small commission, which helps to offset the cost of running this site. 🙂
EXPANDING KEYBOARD FONTS OPTIONS
Today we have Embrilliance and Embroidery Works software that let you create keyboard fonts from these individual letters and many designers are making their fonts available in this new format designated with a BX extension.
Since I've been digitizing keyboard fonts for my primary digitizing program for nearly 2 decades (and continue to do so!), I've amassed quite a collection of fonts and have been gradually creating BX versions.
If you don't have either of these programs, download the free Embrilliance Express, which will let you load BX fonts and use them as keyboard fonts.
You can then export your lettering for your machine or to another program to combine with other designs. (Note that when I talk about Embrilliance below, I'm using the full (paid) version so there may be features that aren't included with Express.)
WHY MULTIPLE SIZES?
Some of these fonts come in multiple sizes and the advantage of that is that each size has been tweaked with any needed modifications for underlay, density, and stitch type. I've also made quite a few small fonts so even if your sewing field is limited to a small hoop, you can still create words with more than one or two letters. You'll also notice I've named my fonts with a size in millimeters. We measure embroidery fonts differently than typographers measure fonts. Typically embroidery fonts are measured from the baseline to the top of a capital letter. Lately I've started making multiple sizes of a font: a small one anywhere from 8-15 mm, and others at 25, 50, and 75mm. The latter three sizes are close to 1, 2, and 3″. I measure in millimeters simply because I'm used to working metric in embroidery software. The smallest size is pretty close to what is the smallest it will sew in with reasonable results on a smoothly woven fabric with optimal embroidery techniques. This size is also the most variable ranging from 6mm and up because it is really dependent on the font. I don't recommend shrinking the smallest version at all.

Yes, Embrilliance can resize designs, including BX fonts. However, optimal results are achieved when the designs are resized and adjusted by the digitizer
Tip: Use 2 different sizes to create a 3 letter monogram. Here I've used the 15mm & 25mm versions.
Also note that each character has a tie-in and tie-out. I don't do this for my own fonts because I can manually add ties where I need them—at the beginning and ending of words, unless I've spaced out the letters.
Because BX font characters are stitch files, and Embrilliance can't modify them, each letter must have these extra little stitches. Generally the tie-ins aren't noticeable but the tie-outs can be and even more so on small or thin letters.
ABOUT TRIMMING…
When using a closest point font, you may only need to trim between words. With fixed connections, you may need to additionally trim between most letters for a clean appearance. Because I've added the tie stitches to every character, you can trim without fear of raveling as long as you don't trim the back threads too closely. Neatness is not always a virtue!
If your machine has automatic trimmers, it will pull the threads to the back and trim leaving a short tail.
If your machine doesn't auto-trim, then trim the front but don't trim the back unless the jumps are long enough to catch or snag. In that case, trim leaving a long enough tail to prevent raveling. A dab of seam sealant can add extra security as can a product like Cloud Cover fused over the back.
SUBWAY ART SHOWCASES YOUR CREATIVITY WITHOUT DIGITIZING
So what do you do with all those fonts you're collecting? Subway art is the perfect way to showcase a fun font or two or ten. Although I was taught in design classes not to mix so many fonts in one piece, subway art is an exception. The "ransom note" school of typography just works well for it!
In the sample shown here, I was inspired by the upcoming Valentine's Day holiday for my theme.
As I played with different words, fonts, and arrangements within a 5×7″ sewing field, I realized that if I didn't include any references to the specific day, I could extend the usage for wedding gifts—especially if I change out the bottom line.
This sample would be perfect stitched on fabric and placed in a frame or made into a pillow.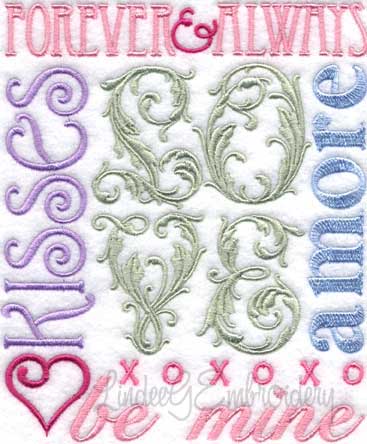 I've used five fonts and one monogram alphabet in this design. I choose a variety of different styles, selecting mostly upright as opposed to italic fonts.
"Forever" and "Always" are Eccentric Std. I resized them a bit to make them fit the area by making them slightly narrower and taller. Essentials is quite good at letting you resize this way as long as you don't get too carried away.
"Kisses" and "&" are done in Harrington. These too, were resize somewhat to better fit the space. You may find you need to resize some text disproportionately for a good fit. Essentials is very good at this but when resizing disproportionately with any font in any software, I recommend not getting too carried away or you can distort the appearance.
"Love" is done in the 2″ version of Leafy Scroll Monogram and the "x o" is done in lowercase Child Dot Font and spread out with spacing controls. "Be mine" and "amore" were done in some other fonts I have and edited because of their increased size.
Notice that some words are all uppercase while others are lowercase. Except for the "b" in "be mine" this keeps all the letters the same height, which keeps the eye moving smoothing around the design. I filled in an empty corner with a simple little Calligraphy Heart. Look for simple, related designs in your stash that can fill in odd spaces and add interest to the composition.

CREATING SUBWAY ART
Could you reproduce this with just the same fonts in a program like Embrilliance if you had the same original fonts I used? Sort of. I designed this in my digitizing software and since that's were the fonts were digitized, I have a little more control.
For example, Eccentric Std, Harrington, and Dot were all digitized to be closest point alphabets. That means I can have the connectors create the shortest joins between the letters with a click of a button.
Another thing it let me do was to sew the "xo" line from right to left rather than left to right. BX fonts won't do that—nor will the built in fonts in Embrilliance.
However, since the "xo" line is composed of characters that are symmetrical, you could use the mirror function to flip the line left to right to achieve the same effect.
Another thing I can do is adjust the stitch attributes in the letters. I changed the original satin stitch in "amore" to a fill because the stitches were too long and modified the underlay in "be mine" for increased size. Embrilliance does give you similar controls over its own fonts but not BX fonts because the latter are stitch file letters, not natively digitized ones.
One advantage that Embrilliance offers that my digitizing software doesn't is automatic overlap control. I don't have any areas in the this design where one element overlaps another but say I did.
If for example, the font I used for "forever" and "always" as a fat one like "amore" and I had overlaid a fat "&" over them, Embrilliance would eliminate the bulky stitches underneath when I saved the stitch file.
So yes, it's entirely possible to work in Embrilliance and get similar results if you're using fonts that are close to the size you need and you're not expecting closest point joins.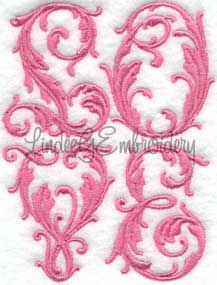 ABOUT THE COLORS
I originally planned to sew this all in one color but then decided I'd make it a multi-color design for flexibility. Having a multicolor version makes it easier to go monochrome or switch up the colors as you desire. It also makes the design easier to take apart without having editing software. Just want the heart? Isolate it by color and copy and paste.
The original design was composed for a 5×7″ sewing field. To accommodate 4×4″ hoops, I extracted the center motif and shrunk it to fit.
WHY AREN'T ALPHABETS AVAILABLE IN MACHINE FORMATS?
Because they are simply too hard to use that way. I do have to make a DST version of each character to create the BX font but I don't convert or offer those.
When Embrilliance Express is free, why would you go to the trouble of importing letters one at a time and trying to line them up properly when you can drag & drop the BX file onto Embrilliance or Embroidery Works and just use it like a word processor?
Update: BX fonts now include DST versions. Of course, each character is an individual design file and you'll have to combine them one at a time. If you need another format, use the DST and convert it with software. Most machines can read a DST file.
WHERE TO GET THE DESIGNS
The difference between letters I call "alphabets" and those I call "monograms" is related to character sets and complexity.
Alphabets typically include a full character set with punctuation, are mostly one color, and are available as BX files. Monograms are larger, more intricate, may be multi-color and are available as multi-format; there may or may not be a BX version.
Additionally, the monogram designs may be available as individual characters in multiple formats whereas the alphabets are not (see update note above).
Alphabets can also be used for creating monograms.
RELATED ARTICLES