Easy 3D & FSL Projects with Your Embroidery Machine
Looking for something eye-catching yet easy? These Sweetheart Tea Light Angels are just the thing!

Stitch out the pieces, cut them out, activate the stabilizer, and then just interlock the pieces. You an easily disassemble them and store them flat. No extra hand or machine sewing, no burning your fingers as you try to hot glue them together.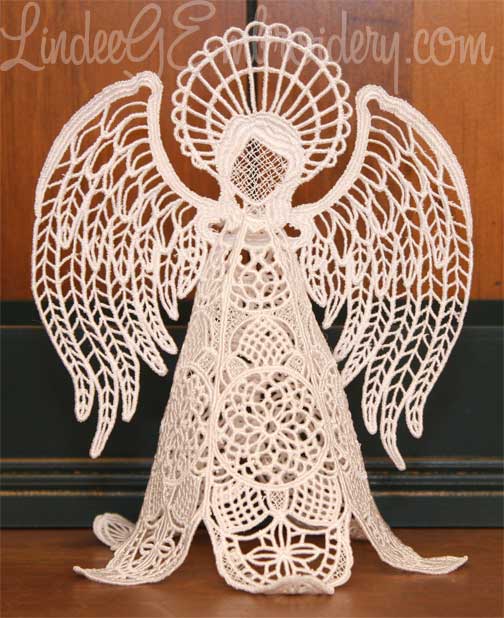 Ever since I created the first Heirloom Lace Angel, embroiderers have been clamoring for a smaller version. The Heirloom Lace Angel, while split for a 5×7″ hoop, was really designed for the larger 200x300mm sewing fields.
Stitching it in the smaller hoop, while possible, was quite an effort. And of course a lace design of that size is highly stitch intensive and can take up to 6 or more hours to stitch.
Shrinking that angel to fit a hoop so much smaller was just not an option. Instead, an entirely new version was called for.
A NEWER, SMALLER FREE-STANDING ANGEL
These Sweetheart Tea Light Angels were specifically designed to answer that request – an interesting and intricate angel that can be stitched in a 5×7″ hoop with a minimum of fuss. Rather than just one angel, I've created four variations from the same original artwork.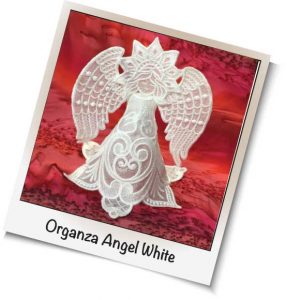 They're named Tea Light Angels because they can be placed over a small, battery operated tea light candle. The organza versions in particular glow softly when lit from within.
Each of the four versions in this set is composed of 3 pieces and can be stitched in just two hoopings requiring a 130x180mm sewing field (5 x 7"). Additionally, all the pieces are interchangeable. You could have mulitcolor lace face, single color lace wings, and an organza skirt in 2 colors instead of 7.
The finished pieces cleverly fit together so that no extra finishing is required.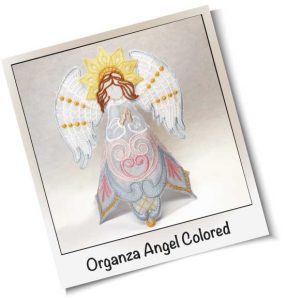 VARIATIONS FOR FLEXIBILITY
This angel comes in two styles:
One for stitching on organza
One for stitching as free-standing lace
Additionally each version is optimized for single color and multi-color.
Assembly is super easy and requires no gluing or stitching. You can easily disassemble your angel to store flat and reassemble again in the future.
WHY TWO VERSIONS?
Lace is very stitch intensive, which not only extends the sewing time, but also renders it unsuitable for stitching on fabric. Lace also requires optimal machine tensions and exacting preparation for a professional result. If you haven't stitched lace before, watch this video: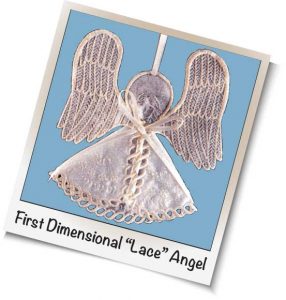 Lace is very stitch intensive, which not only extends the sewing time, but also renders it unsuitable for stitching on fabric. Lace also requires optimal machine tensions and exacting preparation for a professional result. If you haven't stitched lace before, watch this video:
The organza version is designed to be stitched on fabric and is not digitized to be self supporting.
This rendition is lower stitch count and since the fabric supports the stitching, it's ideal for those machines that have "tension headaches" that can prent stitches from connecting or underlay to do be exposed. It also gives you an opportunity to introduce more color and a bit of sparkle by using Twinkle Organza.
My very first free-standing angel was done on organza and I love the extra sparkle from the nylon twinkle organza's on the market.
WHY SEPARATE VERSIONS FOR MONOCHROMATIC VERSUS POLYCHROMATIC?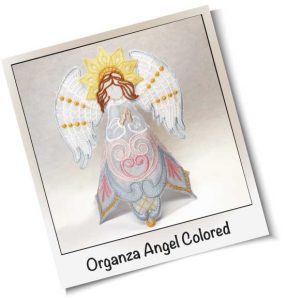 The single color versions of each piece stitch with no thread changes and no jumps. It's generally difficult and inefficient to digitize a complex design so for multiple color changes that can then be stitched in one color with no jumps or trims.
Creating separate versions requires resequencing and redigitizing but it gives you, the embroiderer, more flexibility without having to perform major surgery in a stitch editor to chop up the design to add color changes and then add lock stitches at those new color stops.
In some cases, you still may need to repeat colors and the primary reasons for this are registration (alignment of all the areas) and layering.
With extra color changes, you have the flexibility to color areas as you choose or even omit some areas by color.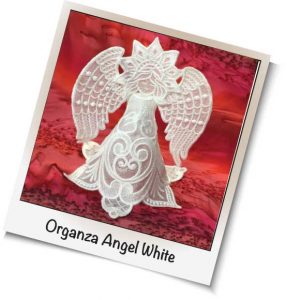 I don't recommend omitting areas on the lace versions because most stitches are required for supporting the design once the stabilizer is removed.
Feel free to mix and match the pieces to design your own angel. Maybe you'd like pink organza on the skirt with all white stitching, peach for the face with brown hair, and FSL for the wings.
Hot fix crystals are another embellishment option but be forewarned! They will melt nylon organza!
HELP THIS SITE SURVIVE!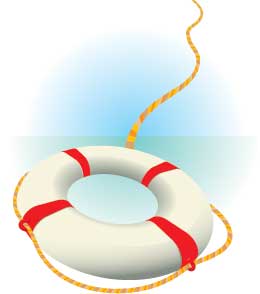 This site provides a huge value in informative blog posts, educational videos, and professionally digitized designs—both free and paid. It cannot survive without the benefit of shop purchases and/or donations.
Currently the site is struggling to stay afloat because most shoppers only download freebies.
We commonly tip those in the service industry such as our hairdressers and restaurant waitstaff to show appreciation. Help your favorite site stay alive by showing your appreciation by supporting them too!
You can help by purchasing products from this site or making a donation. Check the Specials area for currently sales and specials.
Another way to help is by sharing posts, project, or products to social media and clicking those little stars!
Your support is greatly appreciated!
HOW THE ANGEL WAS DESIGNED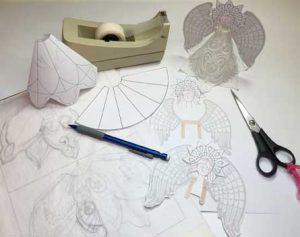 This angel is totally original and took 3 days to design and prototype the first one, another 3 days for digitizing, testing and refining the 4 versions plus 1 more to get all the files converted, colored, zipped, and uploaded to the website with photos and instructions.
Note: In case you're thinking of "9 to 5" type days, you have that backward. Many of my days are 5am to 9pm…
She started out as a paper circle drawn in Adobe Illustrator and sectioned off in "pie" slices. This was printed and cut out so that I could play with different shapes to see how full I wanted her skirt.
Then it was back to Illustrator to see how big I could make that shape and still fit within a 5×7" hoop.
That shape was then printed and it was time to start sketching the design elements. Several hours later, I started refining those elements by redrawing them on the computer.
That was followed by digitizing and test sewing. I typically run my machines slower than top speed so if you're complaining to me about how long it takes to sew a 30,000+ stitch design, forget it. It likely takes me longer! Plus, I watch every stitch sew to see if I can make the design more efficient or if I need to modify any design elements.
Once the skirt was done, then it was time to design the top part. Again this was done first with printed paper pieces to get a general shape, followed by sketching, testing and drawing. In this case, I had to make sure the pieces were all proportionate and that the "engineering" would all fit together.
Then it was time to digitize and test those pieces.
After a few refinements and testing to ensure it was all good, the lace version was created and tested. Finally, multi-color versions were done.
This is all labor intensive and isn't done in an afternoon. Open lace of this type in particular requires careful planning and testing to make sure the stitches will not dissolve into a wad of thread once the stabilizer is removed. It still relies on leaving enough stabilizer left in the thread to support the design and help it hold it's shape.
Comment: I think the reason we have so much "instant lace" available–that lace that is created by stitching a large cross grid of fill stitches to replace the fabric we normally stitch on–is because creating lace without that safety net is so much more time consuming and requires more thought.
WHERE TO FIND THE DESIGNS
The angels are available as a set with all four or individually.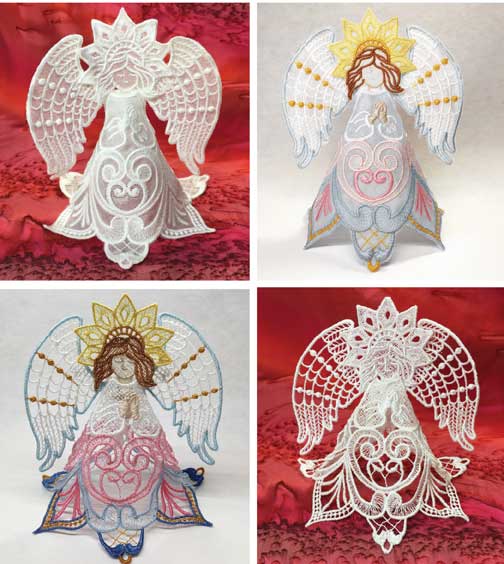 RELATED ARTICLES