Winter Friends Quilted Wall Hanging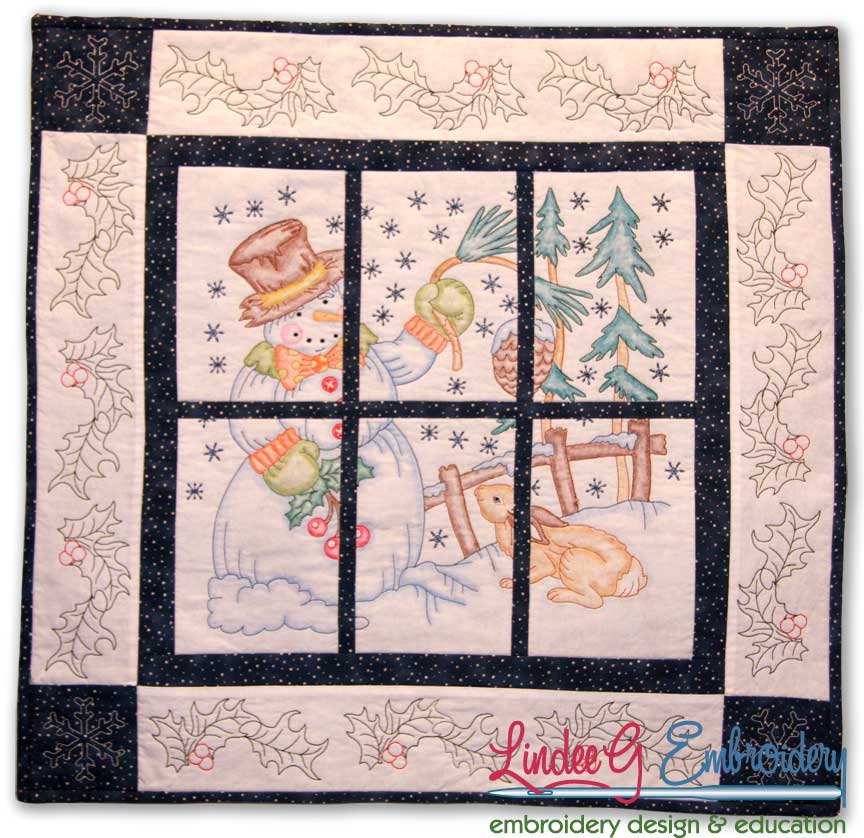 Project Description
This project came about as an answer to my embroidery club participants who wanted an embroidered quilt. I'm sure you know the kind: every block is solidly stitched and then pieced together to create a huge embroidered scene that is so stitch-intensive it could practically stand up on its own.
Just the thought of stitching one of those things makes me feel tired! That is not my idea of something fun and enjoyable.
And not only would it take a long time to design, but it would also take a longer time to digitize, test, and make a sample. And guess who would have to do all that? Me!
When I saw this artwork, though, I knew what I wanted to do with it. It was drawn for color line work and with the details that were in it, you'd still need a really large hoop to do it justice.
By enlarging it even more and splitting it into manageable "window panes," I could make one of those larger embroidered quilts that was really more quilt-like than one composed of embroidered blocks.
This project includes the "color line" (or "multi-colored redwork") version and a solid color version. While they do use the same artwork, they are digitized completely separately.
In other words, I didn't take the colored version and simply change it to one color. It would be way too inefficient with a ridiculous number on unnecessary jumps and trims.
I colored the color line version with colored pencils and left the redwork version plain. Since I made this sample, I've really become quite hooked on color and have experimented with different media. You'll find quite a few blog posts on ink and colored pencils on this site.
Credits
Designed and made by Lindee Goodall (11/30/2013)
Products Used
Related Articles