Larkspur Pillow Topper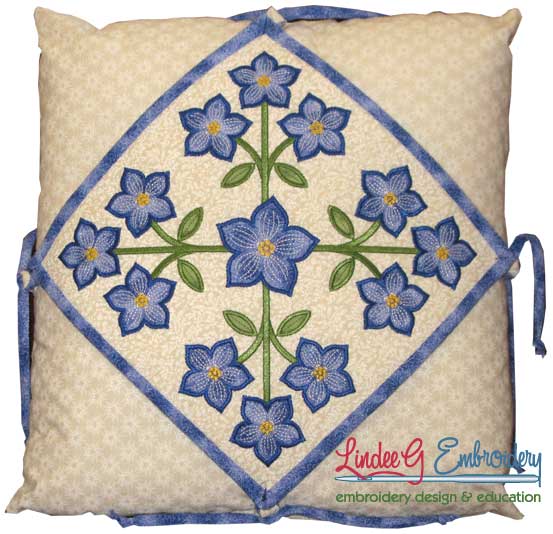 Project Description
This was the first project in a year-long embroidery education program I designed for Echidna Sewing in Australia. Based on the Birth month flowers of the year block of the month series, each month I covered a new embroidery topic and created a project to apply those new skills and techniques.
Each month's download included a lesson, a project with instructions, and the designs used in the project. That series is now complete and has been bundled into one product, Echidna PIE, A Year of Flowers.
Since the ultimate project in the coordinating block of the month series, Birth Month Flowers of the Year, is a Baltimore album style applique quilt, we started with a simple applique project so that participants could be stitching their blocks each month as we went.
This month's project comes with the applique version of the Australian July Birth Month Flower, Larkspur.
I stitched my pillow topper with the applique version on one side and the redwork or quilting version on the other. (Quilted version is not included with the project files.) This gives me a reversible cover.
This pillow topper concept is one of my favorite techniques because one pillow can get a fresh new look just by changing out the tie-on topper.
Credits
Designed and made by Lindee Goodall (5/24/2014)
Products Used
Related Articles