Gladiolus Tote Bag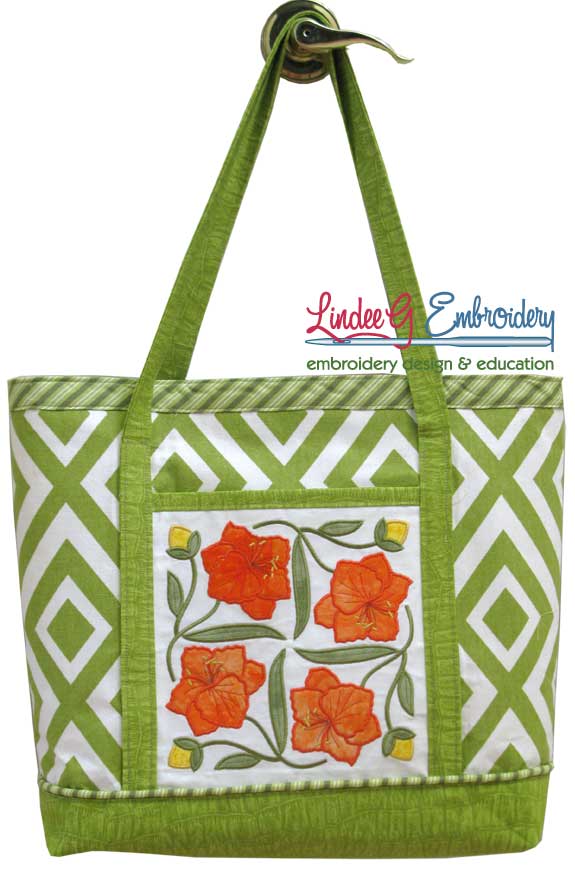 Project Description
August's birth flower is gladiolus, or "sword lily." Gladiolus represents remembrance, calm, integrity, and infatuation.
With gladiolus, the recipient's heart is being "pierced with love." Striking and colorful with a towering stem, which come in a wide range of colors, gladiolus is also the 40th wedding anniversary flower. They evoke the drama of Roman gladiators.
The other August flower is the poppy. A red poppy signifies pleasure, a white poppy is given for consolation, and a yellow poppy wishes wealth and success.
This tote bag project is month 2 in the Echidna PIE Embroidery Training Series. The focus this month is perfect placement.
The full-size designs in the Birth Month Flower of the Year Block of the Month series are targeted for a 200 x 200mm sewing field ("8 x 8 hoop"). However, I've also planned and split these designs so that they can be stitched in a 130 x 180mm ("5 x7 hoop") sewing field.
Getting the pieces back together seamlessly can be a challenge and this is the lesson where I provide details on how you can build designs larger than your machine can sew. I have some favorite tricks and tools to share that can help you get perfect results.
Our tote bag looks involved but it's all basic straight stitch sewing and I cover every detail. The actual embroidery is done on a separate piece and then incorporated into a pocket. This is a great way to use test sew pieces—simply make it into a pocket and work it into or onto another project.
Credits
Designed and made by Lindee Goodall 7/13/2014)
Products Used
Related Articles