Daisy In-the-Hoop Zips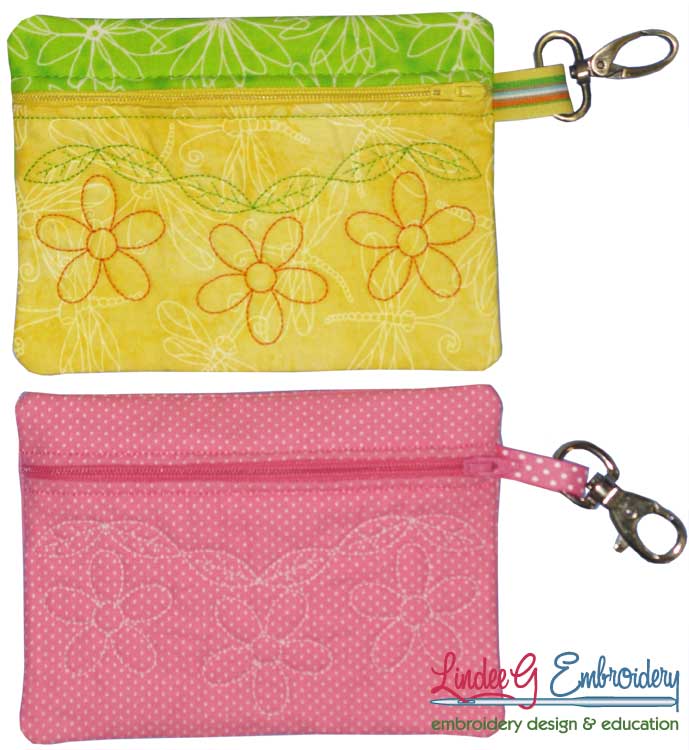 Project Description
The daisy is the birth month flower of April and is associated with purity, innocence, loyal love, beauty, patience, and simplicity.
This month's project is the result of requests for "in-the-hoop" projects, specifically a zippered bag. This design series is really based on a block of the month quilt and therefore doesn't include an ITH bag.
Digitizing a basic in-the-hoop project is not difficult once you understand how the project is "engineered;" after all it's really just composed of running stitches to replace the seams.
But not everyone has digitizing so I added a basic bag specifically for this lesson. It's only available with the lesson and not the April Birth Month Flower collection.
A basic bag is all well and good but what if you want to add a design to it? And what if the design you'd like is really part of another design? Well, then, you'll have to dig into software.
This lesson involves more advanced editing and even a little stitch editing. We'll extract some elements from a daisy design and rearrange them for a simple design to quilt our ITH bag.
Then we'll learn where to insert it into the bag design in the proper sequence. Finally, we'll construct our bag, complete with zipper, in the hoop.
Those last two steps aren't difficult but can be confusing the first time you try it but once you get the hang of it it, you'll be making all sorts of these little bags!
Since I've written this lesson, I've added many in-the-hoop projects to the shop. You can also find a number of blog posts on how to customize your bag. Not all ITH bags use the same technique and steps. Be sure to read any instructions that come with an ITH project.
If you don't have software, you can still stitch the bag. If you're proficient at inserting designs and jumping around in color changes, you could add a design at your machine.
Credits
Designed and made by Lindee Goodall (3/8/2015)
Products Used
Related Articles