Did you ever start out with an idea for a project that evolved into something totally different? That's what happened with these Halloween Luminaries!
I was looking for reflective (glow-in-the-dark) fabric and couldn't find what I had in mind. Then I thought of the recent embroidery club I taught on stitching on paper, metal, and wood.
We had used redwork designs but the stitches were a little short and the tie-off stitches created too many needle holes in one spot—not ideal for paper or metal! The participants asked about designs just for paper and metal and I didn't know of any so I that got me thinking in a new direction—and you can see the result here!
ABOUT THE DESIGNS
This project collection includes 12 designs digitized for paper or metal punching plus full instructions. If you look at the design in your software or on your machine, it will look like a "redwork" style design.
However, all the "stitching lines" are single stitches set a little longer and there are no beginning or ending tie stitches, perfect for paper or metal and in other words, these designs are intended to be sewn without thread! All designs fit a standard 100mm x 100mm hoop and are easier to stitch in a larger hoop.
While will show through the needle holes, you can intensify the effect with a few extra steps. Below you can see a close-up of the haunted house luminary.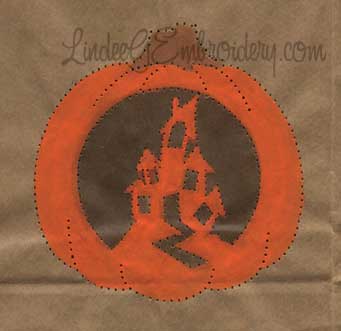 PROCESS OVERVIEW
Stitch the design on a brown paper lunch bag using a large needle. I painted the "uncarved" areas of the pumpkin with acrylic paint and treated the "carved" areas with another common household product that magically makes them appear dark when unlit and translucent when lit.
Crayons would also work for the colored areas if you prefer.
Below you can see each luminary shown both lit and unlit. I used battery operated tea lites, which flicker like candles. If you're using candles, put them in a glass jar to protect the paper bags from catching fire.
Choose from traditional style jack o'lanterns, to other Halloween-themed designs such as a haunted house, witch, cat, bat, ghost, owl and popular phrases like "boo" and "trick or treat."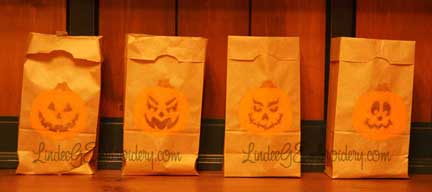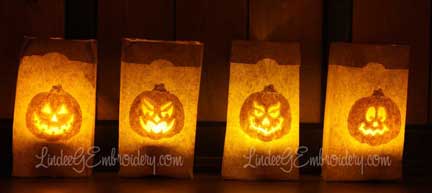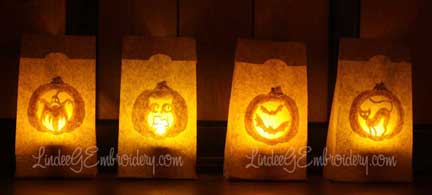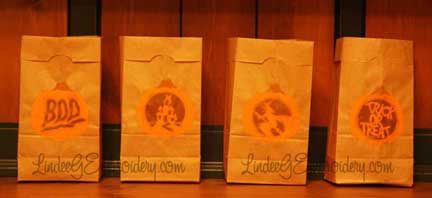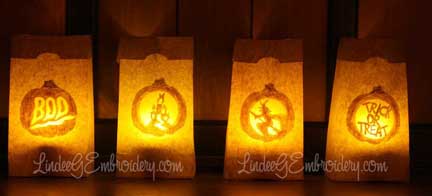 This is a fun project to do with kids of any age! The bags stitch up quickly and can be folded back up for easy storage. They make great table decorations for a party or put them in your windows for a spooktacular treat!
Because these designs are intended for paper, they work great for scrapbooking, greeting cards, and other paper projects. Ink them, glitter them, weave decorative threads through the holes. There are all sorts of creative possibilities!
You can also stitch on craft metals for a punch tin look. I slide a piece of cutaway under the metal just to prevent it from scratching my machine. Do be careful with the back side; it's like a cheese grater!
WHERE TO FIND THE HALLOWEEN LUMINARIES PROJECT
These designs can be downloaded instantly and you can save $10 off now through Halloween night 2013! As with all project collections, full instructions are included!
Note: project instructions are ONLY included with the full project collection; not on individual designs (if available).
UPDATE: TIPS FROM EMBROIDERERS WHO MADE THESE
After releasing this collection, I've received a few emails with some tips:
Hoop the bag flat and sew through both sides at the same time
Fast Frames are great for easier hooping even on a flat bed machine
Hoop the bag with a Fast Frame on a multi-needle machine for sewing (these machines can sew a tubular item better than a flat bed machine)
A wing needle is too large and the holes tear (design was not digitized for wing needles)
My tip: You can enlarge the design and sew with a wing needle (in Embrilliance Essentials, drag resize with the Control key down so no extra stitches are added)
Paint works better than crayons
---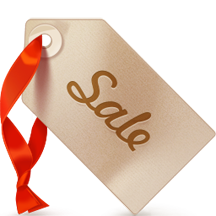 A WORD ABOUT SPECIALS, SALE PRICES & COUPONS
Please pay attention to post dates and any specials listed in posts. Special pricing is for a limited time and may be repeated at some point.

Specials, sales, and freebies are always announced in the newsletter. Signup to get notifications of specials, new items, and freebies.

Additionally, shop wide coupons may be available to apply to any regularly priced items.

Coupons generally only apply to regularly priced items, not items already marked down. If your coupon doesn't work, this may be why.
RELATED ARTICLES