Embroidering on paper is easy if you know a few tricks. Stitching up a greeting card is a great first project and requires minimal supplies and time. Plus embroidering a greeting card is great way to customize a special card for someone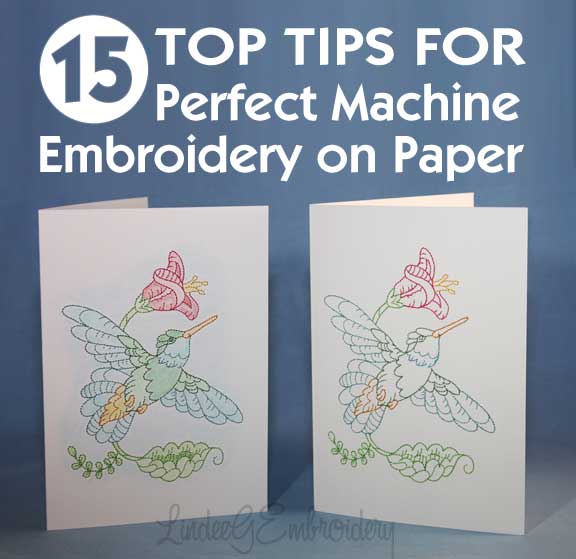 Embroidering on paper is easy if you know a few tricks. Stitching up a greeting card is a great first project and requires minimal supplies and time. Plus embroidering a greeting card is great way to customize a special card for someone.
Embroidering on paper is easy if you know a few tricks. Stitching up a greeting card is a great first project and requires minimal supplies and time. Plus embroidering a greeting card is great way to customize a special card for someone.
Make a set of them for a special gift or use them yourself for hand-writing notes and mailing them the old-fashioned way!
1. START WITH YOUR PROJECT IDEA.
What are you making? Is it a greeting card? A luminary? A lamp shade? Will you be stitching with thread or just using the needle to make a decorative punch work design? Your answers here will determine most of the rest of your choices.
Getting successful results embroidering on paper is all a matter of choices. And truly, that's the case with any embroidery, isn't it?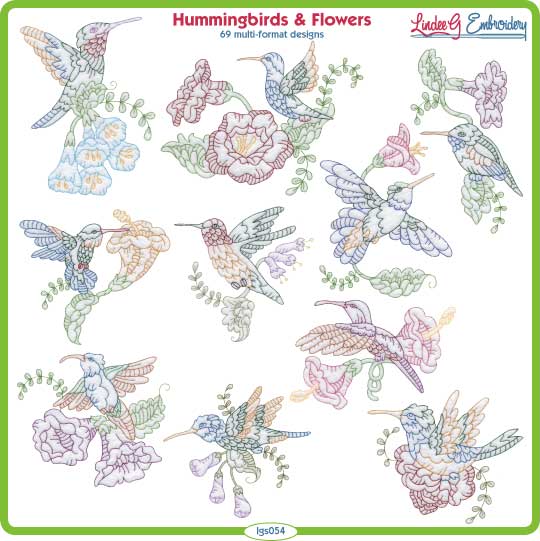 ABOUT THESE DESIGNS
For these cards, I'll be using designs from Hummingbirds & Flowers. This collection includes a total of 69 designs. Individual designs are also available.
A set of 10 images was digitized for 130 x 180mm (5 x 7″) sewing fields and 150 x 240mm sewing fields in both multi-colored versions and monochromatic, providing 20 designs for each size. These designs were also sized and modified to fit the small 100 x 100mm sewing field (4×4″) and some details were eliminated to fit the hoop.
A final group of just the birds was extracted from the multi-colored designs and these also are scaled to fit this smaller sewing field. The designs are available as a set and individually.
Larger designs or designs with larger open areas are easier to color. I did shrink the 5×7″ designs slightly for the matched pair of cards and extracted a larger bird from one of the large designs for the third one. If you have appropriate software, you too can resize the designs.
Do check designs after resizing!
On designs that have multiple stitch passes (double runs, triple runs, and/or bean stitch), the needle holes in the original design usually exactly align with any previous passes and they still need to line up after resizing. Not all software processes multi-pass runs this cleanly and if you end up with the needle holes offset instead of matched, you could very well end up with unintentional cutwork.
Warning: If you resize a design and the needle holes no longer line up, stitching it on paper is not advised! Why? Because your paper may be overly perforated and tear!
MY AFFILIATE LINKS DISCLOSURE
Hi everyone. Just to let you know that some of the links on this site are affiliate links. What that means is that if you click one of them and buy something… I get a commission. It doesn't cost you anything extra and I only recommend things that I've tried and tested, so please, please, please… use my links.
Fine Print: Lindee G Embroidery is a participant in the Amazon Services LLC Associates Program, an affiliate advertising program designed to provide a means for sites to earn advertising fees by advertising and linking to amazon.com. Lindee G Embroidery is also an affiliate for Embroidery.com, Nancy's Notions, Embrilliance, and Craftsy. If you purchase something through one of those links I may receive a small commission, which helps to offset the cost of running this site. 🙂
2. SELECT YOUR PAPER.
When stitching with thread, you'll need to choose a sturdier paper or card stock that can stand up to the pull of the stitches without shredding or tearing (making you tear up!). Hand made and specialty papers with longer fibers can also support stitching well.
I especially like the heavy, textured handmade appearance of papers like thick Mulberry paper used in scrapbooking. There are also special papers made specifically for embroidery, such as Kiwi paper. I didn't get exotic for these cards and instead chose something simple and readily available.
As with fabric, a stabilizer can add extra support to the paper and reduce or eliminate damage.
For these greeting cards, I used a package of heavyweight blank white cards that were pre-scored for folding and came with envelopes. I used these: Heavyweight A7 Cards-White, which also come in ivory.
I wanted a smooth surface for coloring with pencils. Something similar is inexpensive and readily available from many craft stores.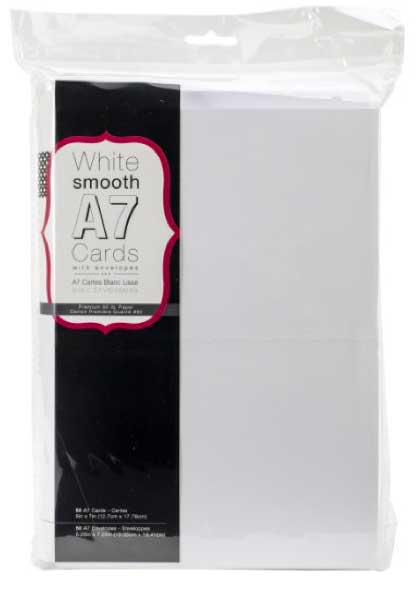 Needle-only designs can be stitched on more fragile papers, even inexpensive lunch bags like the Halloween Luminaries shown here:
Read more about the Halloween Luminaries – Pumpkin Carving with a Needle!
3. SELECT YOUR DESIGN.
While you may find some designs specifically digitized for paper, you can use most any redwork design or other running stitch designs for stitching with thread. For stitching without thread, you'll need to find a design that is still identifiable without the thread connecting the "dots" made by the needle.
The Halloween Luminary designs were specifically digitized for stitching on paper without thread using a larger needle and therefore have no tie off stitches and are all single pass designs. This means you can easily resize them.
The design on the lampshade below was edited from standard redwork design to stitch in the same way (Not generally possible unless you digitized the design yourself).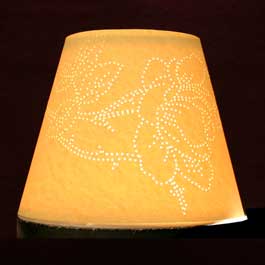 Obviously designs digitized in this manner aren't suitable for stitching with thread because there's nothing to secure them in the fabric.
Intricate redwork designs may have stitches that are quite short and are usually composed of two- and three-pass stitches. In other words, the "lines" are seldom just a single run and are more likely a double run, triple run, or bean stitch.
Generally, successive passes have the needle hole in the same place as any previous ones. This is a good thing because (assuming no slippage) you shouldn't be getting extra needle holes with multiple passes; the needle should just sink perfectly into the previous hole.
This type of stitching when using thread can tear papers that are too fragile or aren't well supported with a sturdy stabilizer, especially with a bean stitch that will triple-stitch each stitch as it goes along. Back-and-forth stitches of this nature apply more tension on the stitch and can stress delicate fabrics and paper if there's inadequate support from a stabilizer.
If you're using a design that's been digitized with a stem stitch, your lines won't be as clean and you could perforate the paper. You really won't know without testing.
Closely stitched filled or satin designs aren't appropriate for most papers. Can you make them work? Well sure, with a good stabilizer and a paper with longer fibers you can probably get reasonable results. If the stitched project is then affixed to a sturdy base, it will hold up better.
You might be thinking, well, could I just enlarge the design and reduce the density? Maybe but if the design has underlay, that will become visible and likely won't be very attractive.
If you're just starting out, stick with a standard (unscaled) redwork design for a successful outcome until you get a feel for how things work.

4. CONSIDER THE HOOP.
Obviously paper can't be hooped between the rings of the hoop (with the possible exception of some very soft handmade papers) so you'll need some other method of securing the paper.
I have taped paper to the bottom side of the hoop with painter's tape and I've floated it on top over hooped stabilizer. The method will depend on the size of your project and whether or not you can have a stabilizer left in.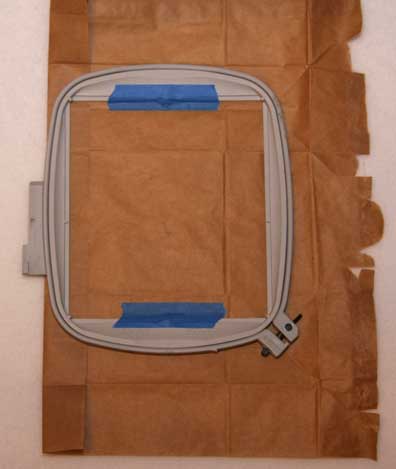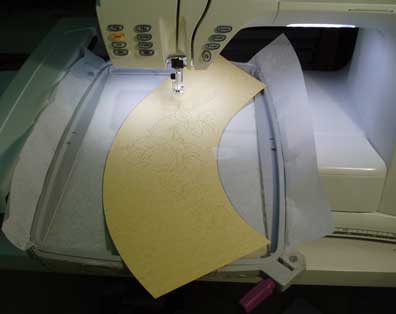 You do want your paper to lay flat enough so that the area that will be stitched is not curved up off the surface of the stabilizer.
While standard best practices for machine embroidery call for a hoop that comfortably fits the design, I'll often use a larger hoop than is needed so that I can lay the paper flat onto the stabilizer for stitching.
When stitching with thread, a light misting of TESA will hold the paper until the first few stitches can attach it to the stabilizer.

5. CHOOSE A STABILIZER, IF NEEDED.
I've stitched with no stabilizer, cutaway, and tearaway. As when choosing stabilizer for fabric, you need to consider what support your project will require both during stitching and after. For redwork type designs on card stock, either tearaway or cutaway should be fine. I used a cutaway for my hummingbird cards.
When you're stitching without thread and the project will fit inside the hoop, any stabilizer will work because it won't be stitched to the project. You will need to make sure your paper is well secured to the stabilizer because without thread, it won't get attached and it could slip more easily.
Depending on the paper, you may be able to use tape. Painters tape can hold well enough and can be easily peeled off most papers after stitching.
I know some people like to use sticky stabilizers for projects of this nature but I'm not a big fan of them when there's something else that's better. Besides, you aren't going to be able to remove that sticky after stitching and that could be a problem.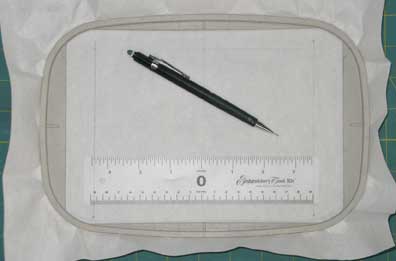 6. PLAN YOUR PLACEMENT.
The first thing noticed about any embroidery is the placement. When floating projects, placement is much easier because the item won't shift as the inner hoop is pressed into place.
You'll still need to take care to align your card or paper. I like to mark lines in pencil directly on my stabilizer. In the photo below, you'll see a rather interesting little ruler. If you look carefully, you'll notice it measures from the center out with inches on one side and millimeters on the other.
Be sure to use the same side for measuring (inches or millimeters) for accurate marking.
This little ruler guide came with either the original In the Hoop Tool Kit or the The Perfect Placement Kit, both by Designs in Machine Embroidery(I have both) and what I love about it is that it's thin and flexible enough to work even in small hoops.
One review I read called it "flimsy" but I don't think she understood why it needed to be so flexible; you're not supposed to use it with a rotary cutter!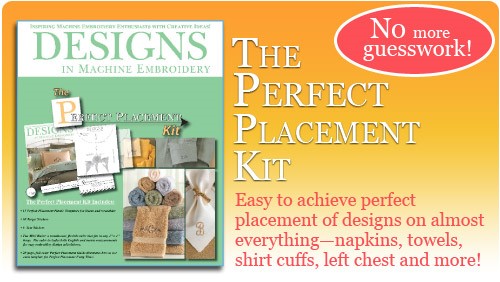 I don't carry either of these products in my shop but I love them and I use them all the time. Here's where you can find them:
'In The Hoop' Machine Embroidery Tool Kit by Designs in Machine Embroidery available from Amazon and embroidery.com
The Perfect Placement Kit by Designs in Machine Embroidery available from Amazon and embroidery.com
When hooping your stabilizer, make sure the inner hoop is inserted in the right orientation (the top of the inner hoop matching the top of the outer hoop) otherwise the horizontal center guide may be higher or lower than the actual center by a significant amount.
I like to draw horizontal and vertical center guides first and then use my little Embroidery Tool Kit ruler to mark the placement lines for the edges of the card. Then just lightly mist the back of your card with TESA (I like Sulky KK2000 Temporary Spray Adhesive) and then press it into place on the stabilizer.
Do make sure the machine is set up and ready to go so that the adhesive stays active until you get the first few stitches in place. TESA made not be secure enough for stitching a no-thread design.
The design I'm stitching requires a 5×7″ sewing field and that also happens to be the size of my folded greeting card so I can easily get my card into place on top of my stabilizer. I've oriented my card to best work in my machine with the back flap to the left.
It's easy to put the card on wrong and end up with a left-handed open instead of a right so do pay a bit of attention here!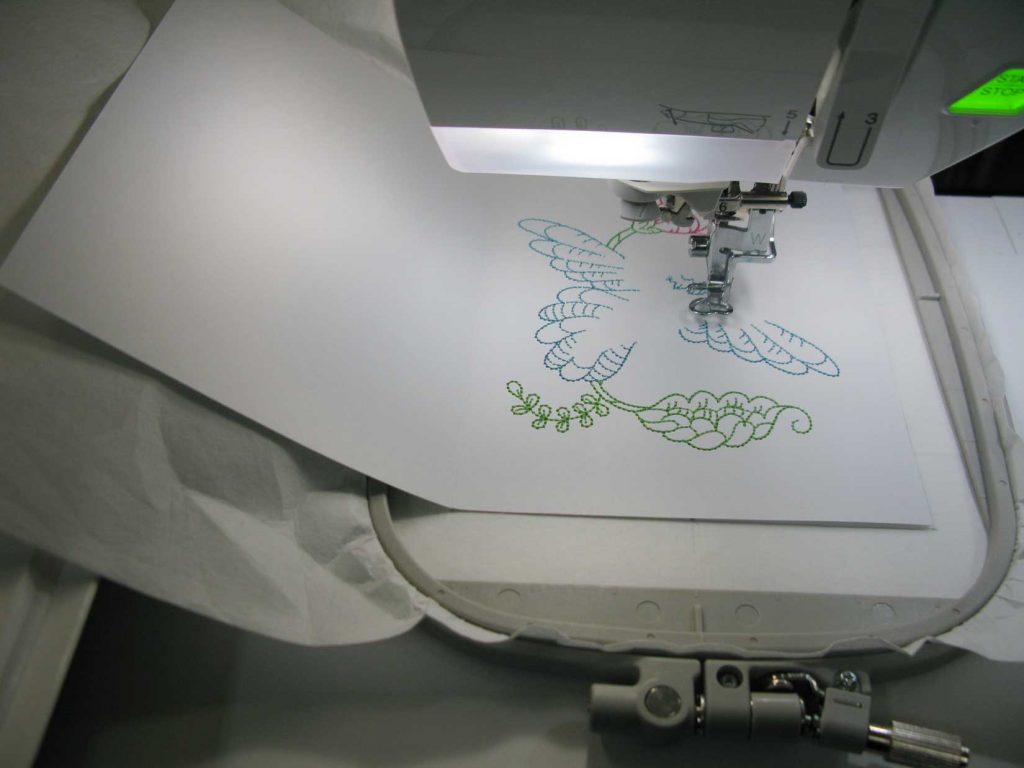 7. KNOW HOW YOUR MACHINE WORKS!
If your machine sinks a stitch in the center of the hoop at the beginning of the design before traveling to the actual first stitch, you'll need to remember to advance one stitch before pressing the start button or you'll have a permanent hole in the center of the design!
If you're not sure, you can just advance 1 stitch to start with and see if the needle travels. Some designs will start in the middle but most won't.
8. USE THE RIGHT NEEDLE.
A sharp needle will work best and if you're stitching with thread, you'll want to use the smallest one that can carry the thread through the paper without damaging the thread, especially if your design has short stitches.
You don't want holes to connect and start punching out chunks of paper. The smaller the needle, the more precise the stitch whether you're stitching on paper or fabric.
If you're doing a needle-only design, you can use a larger needle to emphasize the holes only if the stitch lengths are long enough to prevent the holes being too close. I used a size 14 needle on the lampshade.
9. THINK ABOUT THREAD.
Some threads may not sew well on paper, particularly if the paper is tough or abrasive. With the right needle, your thread will be more protected and embroidery needles are designed for protecting specialty threads.
Conversely, some threads are less friendly to the paper than others. Polyester embroidery threads are more likely to slice paper than rayon, especially if your machine tensions are tight.
Does that mean you need to invest in special threads for paper? Probably not. The hummingbird cards shown in this post were stitched with Soft Light Metallic thread on the bird's feathered areas and Hemingworth polyester thread elsewhere and I had no problem.
I particularly like the Soft Light Metallic on the birds because it is more subtle and looks more natural than some of the really sparkly metallics. Also, it comes in a lot of colors—52 to be precise—so it's easy to find a color that works well for these little hummers.
OK, so just a little aside here. Whenever people see me using the Hemingworth thread with those clever little plastic dome covers, they always want to know where to get the covers for their thread. Sorry, they only come on Hemingworth because the spools are specially engineered for them to snap on.
There's a little rubber stopper on top that you remove for sewing and replace for storage. The cover keeps the thread clean, untangled, and protected—and cat proof! I get mine from embroidery.com and you can also find it on Amazon. Hemingworth is a high quality tri-lobal poly and I've been using it for years.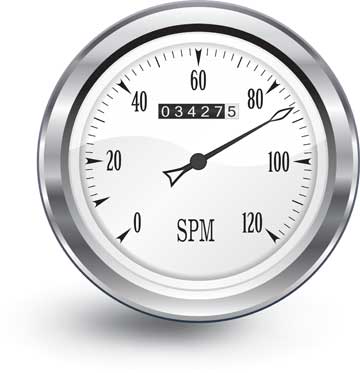 10. SLOW YOUR MACHINE DOWN.
I never embroider at top speed in the first place. The faster you sew, the more tension there is on the thread and the tighter the stitches are, which can tear your paper.
You don't have to slow your machine down to a snail's pace; I find that it works fine at 600spm. Check your manual or your machine's built in help system to find how to change the speed.
Some machines will keep that speed setting even after restarts but others won't.
11. CHECK YOUR MACHINE TENSIONS.
In addition to lowering your speed, make sure you upper and lower thread tensions aren't unnecessarily tight. Many machines can have balanced tensions that are still overly tight. Do a test sew on your paper to check everything out before attempting an elaborate project.
If your paper is tearing when using a decent tearaway, then it's possible your tensions are too tight. Even with polyester thread, you shouldn't be cutting your paper. You can also try switching to a medium weight cutaway for more resistance against the thread tensions.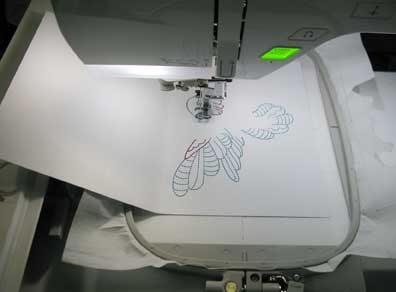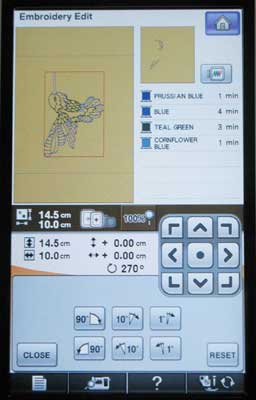 12. CHECK THE DESIGN ORIENTATION.
If you're stitching on pre-made or pre-scored greeting cards, you may need to rotate your design so that it's properly oriented for how your card will open and how you were able to hoop it.
The card below opens from the bottom but was hooped in the same orientation as the card that opens from the right, necessitating rotating the design 90° counter clockwise.
13. FINISHING THE BACK SIDE OF THE EMBROIDERED PAPER.
Carefully trim or tear away any excess stabilizer on the back of your embroidery.
Or, if I'm framing or matting the embroidered paper, I'll just trim the stabilizer even with the edges of the paper to avoid any edges or ridges showing through.
Tip: If I'm coloring my project with colored pencils, pens, inks, paint or other media, I wait to remove the backing until after coloring to avoid any possibility of "rubbings" from ridges left by the cut or torn edges. Also, if you're coloring with markers, it can reduce bleed through onto another surface.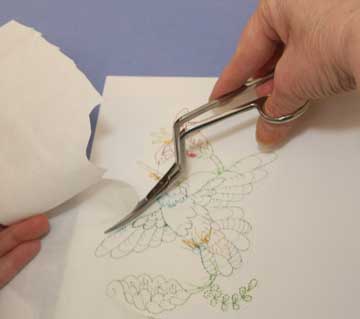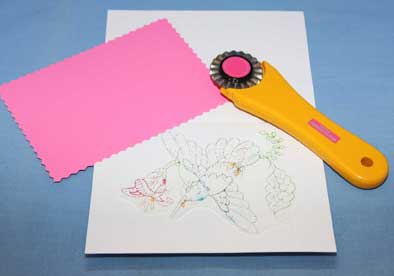 If you're stitching a greeting card where the reverse side of the embroidery will be visible, simply glue a decorative paper over the back of the embroidery. Be sure to use a permanent glue made for paper.
Since most of the cards I do are this 5×7″ size or smaller, this pad of colorful card stock, is perfect. You get 87 sheets already sized to 4.5″ by 6.5″ and it's acid free in a wide range of colors. So on this greeting card, I really only need to pull out a sheet and glue it on.
But if you have scalloped edge rotary cutter (or if you have extra cutters laying around, just get the blade) you can your edges more decorative.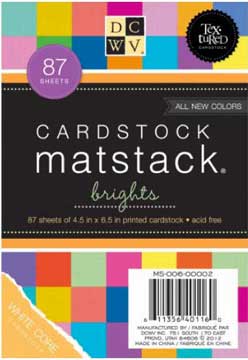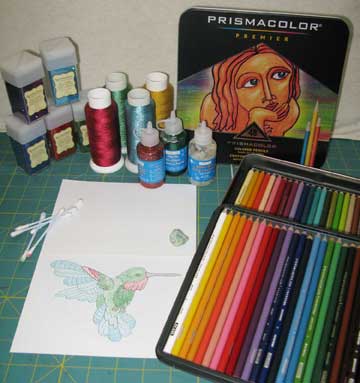 14. ADDITIONAL EMBELLISHMENT IDEAS.
If you're a scrapbooker, you probably have all sorts of supplies for embellishing cards with inks, pens, glitter, and more. Small bits from your sewing room are also fun to add: lace, buttons, ribbons and trims can customize your card and add textural interest.
My favorite method for embellishing embroidery is with colored pencils is with this Prismacolor set of 48 colors.You can also use less expensive Crayola or Rose Art but I like the soft core on the Prismacolors.
The color just goes on so smoothly! While colored pencils aren't all that permanent on fabric, particularly for something that will be washed frequently, they're perfect for paper. Color can be easily controlled and applied without warping the paper from wet applications like brush-on inks or watercolor.
That little blob that looks like it might be an artist's eraser, is actually some Scotch Removable Mounting Putty. Just pull off a small piece and you can use it to lift off excess color. When it gets too yucky looking, throw it out.
One package will last a long time and it can also be used to mount your cards on the wall or on your fridge. It also works just as well with other colored pencils and even crayon to lift color off paper or fabric. The cotton swabs are for some smudging and blending.
I want to add a little more sparkle to this guy and I haven't yet decided whether that will be with those little stacks of glitter or with some glitter paint.
You could also print the inside of your cards before stitching. If you're planning to do that, be sure to get stock that is printable and can be run through your printer.
If not (or you forgot to print before stitching!), then print on some pretty paper, trim to size with a decorative cutter, and affix it the way you covered up the back of the embroidery.
I didn't spray any sort of fixative on the front of my cards. This colored pencil is pretty smudge proof. If you'd feel better with something to protect your coloring efforts, spray fixatives come in matte and glossy.
Do test one on a sample to make sure you're applying it correctly. You might contact a local art store or scrapbooking shop to see what they recommend for the media you used.
15. TEST FIRST!
I think this should really go without saying, especially when you are trying a new technique for the first time or using different designs, threads, or other products. I'm always amazed at the number of embroiderers who never test anything and just go for it.
I see a lot of pictures on Facebook of examples of what can go wrong when you take this approach, especially with a design you've never sewn before. That's not to say that testing will prevent ALL embroidery problems!
When you test, you're testing more than just the design. When I first sewed one of my cards, I had printed my worksheet and discovered that the design was pretty much the same width as my card so I went back to my computer and shrunk it down.
However, for some reason, when I copied the revised version to my USB stick, I either copied the old version or I didn't manage to copy over the first one and so I stitched the wrong size on my first card. I could have avoided that issue if I'd paid more attention to the screen on my Baby Lock.
So not really a big deal for this project. The design didn't take all that long to sew and I had plenty of cards and now I had a piece to test my colored pencils.
I was pleasantly surprised that the metallic threads I'd chosen worked just fine on the paper. I did discover I didn't like one of the colors I'd selected but everything else was fine.
I recopied the file and checked the size on my machine before stitching and also replaced the one color I felt was too dark and the second sample was perfect.
Learn more about testing in this post: Why Test Embroidery Designs?
NOW GO TRY IT!
Embroidering on paper is a great way to combine machine embroidery with scrapbooking. It's quite easy to do with an open, running stitch type design like these hummingbirds and many other redwork style designs, they'll stitch up fast. You can easily spend more time embellishing them than it took to embroider!
To get you started, you can download this hummingbird for free. Use coupon code bird416 if the design is not marked as free.
I've extracted just the bird from one of the designs and enlarged it to fit a 4×4″ sewing field so that pretty much anyone with an embroidery machine can stitch it. Larger designs are easier to color than smaller ones. I'd love to see how you embellish it!
WHERE TO FIND…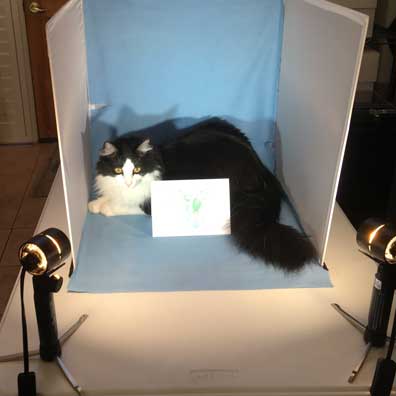 SOME OUTTAKES…
Those of you who follow me on Facebook or Instagramknow Lucky kitty.
We found each other in September of 2014 when he was barely 2 days old and abandoned. I'm not really sure who rescued whom but he's family now, along with 3 other rescue cats—which is why I like thread that's cat proof.
Anyway, Lucky is always checking things out and has to be where the action is. He was perched on a case watching us do product shoots for this post.
We left to go check some photos on the computer and when we came back, Lucky was ready for his big shot. Somehow, just like a cat, he was able to maneuver into the photo booth and curl around the card without disturbing anything!
Unfortunately he moved before we could get a better shot with the big camera. Thank goodness for iPhones!
RELATED ARTICLES