Making an Easy ITH Inspirational Project
All that negativity swirling around in the world getting you down? You can do something about it and it's not hard, time consuming, or expensive! Chances are you have everything you need except the design.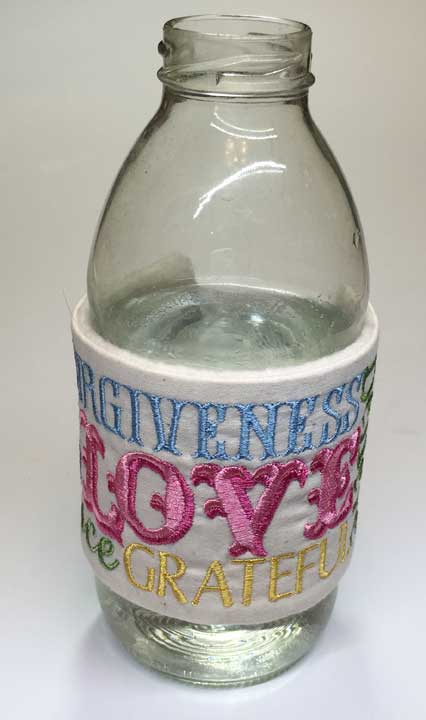 WHERE DO DESIGNERS GET IDEAS?
EVERYWHERE!
Last week while walking my dog Riley and listening to a podcast, I once again heard about Masaru Emoto, who did some experiments with water to look at crystal structures.
He discovered if he labeled bottles with high vibrational words like "love," the frozen crystals were beautiful whereas bottle labeled with low vibrational words like "hate" would yield ugly crystals.
OK, so that sounds pretty woo-woo. But you can test this on yourself.
Do seeing words like love, peace, joy, and gratitude make you feel better than words like hate, war, evil, and destruction?
How do you feel watching or reading the news about "bad" things versus "good"? (Not very many of the warm and fuzzy items, are there?)
Scan your Facebook feed. Gauge your reactions to different posts. What makes you feel good and what doesn't?
So as I'm walking along while Riley sniffs every interesting rock and weed hearing this water crystal thing again, that little voice in my head piped up and said, "Hey, let's make something like that!"
THE DESIGN PROCESS
Rather than to print a label, I decided to digitize it (of course!). The original artwork was designed in Adobe Illustrator.
I don't have one of those $500 programs that create subway art with embroidery fonts. And besides, I wanted something more creative than that.
I started by making a list of potential words. Here's a partial list of the words I wrote:
Love

Peace
Faith
Compassion
Grateful
Gratitude
Believe
Joy
Kindness
Forgiveness
Next, I went through my extensive fonts library (system fonts, not embroidery fonts) and made a list of interesting fonts. I'm looking for interesting shapes and styles.
Subway art and chalkboard designs typically violate the rules I was taught in art class about combining no more than 3 fonts from specific styles in one design.
Here's a screen shot to give you an idea of my preliminary selections.
A few of these I've digitized into keyboard alphabets but most have not.
Then I spent a few hours trialing different words, fonts, sizes and orientations until I created a group that fit together like puzzle pieces.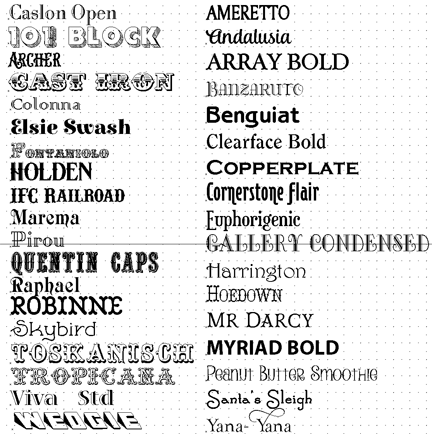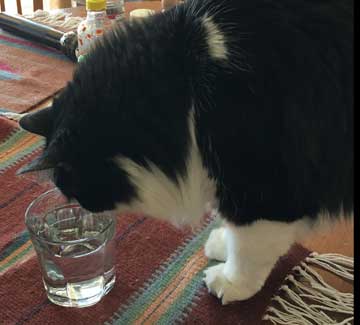 PLANNING THE PROJECT
I drink filtered water from glass bottles rather than plastic for my health and the health of the planet.
I drink from a bottle instead of glass or cup because my kitties will also drink out a glass and they can't from the bottle (nor can they dip their paws in there for a little splash).
Also, the bottle makes it easy for me to track my water consumption.
I always have a bottle of water on my desk, where I spend the bulk of my day so even if these words aren't changing the structure of my water, I'm seeing them, even if only out of my peripheral version, and they are upgrading my subconscious.
I measured my bottle to determine the working area for my design. I also decided to keep the text part of the design within a 130mm x 180mm sewing field ("5×7 hoop").
I further decided to make this an in-the-hoop project, since I do have a larger hoop and many of you do as well.
I have several different water bottles, all repurposed from bottled teas, Kombucha, or other drinks. They aren't all the same size. Rather than use velcro for a closure, I opted for a wide strip of stretchy elastic to make the project adjustable for any of my bottles.
Once I had my artwork and decided on the finishing process, I was ready to digitize.
DIGITIZING CONSIDERATIONS
Because this is my own artwork, I can still make adjustments in my digitizing software.
If this had been a custom job, I would have had to match the fonts exactly, which would have meant digitizing every letter except for those in "Kindness" and "Believe," which both use Euforia.
I have two programs that have a lot of great object-based keyboard fonts. Object-based fonts can be modified more extensively than stitch-file alphabets (BX, pes, etc.).
For example, I can extend a letter and create a swash on the end without having to digitize the entire letter.
Generally, I prefer to digitize a design completely in one program rather than have elements that were created in another program and then placed into the design as a stitch element.
So I had another decision to make—should I be efficient and use the Euforia font from Punto and then do the rest in Hatch? Or use Hatch and redigitize those letters?
WHAT'S SO BAD ABOUT USING MULTIPLE PROGRAMS FOR DIFFERENT SECTIONS?
It means your design is not as easily modifiable.
If I want to resize such a design, I'd really need to resize the elements in their native programs and recombine them for an optimal result. If you want multiple versions that require recalculating stitches, it's better to work in one program only.
On the other hand, if the ultimate end product is a stitch file, reducing the time it takes to make the design is marginally more profitable, especially when so many embroiderers think designs should be free or at prices hardly worth making if your business is creating embroidey designs.
CREATING THE DESIGN
If you were to compare the embroidery design with the original artwork, you'd see that some fonts don't exactly match the art but they do capture the flavor of the font. Some letters were digitized from scratch while others were object fonts that were reshaped.
If you sew this design, you'll notice that some words actually stitch backward. This is to optimize the flow of the design and keep hoop movement to a minimum, something a pro digitizer does to reduce sewing time, increase efficiency, and reduce shifting, thereby optimizing quality.


If your machine has automatic trimmers and recognizes embedded trim commands (some machines don't read the commands and only trim if the jump stitch exceeds a certain length), you'll notice that there aren't trims between every letter when they are close together.
You'll also notice that the letters join at the point where the jump is the shortest. This is called closest point joins and requires object-based letters and software that can reorder entry/exit points to make that possible.
When letters don't need to trim in between, tie off stitches aren't needed. Tie in/off stitches can increase stitch count and degrade the quality of letters, especially skinny ones where they might be visible.
SEWING THE DESIGN
There are two versions of this design.
The lettering is exactly the same in both; the difference is that one has been adapted for an in-the-hoop project. The lettering on it's own will fit into a 130x180mm hoop, while the ITH version requires a 100mm x 220mm area. (You may need to rotate the design to fit your hoop orientation.)
This is an extremely simple in-the-hoop design and really is just a variation on appliqué. If your hoop isn't large enough, it's also easy to whip up at your sewing machine.
SUPPLIES:
2 pieces of fabric slightly larger than the design (9″ x 4″ should be sufficient
1 piece of wide stretchy elastic (measure your bottle to determine size)
Tip: If you cut the elastic a little longer, you can use it to help turn the project right side out.
Optional: low loft batting (I used Warm & Natural). Don't use anything really bulky or you may not be able to turn the project right side out.
STITCHING PROCESS
To sew the ITH version, hoop a piece of stabilizer. I used standard cutaway for the extra body it adds.
1. Sew color 1, which is a placement guide.
Essentially, you are appliquéing the front fabric onto the stabilizer. Place a rectangle of fabric slightly larger than this rectangle face up over this guide. Trimming off the excess fabric is not necessary; you'll do that once the project is removed from the hoop.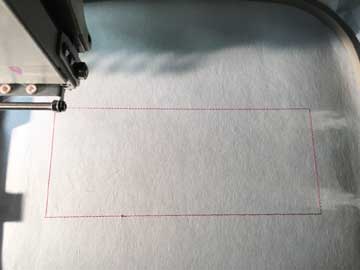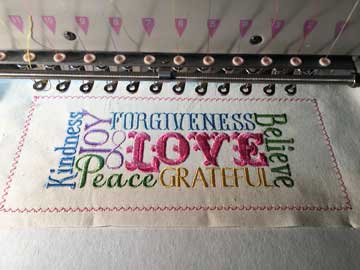 2. Color 2 tacks the fabric to the stabilizer.
3. Sew the design up through "Kindness" and then stop the machine.
4. Layer on elastic, matching one raw edge with the raw edge of your fabric next to "Kindness." The other end needs to be inside the opposite side and away from other seam lines. A bit of tape will hold it in place.
5. Optional: layer on batting.
6. Layer on back fabric, face down.
7. Stitch the last color, which will sew the final seam.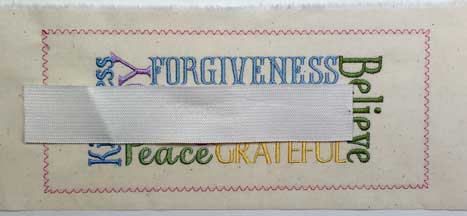 8. Remove from the hoop, trim off excess seam allowance, turn right side out, tuck in raw edges at the turn opening, press.
Tip: Trim just inside the tack down lines except at the turn openind where leaving an extension (about 1/2″) will make it easier to tuck in the seam allowances.
9. Adjust the placement of your elastic by trying it on your bottle. Trim off excess and tuck the raw edge of the elastic into the turn opening and edge stitch on your sewing machine.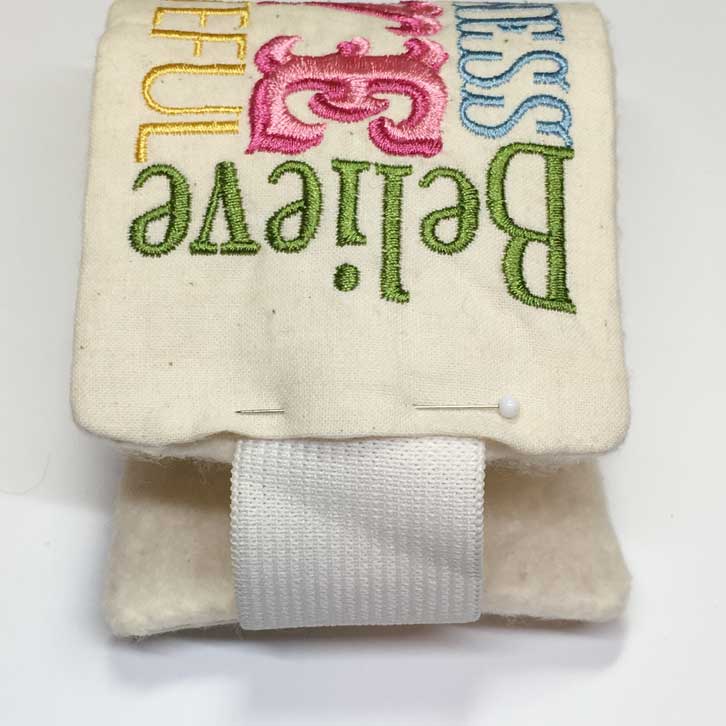 OTHER IDEAS
We are bombarded by negativity from the news to even Facebook. The world seems to be in chaos but that doesn't mean your mind has to be in chaos too!
It's important to have, as the Beach Boys sang, "Good, Good, Good Vibrations." (Did you just sing that?)
If you were to look at my work space, you'd see that I have 2 giant monitors and they have a all sorts of printed affirmations taped along the bottom. I have friends who have so many sticky notes stuck to their bathroom mirror that there's only a small face shaped opening in the middle.
Even if you don't actually consciously read them, your subconscious is taking them in and it's your subconscious that needs that programming.
This simple project makes a great Valentine's or really anytime gift to yourself or someone else.
You may not want a bottle cover. Leave off the elastic and just tuck in the raw edge and finish it to have a little mini "good Vibes" sign.
You might prefer to piece on a border or just stitch the non-ITH version on fabric and frame it.
Like the "chalkboard art" effect? Try stitching in white on black, You might want to use a light gray for the shadow parts of the word "love."
Or, maybe embroider it on a pillow case. Wouldn't you rather drift off to sleep in a peaceful, joyful, grateful state?
WHERE TO GET THE DESIGNS
These designs are available individually. If you only have a small hoop, get the words only version. The ITH version includes instructions.
WANT TO MAKE YOUR OWN SIGNS?
Find a large range of alphabets in the shop available as BX fonts (keyboard alphabets for Embrilliance and Embroidery Works) or as individual design files if you refuse to use the free Embrilliance Express to make using stitch file fonts a breeze.
GET THEM WHILE ON SALE!
At the time of this posting, the products listed below are on sale at up to 60% off.
Get them before they go back to regular price!
RELATED ARTICLES