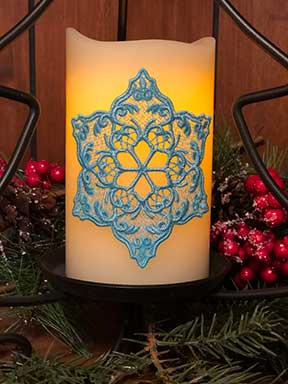 You are Creative!
Chances are if you are reading this blog post, you make stuff.
Maybe all kinds of stuff. You quilt, you knit, you paint. Maybe you do stained glass, leather tooling, or woodworking. I've done a lot of those things.
You might not be able to tell I'm an embroiderer from any "real" decorations though. You won't see monogrammed towels or table linens. No knitted accessories or quilts.
You will find these things in my house, they just are "artfully" displayed.
How Textile Art Is "Displayed" in My Home!
No, if the author of this article actually came to my house, she would see remnants of "textile art" all over the place.
Threads and fabric scraps that somehow escape my sewing room and and end marooned in bedrooms at the opposite end of the house.

Stacks of fabric that are ready to incorporate into current projects.

Step-by-steps of various projects waiting for a YouTube video.

Finished samples piled here and there.

Trunks of packed samples ready to trek off to some event.
My studio space, which has now overflowed into the dining room (where our "YouTube studio" has taken over) looks like either the opening scenes to one of those hoarders shows or a Marie Kondo make-over show.
Sorry, Marie, this stuff does give me joy! I'm hoping that if anyone ever breaks in, they'll just think the house is already ransacked and just leave!
The front entrance is no better. Walk in here and you'll be walking through the "warehouse and shipping department." I wasn't into entertaining even before all this social distancing occurred so that's just another good reason to me for not hosting guests.
Don't get me wrong, I do have a few things I've displayed. Some are purchased, some are mine. I do have to be strategic about placement.
I've lost more than one piece of Navajo pottery to a playful cat. And why do cats always find some quilt or project to vomit on instead of the easy-to-clean tile that predominates in our house?
Delicate ceramic ornaments I've made have been obliterated in the hands of a rambunctious toddler. (How did he climb up to that shelf in a back bedroom in the first place?)
So check out the article and get some new ideas for showcasing YOUR creative spirit: 10 Tips on How to Showcase Your Textile Artwork in Your Home,