I'm so sad to have to tell you we will not be restocking this beautiful thread that I love so much. Why? Because of dramatic cost increases from the manufacturer as well as the increased cost of shipping.
Why I Love This Thread
I'm not a glitzy glamour kind of gal. I don't wear big jewelry and I don't go in for hot-fix crystals plastered over everything. But I do like things to look special from time to time and that's exactly what Softlight Metallic Thread does.
It gives enough sparkle to be special but not so much as to be garish. It also runs like 40wt rayon and that means that unlike other metallic threads, I can easily substitute it into any design I choose. I've even stitched lace with it!
Because this thread is not scratchy like other metallic threads, I can stitch my designs any where I like and not worry about unwanted exfoliation while I wear it.
There are even four 60-wt. colors in the 52-color range so I can even sew tiny letters that I'd never attempt with other metallic thread.
It runs well on all my current machines. One of my former machines, which was fond of breaking even polyester threads also broke this thread.
If your machine is breaking other quality embroidery threads, then it's not a thread problem! If your machine can run rayon well, it will run this well.
Features of Softlight Metallic Thread
I've already told you several features: softer shine, softer feel, and runs like rayon so that it can be used in any design where you'd use that thread. Here are a few more:
It's wound on larger cones to reduce kinking, which is common problem with all metallic threads.
Comes in a total of 52 colors, with 4 of them in 60wt (try sewing other metallics in small lettering!)
Is more economical than other brands.
Let's talk about that last one for a moment…
Metallic Thread Costs: Compare!
Quality metallics cost more than other "normal" embroidery threads because they are more complicated and require more "ingredients."
When you look at the price of thread, you need to consider how much thread you are getting.
Sure, you can get a spool of metallic thread for less than $5. But how much is on there? What is the price per yard (or meter?) Is it going to be all kinky coming off that skinny little spool?
Here's a quick comparison of some popular brands by price per spool/cone:
Softlight: $14.95 (SRP) for 1500meters

(1640.42 yds) – 0.009 cents/yd
Floriani: i$15.95 (SRP) for 880 yards (0.018 cents/yd)

– twice the cost of Softlight.
Sulky: $15.99 (SRP) for 1000 yd (0.016 cents/yd) or $4.69 (SRP) for 165 yd. (0.0284 cents/yd)
The Cost is Going Up!
Although there has been a price increase in both the thread and the shipping, we are still keeping our price the same and providing free shipping when you order 3 or more cones.
Specials If You Buy 3 or More
When you add 3 or more Softlight Metallic threads to your order, you automatically qualify for free shipping (a savings of $5).
When You Buy 5 or More:
Plus if you buy 5 or more, you get the beautiful dragon design ($14.95 value), shown here stitched in Softlight colors.
When You Buy 10 or More:
We'll throw in a CD with over 50 designs; a $300 value.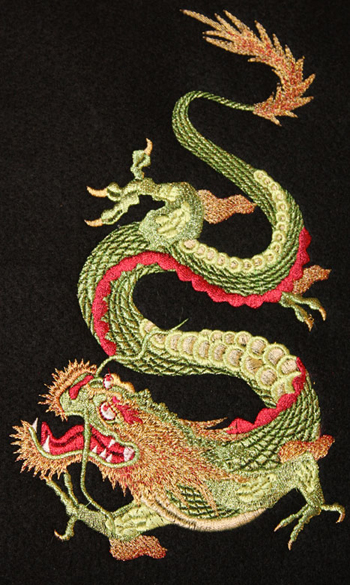 How to Save Even More!
Because we are no longer going to restock this thread, we're giving you a coupon code for 15% off on 3 or more. YOU MUST USE THE COUPON CODE TO GET THE DISCOUNT!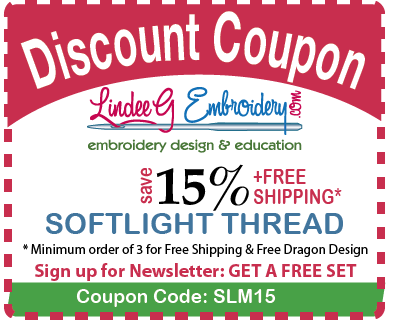 Hurry! Some Colors Are Going Fast!
Some colors are already sold out and others are very close to gone. Be sure to stock up now! I particular love these colors for Christmas projects but they are perfect year round!
Click the link below to browse all the beautiful colors still available.