I saw this idea in one of the Facebook groups I'm in and adapted it to my own designs. It's so easy and quick! It's just perfect for a last minute gift or dinner table centerpiece.
These candles are half of a set of 6 battery operated wax candles. They look, feel, and smell like real candles with a switch on the bottom to turn on battery powered illumination, which flickers softly like a real candle.
Hey! Sometimes fake is better than real! These are much safer, especially in a house with 4 active cats.
The process is simple: stitch out your lace and glue it on. How hard can that be? I did discover a few tips that I'll share here.
HOW TO STITCH FREE-STANDING LACE
If you've never stitched free-standing lace, I cover it very thoroughly in this video:
VARIATIONS FROM THE VIDEO
Firstly, I stitched with red thread in the bobbbin and needle. Although I had some white pieces already stitched, they didn't show up all that well on the ivory colored candles. I considered stitching in blue because all my tree ornaments are blue and white but the red looked better with my dining room decor.
Be sure to use a finer weight (60wt works) in the bobbin. I used a prewound red poly bobbin.
I also stitched with a layer of wash-away under a piece of white nylon organza. I thought the organza might help with the gluing process but since so little fabric is exposed, the organza can be omitted.
Here you can see where I left a bit of fabric all the way around after removing from the hoop. I ended up trimming this bit off before gluing the pieces onto the candle.
The next batch I make will leave out the organza.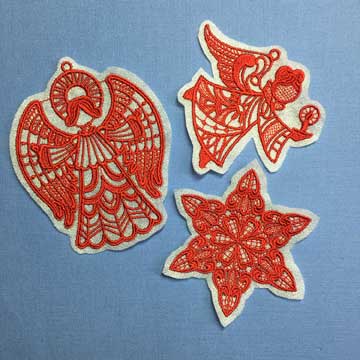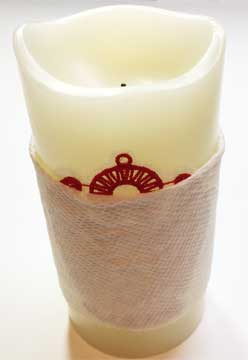 Rather than drying the lace flat, I positioned it on the candle and wrapped a paper towel around the candle over the design to hold it in place and help absorb the remaining moisture.
Reminder: Take care when you place the lace that it's right side up! It can be easy to mix up the sides with matching bobbin thread.
When the design was dry, I glued it to the candle using Elmer's School Glue, hold the design in place with plastic kitchen wrap.
I have to say there are probably better glues or ways for sticking lace to a wax candle. One might be to melt the wax a bit with the back of heated spoon and press the lace into place while it's still soft.
Note: Whatever adhesive you use, make sure it dries clear and is permanent, not just a temporary spray.
WHAT IF YOU WANT TO USE OTHER DESIGNS THAT AREN'T FSL?
Simple! For those you'll stitch on the organza with washaway stabilizer and leave a narrow border (like you see for my lace pieces) to prevent the stitches from raveling off.
Everything else is exactly the same.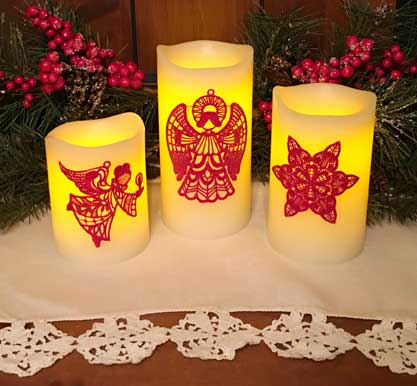 USING IT
These make wonderful gifts. As crafters, we often put a lot of time and effort into gifts that are never really appreciated by the recipient. These are easy to make and inexpensive.
Arrange them on the mantle, as a table centerpiece, or even in a window.
I've combined mine with some faux greenery (doesn't smell as good but cat safe!) and arranged them on an antique crocheted-edge dresser runner on the hutch in my dining. My hutch happens to have dark green accents so the red looks especially festive for Christmas.
OTHER IDEAS
You could easily adapt this technique for other holidays and events. How about a monogram? Wouldn't that be lovely for wedding reception?
WHERE TO GET
At the time of this posting, all the angels are 50% off (singles & sets). Check the angels category to see what's available. The lace category will let you browse all lace designs.
Check out this selection on Amazon. I used 4″, 5″. and 6″ candles for these small lace designs.
Imagine a tall candle just wrapped with a red ribbon to resemble a candy cane! You wouldn't even have to fire up your embroidery machine.Shop Now
RELATED ARTICLES