Monogrammed Jute Tote Bag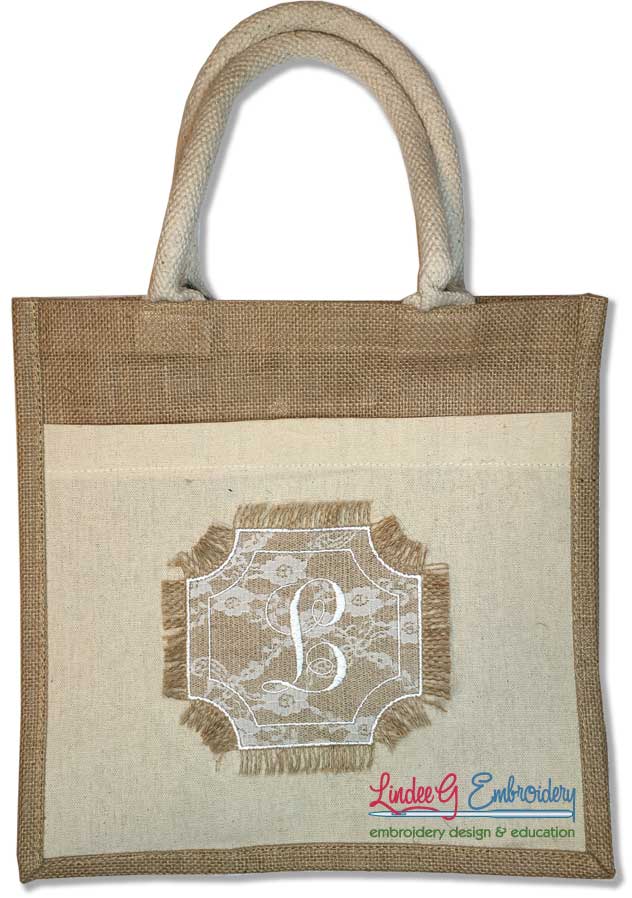 Project Description
Strolling through Hobby Lobby looking for inspiration, I found this jute tote bag and some wide jute ribbon with a lace overlay on markdown so I snapped them up and just stored that in my head for some future project.
Sometimes those ideas stew up quickly other times they just never seem to come to a boil. This time all I did was use the ribbon as a "raw edge" applique and added a monogram.
This was stitched on a tubular machine so I didn't need to remove the pocket and the pocket is still functional.
One thing to be aware of on projects like this is that purchased items aren't always square, so you'll have to figure out how to align your embroidery so that it doesn't look uneven. Choosing rounded or irregular designs are less obvious than designs with strong horizontal or vertical lines.
Realistically, once this project is in use and stuffed with items, small inconsistencies will not be visible at all so it's not that big a deal if your embroidery is not to engineering perfect placement and alignment standards.
Credits
Designed and made by Lindee Goodall (10/29/2016)