Green Linen Blouse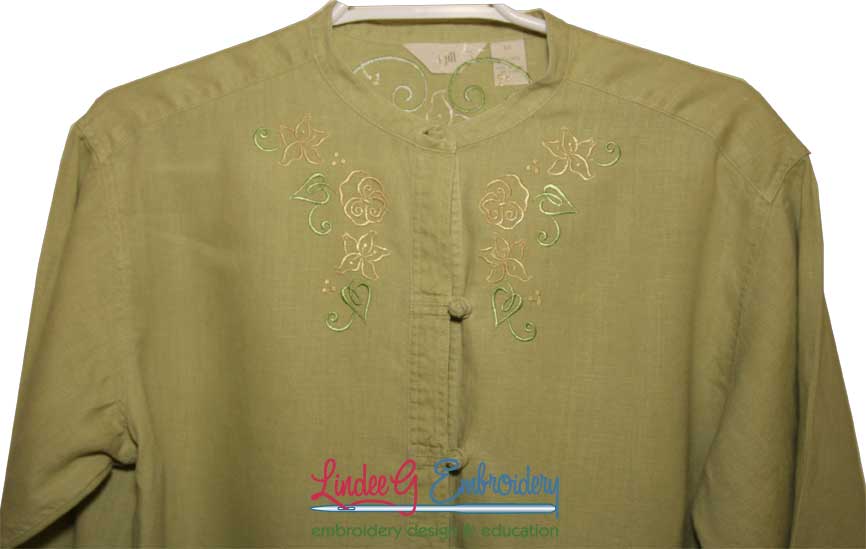 Project Description
Purchased linen blouse embellished with stylized flowers from Floral Fantasy. To duplicate this project, you'll need to have editing software such as Embrilliance Enthusiast to isolate some elements and a customizing program like Essentials to recombine them.
For the back, I extracted and removed the bottom flower from design #4, then mirrored that design end to end. I then reinserted the extracted flower and resized and rotated it to fit the space nicely.
For the front of the blouse, I extracted various leaves and flower elements from different designs and combined them to create a new design for the front of the blouse.
Typically I pull out more elements than I actually use than spend some time mirroring, rotating, and resizing until I'm happy with the result. Print the design at actual size and trial it against your garment. When you're happy with the composition, stitch it on your garment. I mirrored the same design for both sides of the blouse.
Check out the white cotton version of this same design. The blouse is from the same company (J. Jill), just a different fabric and color. For that one, I chose to go bold and stitch in a dark charcoal gray on white as opposed to the subtler tones of green and yellow I used for the green blouse.
I'm particularly fond of swirly kinds of designs and these stylized flowers lend themselves to stitching in a wide range of colors.
A realistic flower with rich shading is not only less flexible, it likely has higher stitch counts and will disturb the weave and hand of the fabric more.
Credits
Designed and made by Lindee Goodall (5/16/2011)
Products Used