Green Butterfly Shirt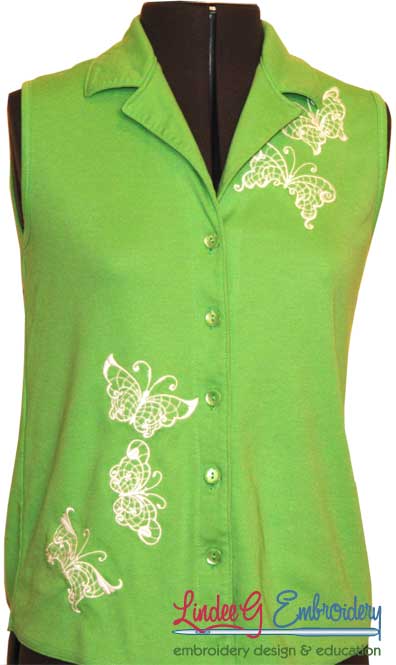 Project Description
For this sleeveless knit summer shirt, I decided I wanted a lower sheen thread than polyester or rayon embroidery thread so I chose cotton embroidery thread. Cotton is more widely available in 30wt, which is thicker than standard thread and 60wt, which is thinner.
These butterfly designs are somewhat open but they do have areas of satins that were digitized with 40wt thread in mind. Switching to a thinner thread might not cover well while a heavier one might be too bulky.
This shirt is a knit so in the sense of fabric distortion, it can be more forgiving than a woven so I went with the 30wt.
Because I digitized these designs, I could have edited them to reduce the density. However, when I make samples, I try not to make changes that couldn't be done reasonable software with a stitch file. The result is that the designs are a little on the bulky side but they're still acceptable.
The original designs are multicolor and I chose to stitch them in all white and arrange them diagonally across the shirt, rotating them individually for interest.
No resizing was done so even if you only have the most basic of embroidery machines and no software at all, you could still reproduce this sample.
Credits
Designed and made by Lindee Goodall (6/4/2011)
Products Used