Gingery Christmas Quick Gifts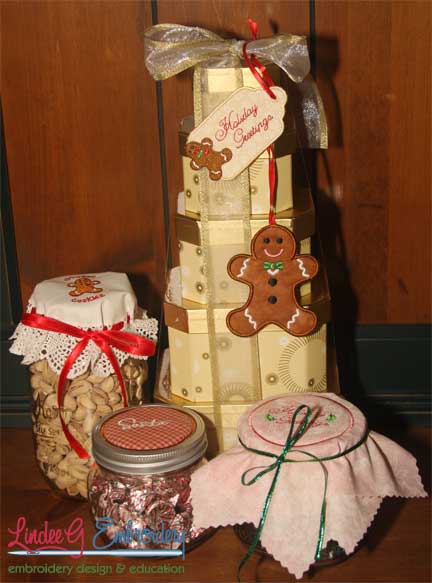 Project Description
Christmas gifts don't have to be elaborate or take days to make. You can make any of these in under an hour.
I stitched "Ginger Cookies" (design #5 in the set) onto a purchased circular doily and then laced some ribbon through the crochet edging to secure the topper over a jar. Voila! Instant gift! This project easily translates to other designs.
The other two jar toppers use applique and quilting techniques and require a bit more time. The round checkered one with "Santa" stitched in the middle has a layer of fleece added for a bit more loft. I pinked the edges of my squares before hooping. If raw edges bother you, you could finish the edges or use cocktail napkins.
The pink one uses the same circular applique design to stitch to squares of fabric together.
Free-standing applique methods are used to stitch the gingerman ornament and gift tag. Any of the applique ginger cookie designs can be used. Keep in mind that if you choose the ones with the bite taken, you'll lose the crumbs.
The gift tag requires more work to edit in the greeting because you'll want to rearrange the stitching order to have a clean back. You can do that either in software (like Essentials) or at your machine by skipping around in the sewing order.
All of these projects require minimal supplies and time. They're a great way to use up scraps and add an extra touch to a simple gift. Great for class projects or make-it take-its. I used Christmas designs but the embroidery could be anything!
Project instructions included with the collection
Credits
Designed and made by Lindee Goodall (8/8/2009)
Products Used
Related Articles