Child's T-Shirt Dress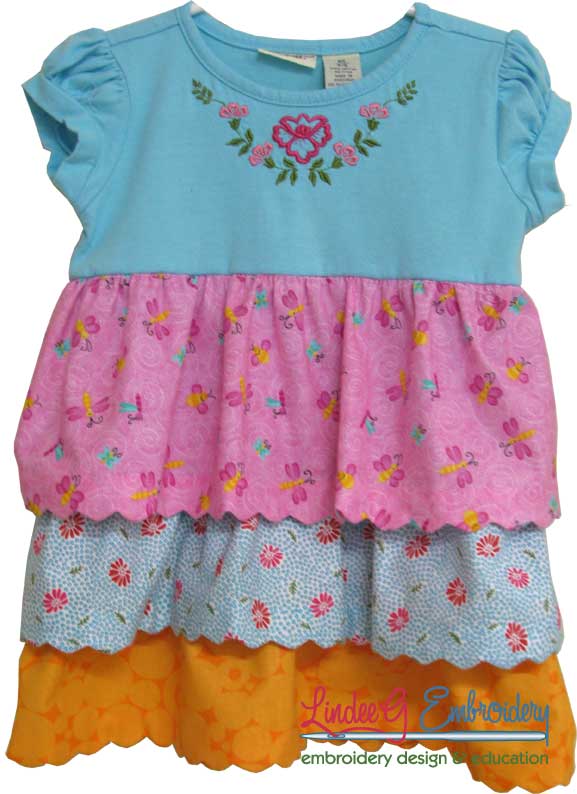 Project Description
Quick and easy little girl's dress using a tee-shirt!
Starting with a purchased tee-shirt and adding flounces for a skirt it an easy way to make a quick dress. I combined designs from Delicate Roses Building Blocks for the embroidery around the neckline.
The flounces are made from a width of fabric that is gathered and then stitched between "slices" of the tee-shirt. Trim off the selvedges and stitch the side seam using 1/4″ seam allowance.
For the hem on my flounces, I clean-finished the bottom hem edge and then folded it up about an inch and half, right sides together, then stitched a scalloped edge about 1/4″ from the folded edge. I used a decorative stitch on my sewing machine (straight stitch not satin) for this step.
Now comes the most time-consuming part of the whole project—trimming and turning all those scallops! If you're not up for that, you can just turn under the hem allowance and use a plain or decorative stitch to sew it in place.
A fun thing to do: let your little girl help "design" her dress by choosing colors, fabrics, and designs!
Credits
Designed and made by Lindee Goodall (03/05/2012)
Products Used
Related Articles