Black & Brown Hound's Tooth Vest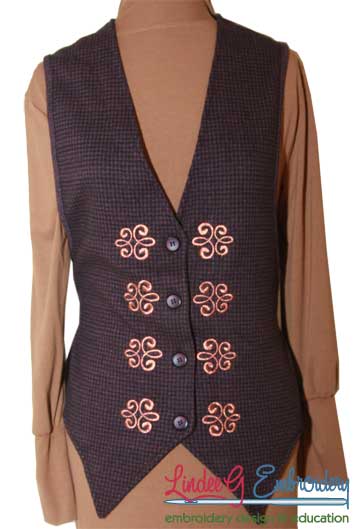 Project Description
Have an older garment that you love but could use a bit of a facelift? It's easy with some basic, stylish designs and an embroidery machine.
I chose Scroll08 from Elegant Scrolls, which I then duplicated and resized making one smaller. I stitched them in copper Softlight Metallic thread and paired them evenly down the front of this vest placing them next to the buttons and buttonholes.
Scroll designs like these add a fashionable and decorative touch without appearing too fussy and work well even on the hound's tooth pattern in the vest.
Building Blocks are made specifically for combining new designs. If you have Generations, download the MNG version for best use.
These designs are also available in stitch file formats and the same effect can be achieved with most any customizing program such as Embrilliance Essentials.
Credits
Designed and made by Lindee Goodall (5/23/2011)
Products Used
Related Articles
Related Videos