Youth's Red "Play Ball" T-shirt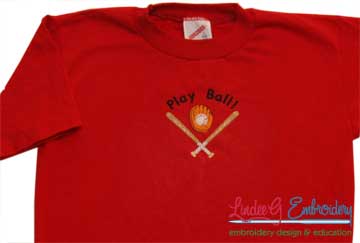 Project Description
Building block designs are perfect for creating logos. Building Blocks are designed for Generations and you'll get the best results resizing designs there because the all the designs in this series are native Generations files.
Another program that works well for combining and resizing is Essentials. This program can drop out stitches when designs are stacked over each other, such as placing the baseball over the mitt.
Text is easy to add in most any customizing program. If you're using BX fonts in Essentials, start with a font that's close to the finished size of your design for best results.
Generations doesn't have built-in predigitized fonts so you'll have to use the True Type Tool. For small text, choose a simple clean font for best results.
Credits
Designed and made by Lindee Goodall (5/23/2011)
Products Used