You've just spent a fortune on your very first embroidery machine and now the sales person is showing you threads. You can see from the vast array of colors, fibers, weights, and types that you could easily spend another small fortune just on thread.
What should you get? How much do you need? Why type is best? Do you really need more thread anyway? In this article we'll look at the basics to get started.
WHAT TYPE OF THREAD?
Most embroidery designs are digitized for 40-weight rayon or polyester embroidery thread. These threads are shiny, not highly twisted, and are the right weight and strength required for decorative stitching.
If you don't already have a stash of high quality embroidery thread, then yes, you definitely need to get some before you start embroidering.
POLYESTER OR RAYON?
With today's high-sheen trilobal polyester threads, it can be difficult to tell the difference between rayon and poly. Polyester has improved immensely in sewing quality since the mid 90s and has gained in popularity and today is the fiber of choice for embroiderers.
Poly wears better, stands up to strong/frequent laundering, is bleach resistant, and resists a breaking during sewing better than rayon. In my experience, polyester tends to pucker more after embroidery, especially if machine tensions are overly tight.
WHY CAN'T YOU JUST USE SEWING THREAD?
You may be tempted to start with just whatever thread you already have on hand. Thread manufactured for regular sewing is highly twisted and is stronger and heavier than typical decorative threads designed for decorative stitching and for these reasons it is unsuitable for embroidery.
If you have old and/or cheap embroidery thread, you will experience frequent thread breaks and shredding which not only significantly reduces the quality of your embroidery but will also significantly decrease your pleasure.
WHAT BRAND OF EMBROIDERY THREAD?
There are a lot of good embroidery brands on the market today. You may find it more economical to purchase a packaged kit of colors in a popular brand and then augment that with colors needed for various designs.
Before buying a huge thread collection, you might want to do a little research and find out how popular it is. By that I mean is it used by a lot of different embroidery designers.
Many embroidery collections specify a particular thread brand along with a thread color number to allow you to duplicate the design. While there are no thread color police to make sure you use the same brand and color, keep in mind that the appearance of a design is highly dependent on the colors used.
If you don't have a good color sense, start with the same thread colors listed for the design. Also keep in mind that while there are conversion charts to allow you to find a close match in a different brand, it is highly unlikely that you will find an exact match.
Frequently used brands include Sulky, Madeira, and Robison-Anton but that doesn't mean you can't use another. I'm currently using Hemingworth because in addition to being a high quality trilobal polyester embroidery thread, it has a unique thread delivery system that also protects the thread. Do make sure whatever brand you select that it is a high quality brand.
WHAT ABOUT METALLIC THREADS?
In general, use metallic threads only when specified in a design, especially when you are first starting out. For one thing, metallic threads when used excessively can look gaudy but more importantly, experienced embroidery design digitizers treat metallics a little differently to improve sewability. What you need to know is considered a specialty embroidery thread.
AVOID BUYING OLD THREAD!
Unfortunately thread has no "born-on date" nor is there a way to see how it's been cared for. Thread that is dusty, faded, or has been stored in a hot, dry warehouse will be more susceptible to breaking a shredding so be careful when buying "close-out" thread. Bargain prices may be no bargain when it comes to embroidery quality.
TIPS
Buy a reputable brand from a reputable source that is likely to have high turnover to avoid old thread.
Buying a collection will get you an assortment of popular colors at a better price than buying threads as needed.
WARNINGS
Avoid buying "bargain basement" thread.
Use caution when buying "miswinds" at a discount, they may not feed smoothly through the machine in increase the occurrence of thread breaks.
Older, dried out, and dusty threads can break more easily.
UPDATE: MY FIRST CRAFTSY CLASS: THREAD SAVVY
Click HERE for 50% off my first class Thread Savvy: Stitch Flawlessly With Any Thread !!!
This is my first class and a MUST if your thread is giving you "threadaches." I mean, what is an embroidery design without thread?
I talk about thread, tensions, how to select needles, and all kinds of weird and wonderful threads, including the wild and woolie ones! You can read more about this class in this blog post, Create Exquisite Embroidery with Any Thread!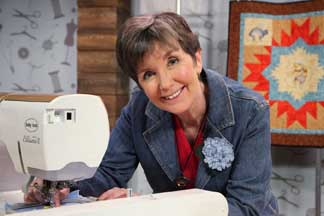 CRAFTSY COUPON UPDATE NOTICE
Since the coupon codes were originally posted on this site, Craftsy has changed the way they handle coupons limiting them to 90 days.
Because of that, I have to figure out new way to provide coupon codes… Another thing to add to my to do list.
HELPFUL LINKS TO PRODUCTS I RECOMMEND & USE
Since I'm constantly being asked, "what did you use for [fill in the blank]," I've begun organizing my favorite products on this Resource page as a convenient place for you to find them.
I've also included links to where I get them, many of which are affiliate links. Hey, I can't stock everything! If I list something I haven't/don't use, I'll let you know that too.
RELATED ARTICLES