Whip up some really fast ornaments you can hang anywhere, anytime! They aren't just for Christmas trees!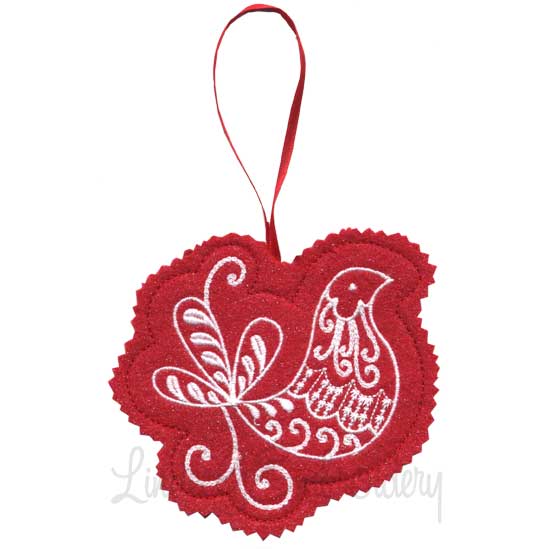 I created these ornaments from a previously released collection, called Fanciful Birds (lvp001), and you can see how I used those original designs in this post, Quick & Easy Fantasy Bird Spring Napkins. Many times after creating a design, I'll think of some other way I'd like to use them that may require some modifications.
Sometimes I just want to do basic customizing like changing the colors, resizing, combining with another design, or adding lettering. These are easy changes that even the most novice embroiderer can perform in a program like Embrilliance Essentials.
Other times I may need to do some simple editing, deleting some elements or pulling out some part to use on its own. This, too, is relatively easy with some simple software like Embrilliance Enthusiast.
For other designs and projects, I may need to do a little digitizing. Learning to digitize to add some run stitches to a design can be very useful.
Sometimes I need a basting line that more closely follows the edge of an odd-shaped design. Learning to draw and apply a run stitch is not all that difficult. Taking that skill one step further will allow you to make ornaments like this out of many designs.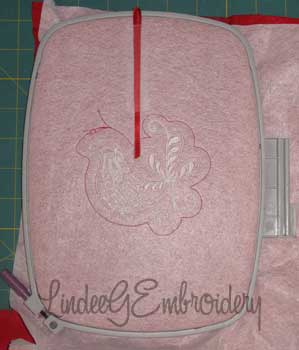 If you don't have digitizing software and would like something basic that will allow you to add simple stitches and doesn't cost a mini fortune, check out Embrilliance Stitch Artist. If you're already familiar with other Embrilliance software, you'll already have a leg up on learning the program.
I chose to echo the outline of the bird for my ornament. Of course you could choose a shape in your software and use that for your stitching line. If you'd prefer to have edited versions of these designs ready to go for the ornaments, they are also available here: Fanciful Birds Ornaments.
When applying the stitches to my outline, I first stitched a single run, inserted an applique stop (or a color change), then repeated the line with a bean stitch.
The first run will give me a guide for placing the felt on the back and aligning the ribbon hanger. Making it a separate color from the final bean stitch forces the machine to stop making it easier to remember when to add the back pieces and ribbon.
You're on your own to edit in whatever software you happen to use. What follows is how to actually make the ornament.
WHAT YOU'LL NEED
Small pieces of craft felt. Mine is red with glittery specs and is somewhat stiff.Tearaway stabilizer
Bird 1 (from Fanciful Birds) if you're editing or Bird 1, modified (from Fanciful Birds Ornaments) by Lindee G Embroidery
Embroidery threads as desired. I used 30 wt. cotton (white) and 40 wt. poly (red)
Matching bobbin for the outer edge, standard embroidery bobbin for white
6-9" piece of ribbon for hanger
Cellophane tape, painter's tape
Temporary embroidery spray adhesive ("TESA")
Fiber fill for stuffing
Pinking shears. My favorites are Fiskars.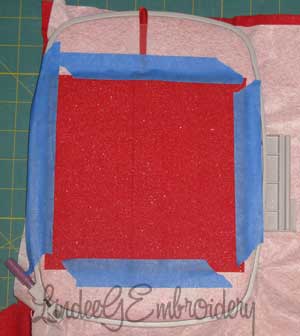 HELPFUL LINKS TO PRODUCTS I RECOMMEND & USE
Since I'm constantly being asked, "what did you use for [fill in the blank]," I've begun organizing my favorite products on this Resource page as a convenient place for you to find them.
I've also included links to where I get them, many of which are affiliate links. Hey, I can't stock everything! If I list something I haven't/don't use, I'll let you know that too.
INSTRUCTIONS
1. STITCH THE BIRD AND THE PLACEMENT GUIDE.
Hoop the felt with tearaway and stitch the bird design through color 2. Be sure to change your bobbin thread if you are matching your thread colors.
Although you don't really need to change the bobbin thread until color 3, I changed it when I changed my top thread to red at color 2. One, so I didn't forget to change it when sewing color 3, which is also red, and two, because it made an easier reference for placing the back pieces in the next step.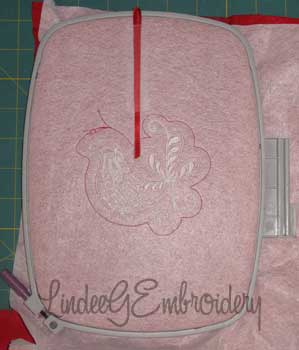 2. APPLY THE RIBBON AND BACKING PIECES.
Remove the hoop from the machine but not the fabric from the hoop. Place the hoop face down. Fold the ribbon in half and tape in place with the cut ends within the sewing line. Make sure the tape is outside the sewing line.
IMAGES/BLOG/2014/11/LINDEEGEMBROIDERY-04-FABRIC-PLACED.JPG
Cut two pieces of felt. Mine are about 3.5" x 5.5" for bird 1. Lightly mist each piece with TESA and smooth into place, overlapping them about 1/2".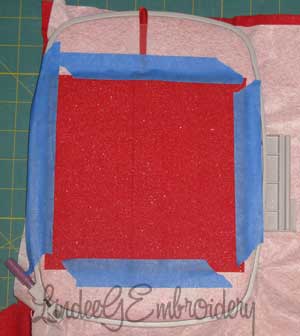 I also secured the edges with painter's tape to keep them from lifting or catching during stitching. Make sure the tape is outside the sewing line.
3. Finish. Sew the last color change, remove from hoop, and remove tearaway. Cut around ornament with pinking shears taking care not to cut the ribbon.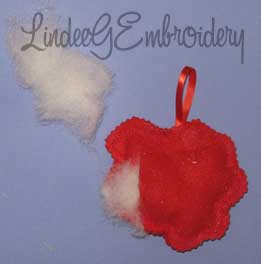 4. LIGHTLY STUFF WITH FIBER FILL.
Stuff the ornament through the back. Since I stitched mine on felt, the lapped edges are not finished and I didn't even stitch them together afterwards.
SUMMARY
These little ornaments are quick and easy to make! I originally used one as a class demo on how simple editing and digitizing can let you repurpose designs for new uses. Most students, however, just wanted the designs already done for them.
I've finally gotten around to editing all of them and making all the collateral materials for a collection so if you can't or don't digitize then the birds are also available already prepared for stitching into your own little flock. And truly, stitching around them on your sewing machine is not all that big a deal either.
Another reason you might want to stitch them with your sewing machine is if you only have a small sewing field that can't accommodate the extra hoop space required for the additional stitching. The original birds all fit within a 100 x100mm sewing field.
You could easily adapt this technique for baby toys, pet toys, or scented hot pads. They make nice little package ties and look cute hanging in a window all year long!
MY AFFILIATE LINKS DISCLOSURE
Hi everyone. Just to let you know that some of the links on this site are affiliate links. What that means is that if you click one of them and buy something… I get a commission. It doesn't cost you anything extra and I only recommend things that I've tried and tested, so please, please, please… use my links.
Fine Print: Lindee G Embroidery is a participant in the Amazon Services LLC Associates Program, an affiliate advertising program designed to provide a means for sites to earn advertising fees by advertising and linking to amazon.com. Lindee G Embroidery is also an affiliate for Embroidery.com, Nancy's Notions, Embrilliance, and Craftsy. If you purchase something through one of those links I may receive a small commission, which helps to offset the cost of running this site. 🙂
WHERE TO GET ITEMS MENTIONED IN THIS POST
At the time of this post, both collections are offered at a specially reduced price and the individual designs from Fanciful Birds Ornaments are at half price. Check the shop for current specials.
RELATED ARTICLES