A few years ago I entertained myself at an event by stitching out the 12 mid-size multi-color versions of the child's sewing machines included on the the two Vintage Miniature Sewing Machines using cotton embroidery thread.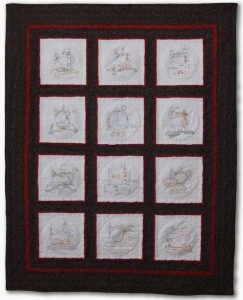 I stitched on an off-white pre-washed/pre-shrunk cotton fabric using a wash-away stabilizer. The blocks came out of the hoop looking great but when I washed and dried them to remove the stabilizer, the thread shrunk resulting in irreversible puckers.
I really had my heart set on making a wall hanging with them so I recently restitched all the blocks using Rayon and this time they came out perfectly!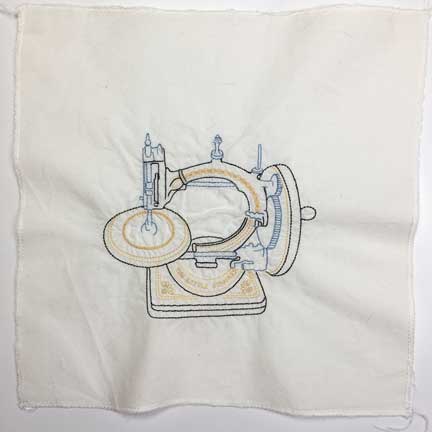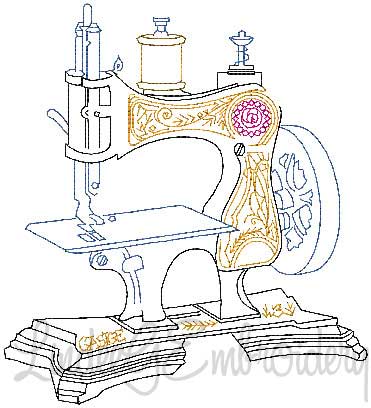 These designs were hand-drawn from antique sewing machines and were originally offered as hand embroidery patterns by Ella & Skyse Designs, an Australian designer. We worked together to reproduce her designs as both single color redwork designs and multi-color versions.
The multi-color versions use only a handful of colors and the same colors are used in all the designs. Each design is available in 3 sizes in each of the two color ways and each of the two collections has 36 design files.
In case you're wondering, this is not just a matter of digitizing the multi-color version, then setting it to one color for the monochromatic version. Each color way is individually digitized to optimize pathing and keep jump threads to a minimum.
To see this for yourself, try stitching one of the multi-color versions as a single color! Way too many jumps & trims!
When resizing the designs, stitch lengths were also adjusted. Larger versions have longer stitches to keep stitching time down. Smaller ones have shorter stitches to maintain details.
I chose to use narrow floating borders around the block in a dark red and a mini-print on black that reads more like a charcoal gray.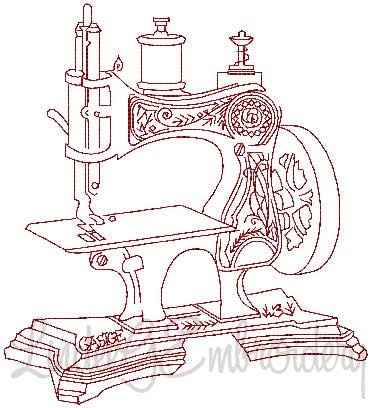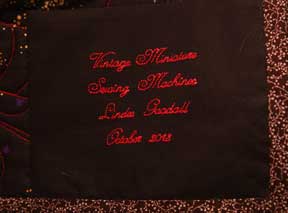 I created a label on the back using my favorite font for labels, Adine Script, which is now available as a keyboard font for AlphaTricks, Embrilliance Essentials, and EmbroideryWorks. (Learn more about these fonts here: What's Your Addiction?
MY AFFILIATE LINKS DISCLOSURE
Hi everyone. Just to let you know that some of the links on this site are affiliate links. What that means is that if you click one of them and buy something… I get a commission. It doesn't cost you anything extra and I only recommend things that I've tried and tested, so please, please, please… use my links.
Fine Print: Lindee G Embroidery is a participant in the Amazon Services LLC Associates Program, an affiliate advertising program designed to provide a means for sites to earn advertising fees by advertising and linking to amazon.com. Lindee G Embroidery is also an affiliate for Embroidery.com, Nancy's Notions, Embrilliance, and Craftsy. If you purchase something through one of those links I may receive a small commission, which helps to offset the cost of running this site. 🙂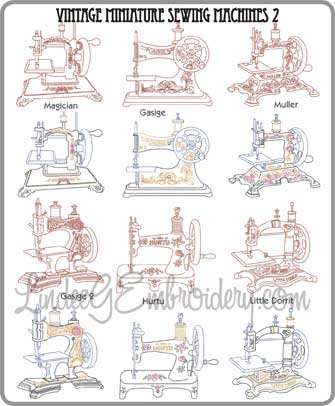 WHERE TO FIND THE DESIGNS
These designs are available in collections or individually.
RELATED ARTICLES