If you're like me, you've already watched way too many videos on how to make a face mask. I'm not going to show you that. I'm going to show you one simple trick to make your face mask fit better.
Many of you have been making face masks by the dozens and some of you, by the hundreds and even thousands, and I know your efforts are greatly appreciated.
Basic Pleated Mask
Here's the first mask I made using the basic pleated pattern and it's the only one I made using this pattern because it doesn't fit worth a darn.
It gaps on every side. So it's one advantage—that it's easier to breathe with this type of mask—is it's major disadvantage if this is your sole protection.
These masks work best when worn over some other type of mask to keep the other one cleaner longer.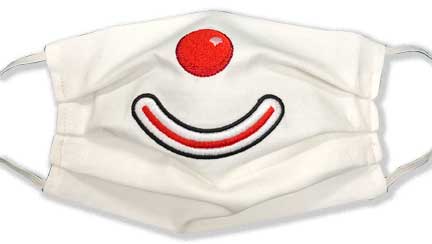 Mask with Darts
The next one I made was this one. It has darts at the top and bottom and pleats on the side and it fits much better.
The advantage here is that it makes it easy to add embroidery since there is no center front seam. It just takes longer to construct.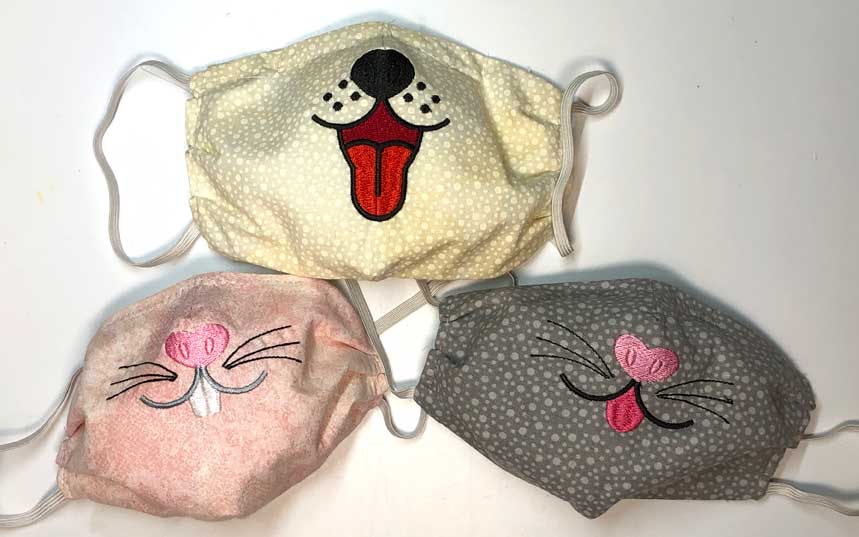 If you're freaking out because the embroidery creates needle holes, I've applied a fusible non-woven interfacing.
PLUS, the mask is lined and then it has a pocket for an optional filter. You'll get more bugs coming in around the edges where it doesn't conform to your face than through the embroidered areas.
Olson Mask
Then I moved on to the Olson mask, which is very popular. It has a center front seam and fits better yet.
I made about 2 dozen of these for friends and family. No embroidery on these because of the curved center seam.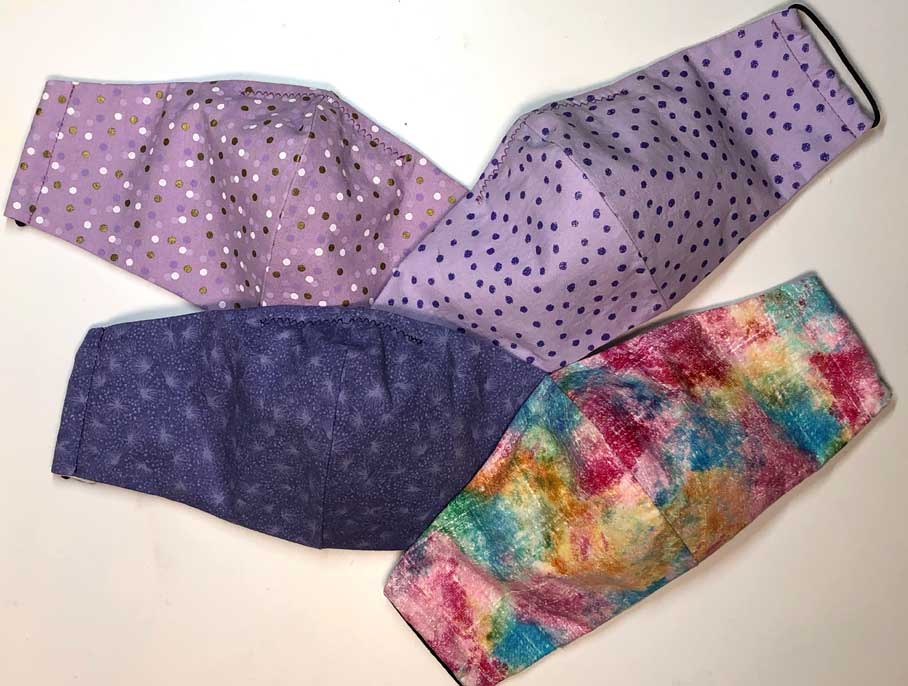 Jesse Mask
The latest mask is from a pattern called the Jesse Mask. This one comes in a range of sizes so it's best for making personal masks for you and your family rather than mass production.
Notice how the mask curves under my eyes and hugs my face nicely. Part of the is because of the mask pattern (I used 5A) and the other part is the insert I added over the nose area.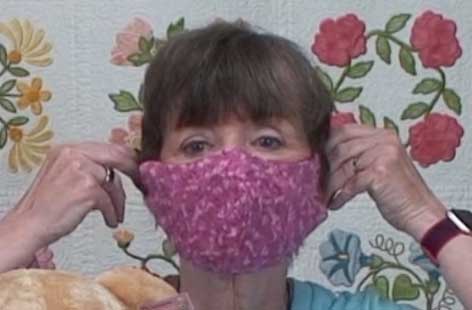 Here's my plain version and my shark face version.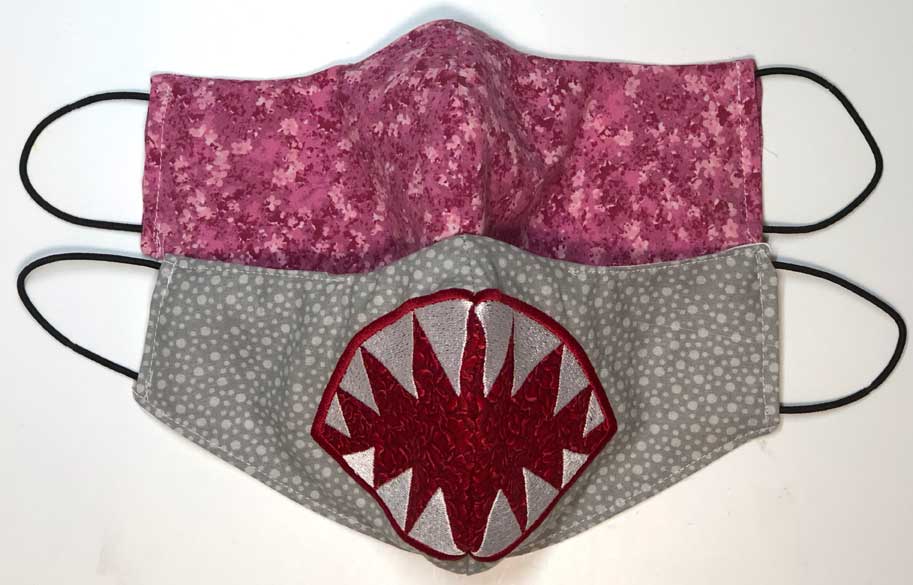 More on the Jesse Mask
The Jesse mask comes in 8 sizes for 3 face shapes: Average, Wide, and Narrow. You'll need to measure your face to select an accurate size. (Instructions are included with pattern.)
This mask is the most comfortable and best fitting of the the masks I've made so far. The curve under the eyes doesn't interfere with my glasses either.
The Shark Face version is an applique with embroidered teeth. The set includes all 8 sizes. The average size is a full outline if you have a large enough hoop.
I have a large enough hoop to do both sides of the mask in one hooping: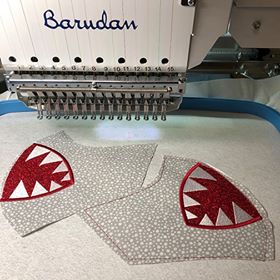 A second version is included for just the front center curve seam placement. This version is designed to accommodate smaller hoop sizes and to work with wide and narrow sizes.
Individual versions of the shark mask face are also available. You'll need to download the Jesse Mask pattern for construction details.
The Quest for a Better Fit
While each of these fit better than the previous one, they still needed some kind of structure over the nose to fit better.
1. Floral Wire
First was floral wire… which was a pain to work with. Even with multiple pieces, it didn't really hold much shape.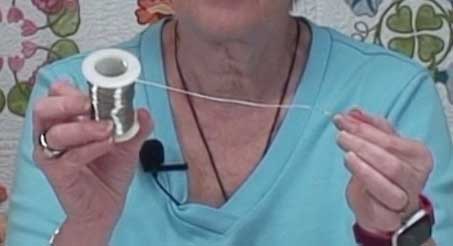 2. Disposable Aluminum Baking Pans
Then came aluminum baking pans, which I cut into strips. Even with two layers, which I wrapped in a scrap of no-show mesh, these were still pretty flimsy. I used a lot of these.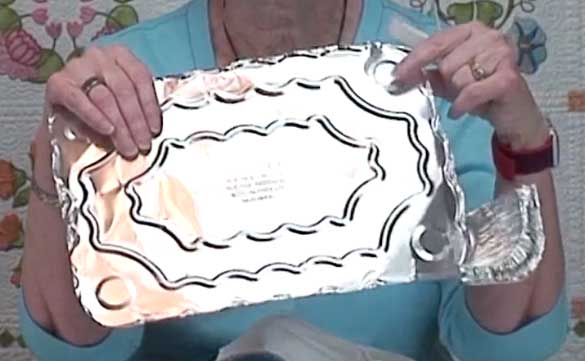 3. Peel and Stick Strips
Then I found out about these…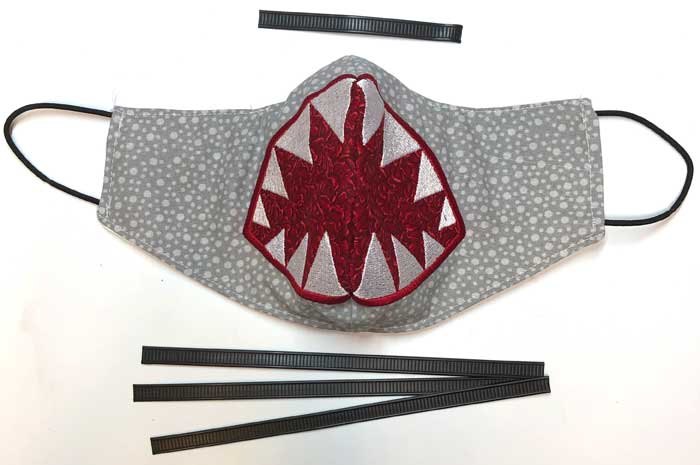 These are commonly found on the tops of bags of coffee. They are sturdier and retain their shape better, even through laundering. They are already the right width, and they have some adhesive on the back that makes them easy to secure while stitching in place. They're 7″ long so each one can be cut in half to use for 2 masks.
On the Jesse masks, I simply sewed it in place to the lining before sewing the lining to the mask. I didn't add a filter pocket to these.
I haven't been using the filter pocket anyway. I rarely go anywhere and I'm claustrophobic in certain situations and the mask triggers that. For my purposes, 2 layers of fabric & interfacing on a well fitting cover work just fine.
If your mask is already constructed and it has a sleeve for a filter insert, you can retrofit it by simply sliding the piece between the two layers and use your zipper foot to stitch closely all around the edge to secure it. I did that on the dog mask.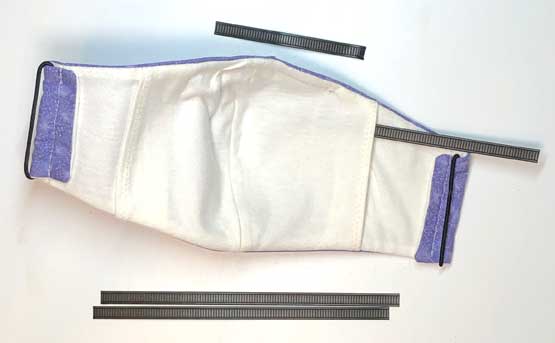 Face Masks – A New Fashion Statement?
I suspect that masks are not going away anytime soon. If you have to wear one, it might as well be something pretty or fun, be machine washable, and fit well. 
The only downside to the strip thingys is that they're mostly sold in packages of 1000 from big supply places.
I'm not doing production mask sewing so we're selling the bulk of these in packages of 12, which will make 2 dozen masks. Shipping is included for U.S. customers.
UPDATE: We have sold out of these and due to shipping costs, we will not be restocking. Check here for other options.
So that's it! That's my tip for a little product that is easier to use and works better for shaping a mask over your nose area.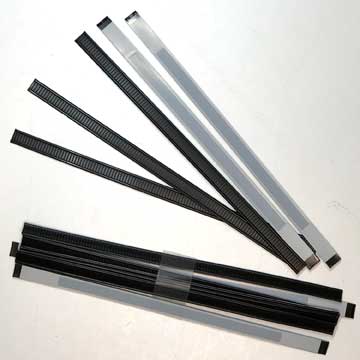 Where to Find the Mentioned Products
All mask designs & related products
Mask patterns:
Darted mask from Riley Blake
Olson mask: UnityPoint Health
Jesse mask + more mask tips: Fabric Patch
Another Fabric Patch video with good tips for fitting kids