Golf Towel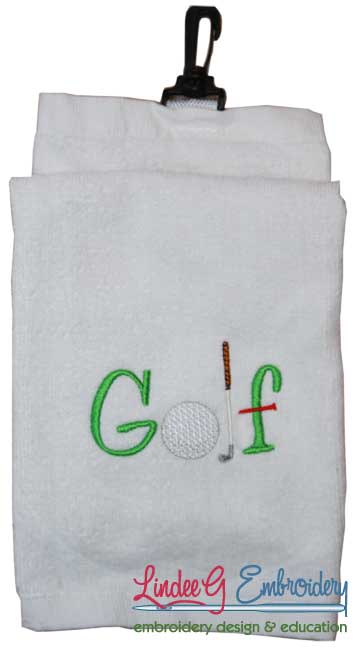 Project Description
More fun with fonts and Building Blocks! This simple design requires some editing skill and software.
Building Blocks were originally designed for Generations users. As a native Generations file, these designs can be easily manipulated by resizing and reshaping.
Today we have software choices that are more user-friendly and more economical that allow us to do similar things with stitch files.
The only stitch editing you'll need to do is to remove the crossbar on the "f" and replace it with the golf tee. That can be done even in Embrilliance Essentials and more easily in Embrilliance Enthusiast.
To recreate this design, select a "G" and an "f" and use the golf ball to replace the "o" and the golf club to stand in for the "l." If you can edit, delete the stitches that form the crossbar on the "f' and place the golf tee over it instead.
You'll need to do some resizing and rotating but this little project shows you what creative things can be done with otherwise simple designs. Building blocks are intentionally simple with only a few color changes to make designing your own compositions fun and easy to stitch without excessive color changes.
Tip: Avoid color sorting for the best registration!
Credits
Designed and made by Lindee Goodall (5/10/2011)
Products Used
Related Articles