Denim Columbine Jacket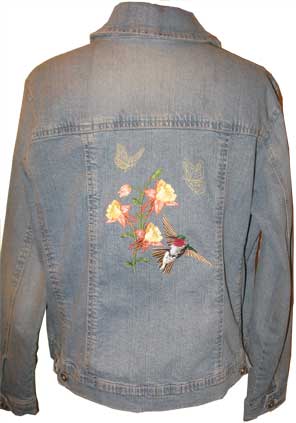 Project Description
Craftsy classes are filmed in Denver, so for my second class, 20 Things Every Machine Embroiderer Should Know, I chose to embellish this denim jacket with their state flower, the Columbine, and combine it with some butterflies.
These designs are included with the class downloads and are not otherwise available. Since Craftsy likes to appeal to all embroiderers, this jacket design is composed of multiple "small hoop" designs. I show how to do that in the class.
The advantage of working with elements is that they can be used on their own or combined in other ways. You'll find lots of combinable designs in the shop.
Stitching on denim may seem like the ideal "canvas" for embroidery but it actually isn't. I'll tell you why in the class!
20 Things Every Machine Embroiderer Should Know is a great class and covers a broad range of vitally important topics. Obviously, I don't go too deeply into any one of them and if you're a relatively new embroiderer, this is a great started class. Even if you're not so new, you may pick up a few new tips!
Plus, the advantage of Craftsy classes is you can ask me questions. If you read through the questions and answers in the sidebar, you'll get even more out of the class!
At the time of this post, over 10,000 students have enrolled in my two Craftsy classes. Are you one?
Credits
Designed and embroidered by Lindee Goodall (3/16/2015)