Change the Needle, Change the Thread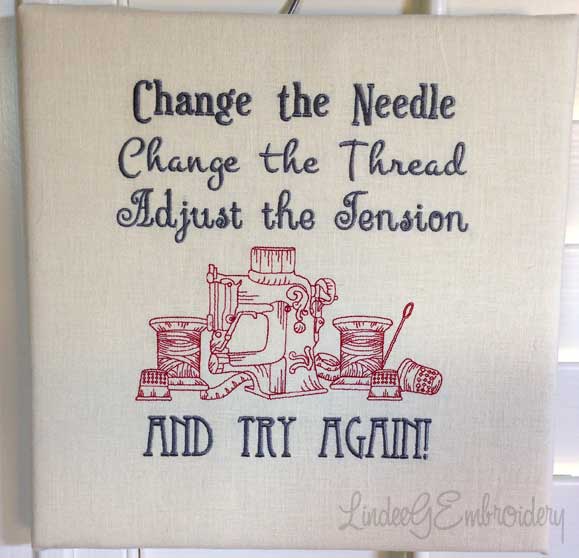 Project Description
Sometimes we need reminders to keep us focused!
I stitched this one up using alphabets I have available as BX fonts (Euforia, Monterey, Serena, and Eccentric, all 1″ size) combined with design #1 from Sewing Vintage Redwork.
I stitched on a linen-like fabric from my stash and stretched it over an artist's canvas, padding it a bit with some batting. It hangs over my embroidery machine when it's not traveling to shows with me.
The beauty of using keyboard fonts is that it makes it easy to add longer lines of text to any design and quickly change the font style to suit your project.
If "BX fonts" are unfamiliar to you, you need to check them out! At the time of this posting, there over 150+ designers making fonts in this format and you can use any of them with a free program from Embrilliance called Express.
Of course, after I made this as a demo piece for my embroidery club, they wanted the finished version. If you preferred "done for you" designs, you can get this and more in Sew You Say.
Credits
Designed and made by Lindee Goodall (3/3/2015)
Products Used